LOREAL PARIS DERMO EXPERTISE : TRIPLE ACTIVE 'RE-NOURISH' CLEANSER AND TONER
Hey There,
So earlier on in the week I decided I was going to take a break from blogging, and concentrate on my Project Management assignment! But once again I have found myself doing anything but, (Procrastination at its best)! As today was my day off in work I thought today would be 'the day', but no, I have spent the day having lunch with my sister, being pampered at the hair salon,  and catching up with friends! I can now not think of any better way to finish my day than with a cuppa and a blog post, (Perfect Wednesday).
As my  most recent posts have been make-up orientated, I felt it would be appropriate today to share some of my skincare loves with you. Growing up with typical 'teenage' skin, (Oily and unpredictable), and then training and working within the Beauty Industry, I have become more and more skincare obsessed. My skincare routine has been tweaked and perfected over the years, and I feel now it has become a regimented part of my daily life.
This may sound crazy to some people, but I love the feeling of freshly washed, bare-faced skin! Now I'm not saying that I'm not a full faced make up kind of girl, because that would be a lie, I love my make up, but one of the first things I do when I get in the door, (And out of sight) is strip my make-up back! I don't know why, but I just can't sit there in the evenings, when I am all cosy on the sofa, with a full face of make up on, it just doesn't seem right, (Obviously if I had company this would be different).  It is also the first thing I do in the morning, (Even before brushing my teeth).
Now I am a huge fan of face washes, I think I can get that extra squeaky clean feel from the combination of product and water, but for the evenings my 'go to' products are cleansers and toners! My most recent purchases being 'Loreal Paris's, Dermo Expertise, Triple Active, Re-Nourish, Cleansing Milk  and Velvety Toner for dry and sensitive skin,  retailing at around £4.00 each. Cleansers and toners are so easy to use, (And yes they are just as quick as face wipes), the products treat the skin while leaving the make-up and dirt visible on the cotton pad, letting you know when all of your make up is off, (Which surprisingly can take a couple of pads).
The Loreal Paris Re-Nourish Cleanser and Toner are marketed for dry and sensitive skin, for removing make up, while soothing and nourishing the skin, with the use of Omega-Ceramides and Oligo-Proteins.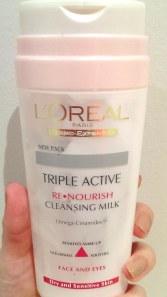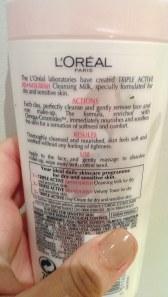 I found that both products were well suited to my skin, of which has been known to be rather sensitive towards such products in the past, in particular toners. The cleanser is creamy but runny in consistency, leaving an oil like residue on the skin, perfect for dissolving your make-up and removing any dirt! This cleanser definitely helped lock in my skins moisture, and left my skin feeling soft after every use, and I was very happy with the results.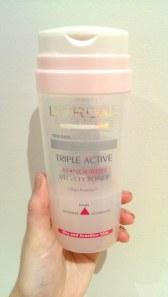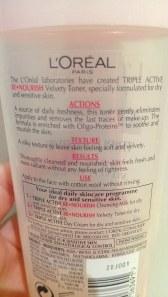 When it comes to toners I am particularly picky, I have found in the past that a lot of them are too strong for my skin, leaving a stinging sensation, which I do NOT want from my skincare products. Luckily this toner did exactly what it claims to do. The toner does feel 'velvety' on the skin,(As silly as that may sound), but it comes in a runny gel like consistency, (The best way I can think to describe it), which feels so gentle on the skin, definitely ticking all my skincare boxes. It not only left my skin feeling soothed, toned and nourished, but it didn't sting or cause any irritation, (Even around my eyes).
WHAT ARE YOUR 'GO TO' SKINCARE PRODUCTS?
DO YOU CLEANSE AND TONE?
Lots of Love,
KB xx