This is one review that I've held off for the longest time since I really didn't have a good experience with this palette. This is probably the most negative review I have ever written but I do want to hear your thoughts once you've finished reading this post.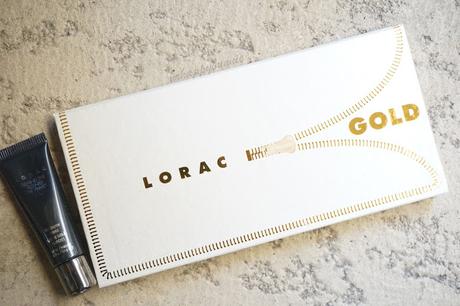 I have purchased the LORAC Unzipped Gold Palette on my trip to California back in August. I have held off buying any LORAC eyeshadow palettes for the longest time. When everybody was raving about the Pro Palette 1 & 2, I wasn't really on the fence about getting them because the shades were not something that I gravitate to. Whenever I buy a palette I always make sure that all of the shadows are something that I would use. If more than two shades are something that I would never touch, I wouldn't even buy the palette.
The LORAC Unzipped palette was really beautiful and it was something that I was willing to buy but just not something that I was too excited to get not until I visited an Ulta store on my trip to California. Since I have always eyeing the LORAC Unzipped with it's rosy shades, I was more excited about the Gold palette that was newly released so I just impulsivelybought the palette after swatching a couple of shades.
The palette comes with the LORAC palette comes with the LORAC Behind the Scenes Eye Primer. I didn't particularly like this primer. It was too tacky than I like my primers to be. And I honestly think there are better primers in the market.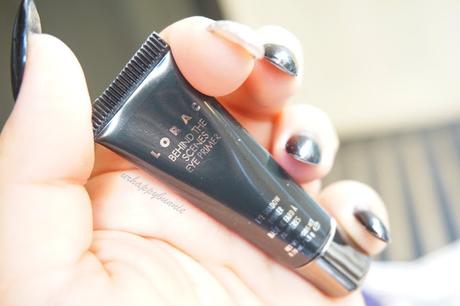 Moving on to the actual palette, we have here 10 shadows, a mixture of shimmery and matte. Undressed, a matte cream color that is good as a base for the other shadows or as a brow bone highlight. Unihibited is a shimmery champagne shade and Unpredictable is very similar but a little bit deeper. Undeniable is a matte, medium brown and Unedited is a matte, deep chocolate brown. Going on the second row, we start off with Unlocked a shimmery-satin ivory color. Next to it is Unlimited a shimmery pale gold, followed by Unleashed a deeper, warm gold with chunky glitters. Unwind, another matte brown which is slightly cooler in tone than Undeniable and Unedited. Lastly, Unafraid, a deep plum-brown with gold micro glitter.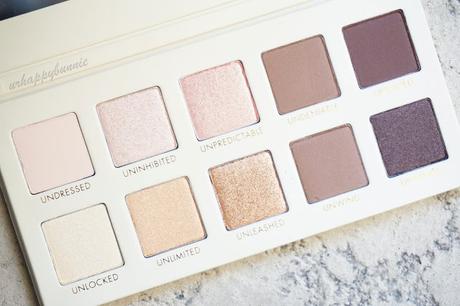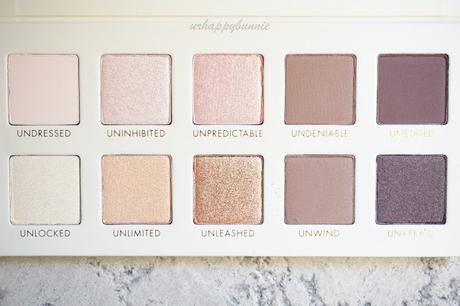 Here are the swatches for the shadows. The colors are gorgeous and they swatch beautifully. They look highly pigmented and because of these swatches, I was sold on this palette.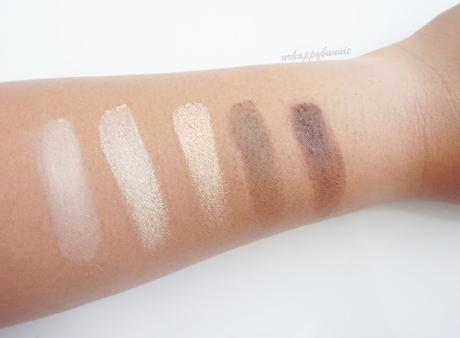 Undressed, Unihibited, Unpredictable, Undeniable, Unedited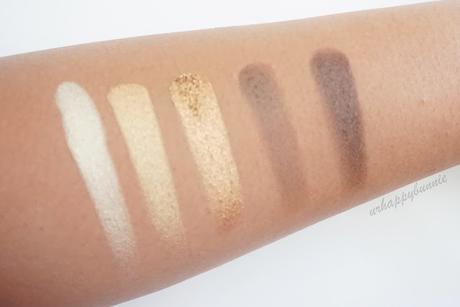 Unlocked, Unlimited, Unleashed, Unwind, Unafraid *I didn't realize that this photo was blurry when I was taking photos, sorry!*

Everything looks good so far, right? The issues started when I began picking up product with my brush. There was a lot of powdery kick-backs from the eyeshadows and it wasn't only one or two of the shadows that was doing this, all of the shadows have kick backs. I tried different eye shadow brushes and still the same result. Mind you, the brushes I used to try this out were all brushes that I use all the time with other eyeshadows and never have I gotten so much kick-backs as I had with this LORAC Palette. I ignored this issue and thought it would be alright having a messy palette as long as the eyeshadows perform beautifully on the eyes. Boy, I was so hopeful but so wrong about that.
All the shadows that I applied all over my lid with a brush didn't give me as much color pay off as it did when I was doing finger swatches, still the color looked good so I carried on. Here comes the transition shadows and the blending part of eye makeup application. Dipped my blending brush into the pan of one of the matte brown shade, again, kick backs, tapped off excess, brush on the crease and started blending away. First thing I noticed was the matte brown shadow was too patchy. The shadow on my eye was just horrible. I tried again, trying to make everything work and look good to the best of my ability and blended away. By the time I got it to look decent the all over lid shade didn't even look gold anymore! No pigment was left all over the lid. So I reapplied another lid color and tried to blend out the harsh lines with a more precise blending brush so as not to lose the color, but even with a precise brush all the pigment came off again. 
I didn't want to give up on the palette so I tried several times doing a lot of eye looks using the other shadows but I still got the same issues. For sure it's not the brushes' fault since I've tried different brushes and got the same result. The brushes I used never gave me a problem with other palettes and other eyeshadows. Even the cheap shadows I have in my collection works way better than these shadows.
I came to the conclusion that these are surface shadows - shadows that has beautiful pigmentation but doesn't stay once a you begin to blend things out. The fall outs are horrible too and it sticks to your foundation like nobody's business if you have a base on already prior to eye makeup application. 
This is one palette I truly regret buying. I tried making it work and I honestly didn't even want to review this product but it was so horrible to the point where I feel like I got a bad palette since I never really heard anything bad regarding LORAC eyeshadows. My cousin has the LORAC Pro 1 & 2 and when I told her about my experience she couldn't believe it since the LORAC Pro palettes are her top palettes. 
I'm not saying that LORAC eyeshadows are horrible, just that I have a really bad experience with this one. Since this is my first ever LORAC product, I'm very reluctant to try out their other products now after this one. I know companies cannot always put out great products so I'm not holding this against LORAC either but it just sucks to be greatly disappointed by this palette.
I feel bad about ranting and doing a bad review on this palette however, I also want to strike up a conversation. Have you ever tried any LORAC eyeshadows and how was your experience with it? Have you ever disliked a cult favorite beauty product and what was your experience? I would love it if you tell me your stories.