The latest addition to my "Lip Of The Day" series for March 1-March 11, 2012.
(L toR)
Dare To Dare, Tutti My Frutti, Navy Pearl, Jupitesse, Brilliance, Cherry, First Time, Delicately Defined, Pink Fringe, Pink Slip, ZouZou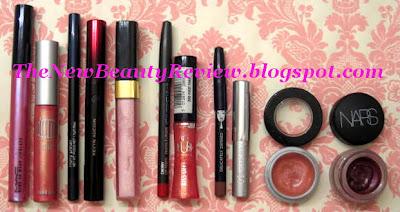 Dare To Dare, Dare To Wear Lipglass (MAC)
*I loved this blue-pink gloss so much that I got every color it came in (I will be sure to show the others later, they're outrageous)
This is a soft pink but the blue iridescent tone adds dimension. As you can see it's not a typical lipglass because the texture isn't as loose. It's so creamy you forget you're wearing makeup. It feels like a heavy balm, amazing!
I wear this over mauves, pinks or alone :-)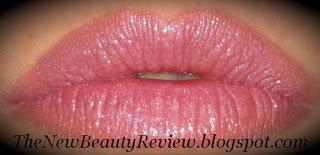 Tutti My Frutti, Plump Your Pucker Tinted Gloss (theBalm)
*I know I just wrote about this in my "Lip Plumpers" blog a few days ago but it remains a favorite. It smells like a fruity pina colada, has a cool tingle and is extremely pigmented for being a "tinted" gloss. I wear this alone, as clearly you can see, or over warm lipsticks. Looks best in summer to add to a healthy, all over glow!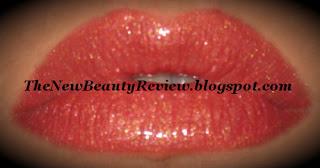 Navy Pearl, liner (Auraline)
Jupitesse, The Liquid Patent Lip (Kevyn Aucoin)
*The liner I got at the Makeup Show 2 years ago at the Auraline Cosmetics booth. They're an independent label brand & were selling the pencils for 3 for $5 or something ridiculous so I got navy, purple & gunmetal. I want to say they're good for eyes and lips but maybe I just think that b/c it just says "liner" on it. Lol!
Either way, they're amazing, can't wait to stock up again!
The lip gloss, I got a few of these in different colors in the huge goody bag I mentioned in my last blog (Loose Lips Share Tips-Vol. 1) and I can't tell you how beautiful this is! I know it's dark, to say the least, but it's so exotic! It looks black but it's actually a blue-violet, so unique!
I was hired to be the Makeup designer for a NYFW show. Ally Hilfiger was the stylist for designer Nary Manivong's show. This was perfect for the futuristic look I created along with subtle "Prada ad" like taupe eyes. It was a huge hit & everyone loved it!
It was such a strong focal point for the otherwise demure look. Good times!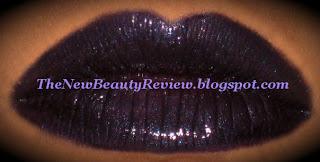 Brilliance, Glossimer Lip Gloss (Chanel)
*Anyone who knows me, knows Chanel is not at the top of my list for designers and especially for makeup. Don't get me wrong, I can appreciate some of the fashion, I mean it's still Chanel.
However, the makeup fails to impress me. I want to like it but I just don't. In fact, I feel like the shadows/powder products are chalky & everything smells like an old lady. That's just my opinion...
The only items I really like, love, are the Glossimer lip glosses. They got it right with these & I have a good few of of them because of it! I love this frosty pink. Ironically, it's a typical "old lady frosty pink" (Lol) but I wear it in the winter for a "winter white-ice queen" look or during summer with a tan. It's delicate but can really stand out when paired w/a smoldering eye.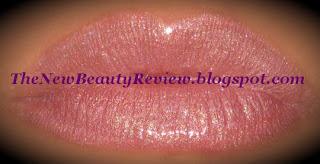 Zou Zou, Pot Gloss (NARS)
*I love NARS makeup, like, all of it! It's just an overall good line and I don't care how much it costs, I'm buying it. The Pot Glosses are great because you can dab them on as a lip tint or go heavy and get a full on glossy pout.
This color is always trendy and wears well day or night. I'll be sure to add the other shades I have in blogs to come, as they are some of the best I own.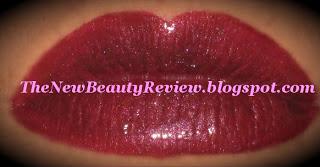 Delicately Defined, lip definer (Bloom)
Pink Fringe, Chubby Stick (Clinique)
Pink Slip, Lip gloss (Victoria's Secret)
*I discovered this fab trifecta of sorts a few years ago when I was looking to create a neutral, sophisticated, glossy lip. I'm always mixing and matching so I noticed how well they went together. It looks very warm here but if I blot more, the light pink reigns supreme.
This would be good for an interview! I call it "conservative chic" b/c it's glam w/out being flashy.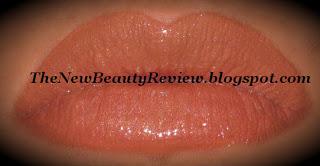 Cherry, lip liner (MAC)
First Time, Kiss Off Gloss (Rimmel)
*This gloss is actually very sheer. It looks like shimmery fire in a tube & I love how shiny it is. I love Rimmel glosses because they always smell sweet and are well made. I also have a Rimmel "Vinyl Lip" in a deeper color, which I love!
I paired it here with a red liner to bring out the color but I also wear this over orange & brown lipsticks. You can wear this alone for a sheer, shiny look. Either way it's a real sizzler!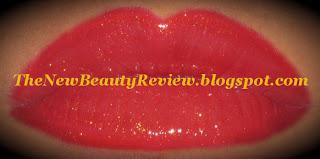 Keep it pretty!
*Stephanie*