Yes, London has plenty of green space. In fact, in 2014 it was reported that green space made up 47% of London! I know it might surprise many, including my own mum, but when you look at a map you might start to believe it.
We spend so much time surrounded by blocks of flats and high-rise buildings we sometimes forget to search out these little paradises, those green havens of nature. I've previously visited Richmond park for a picnic and afternoon stroll with one of the girls, and loved my strolls through Alexandra Palace and St James' park but even myself, throughout the three years I've almost lived in London, have not spent enough time appreciating the beautiful outdoors.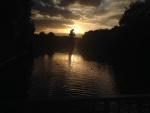 I now live near Hampstead Heath, the 800 acres of awe-inspiring greenery. I recently took the opportunity to go for a walk with Lucy through the heath, setting off at 10am with a flask of tea (how cute are we?) and strolling whichever way took our fancy. After a couple hours of getting lost, admiring the bathing pools, duck watching, stumbling up steps, getting slightly muddy and filling our lungs with the fresh outdoor air we started to head back down towards the way we entered the heath.
It's such a huge green space that you can easily get lost and enjoy the adventure, yet you can get signal should you need to find your way home :P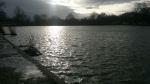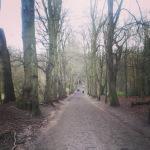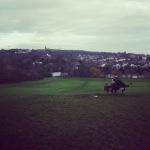 We loved our morning out walking through the great outdoors, it even felt a little like we were back in the countryside. I'll definitely be heading back soon as I've already agreed to go running with my housemate through the heath for a beautiful route, and one of my BIG goals of the year is to be confident enough to swim in the bathing pools.
But I'm also making a plan to visit a number of London's green spaces this year…after all, we should definitely be appreciating them a lot more! I used to love countryside walks when I was little visiting my grandma! I found this great round-up from Time Out on London's best hidden gardens and green spaces (I have to find Hampstead Hill's Garden and Pergola!) , but would love any recommendations!
Where's your favorite place to go for a walk?
Chloe xx