Some tips from real people like me and you!
My guest blog on Ishimma.com
How many times have you read or heard it said that having locs is a very low maintenance and low cost way to wear your hair? It is important to state that low maintenance does not equate to downright neglect. 
Having locs or dreads (as some people call them) still requires you, the wearer, to care for your hair. And in some cases, provide care in ways that you probably would not do if (when) it was permed. 
If you are thinking about how to care for your locs, here are some tips pulled from several ladies and gentlemen like myself who wear locs. 
A warm 'thank you' to my wonderful locked friends and the members of Dreadlocks: Attractive and Meaningful on Facebook.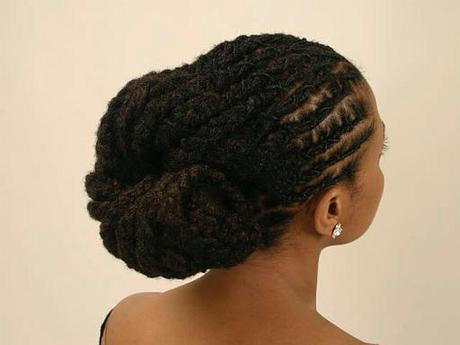 (Source)
Starting point
Now above all else, I need you to remember that YOU ARE WHAT YOU EAT! Your hair will either thrive beautifully or look dull and lifeless depending on your daily diet. If your desire is to have strong healthy hair, then you must think about things like: 
how much water do you drink daily? 

do you take vitamins? 

what about a generous portion of veggies and fruits? 

do you exercise? Or, do you lead a sedentary life? 

do you snack on foods rich in Omega-3 Fatty Acids? 
Think on your answers and be honest with yourself. You need to take positive steps to ensure that your body is healthy. Fill your body with healthy foods and you will see a difference in your body and yes, even in your hair! 
Water  Water is your friend! So do not believe the flack that you might have read or heard about how loc wearers treat their hair. Locs thrive when they are cared for with an abundance of water. Keep a spritzer bottle of clean water on hand. From experience, I can tell you how thick my locs would swell when showering on mornings without a cap on. The steam alone seemed to make them bigger. Keep your locs clean by washing regularly. Washing does not necessarily mean that you have to reloc/retwist your hair. Washing your locs can be therapeutic, plus, your scalp will thank you for it! 
Washing
Now when it comes to the frequency of washing, this is where some differentiation will be made. New loc-rockers, it would be advisable if you check with your loctician first before you wash your hair. My first wash was about 4 weeks after I got my two-strand twists installed. My loctician at the time used a toothbrush and a residue-free shampoo to wash my scalp. Most persons suggest nothing before a month. During my baby locs stage, Sea Breeze astringent and Witch Hazel proved to be useful in cooling the scalp during times of itching. Also no conditioner products before your locs reach the stage of firmness. Conditioners are meant to soften hair and you don't want to have your locs loosening up and 'walking out.' 
For more mature locs, there is no hard and fast rule. If your scalp is smelly, it ought to be washed. If you have an itchy scalp or dirty hair, then for sure it is also time to wash your hair. I wash my hair every 2 to 4 weeks; and that depends alot on my gym schedule. So allow your personal situation and circumstance to influence how often you wash your hair. 
Products
I suggest keeping your product arsenal simple. If something works for you, stick to it! In addition, if you can afford to purchase all natural/organic hair products then by all means, do that. There are many hair care product lines especially in the US and across the UK and Canada which do not include phatalates, parabens, mineral oil or petroleum. Try to source products which use natural herbs and ingredients; and oils which promote growth, shiny and healthy hair. And when it comes to using oils, remember to read up first in order to identify the oil which is right for your situation. Even these you must use sensibly and in moderation to avoid any adverse effects, like itchy scalp or aggravation of an already existing scalp problem. 
Also, allow a little to go a long way. For those who do retwisting using locking gel, there is no need to slosh it onto the loc. To avoid product buildup, invest in a good gel and spread sparingly. One suggestion in the group was to retwist using Castor Oil. Whichever method you employ, remember you will have to spend extra time rinsing to ensure that the buildup is all washed out. Apple Cider Vinegar rinses are my fave at combating product buildup and itchy scalp. Some people also recommend doing a hot oil treatment on a monthly basis. This form of deep conditioning is helpful in limiting damage to your locs. 
One important piece of advice especially for anyone interested in living a truly organic lifestyle has been to use sulfate-free shampoos. These might cause extreme drying for some people. Avoid products which cause product buildup. 
Relocking/Retwisting
Even if I wash my hair every 2 – 4 weeks, hardly ever will I retwist my hair each time. Generally, I go to the salon for a retwist every 4 to 6 weeks. The general consensus is that relocking or retwisting ought never to be a painful process. You should NEVER allow anyone to retwist your locs to the point where it pulls your hairline/edges. Think about it. Each time you go through the process of freshening up your locs via whichever method, you are incorporating new growth. Black women especially suffer from Traction Alopecia where research shows that one of the contributors is too tightly retwisting hair. I believe that care and attention must always be made to protect the fragile hairline area. 
It has been suggested that ladies and gents who use the latch-hook method can actually go for longer time periods between relocking sessions. Some sources suggest as long as 8 weeks, others every 4 weeks. And I can see why, as the process is entirely different from the palm-roll method. The latch-hook actually tightens neatly at the base and fuzzing does not appear to be as distressing as with the palm-rolling method. 
An important piece of advice is to define your loc goal. Not everyone wants the manicured locs look where parts are well-defined and locs are usually retwisted or retightened after each wash. Loc rockers who fall into this category will definitely be on point when making appointments to retwist their locs. But, those who have a more relaxed vision of what they desire from this journey may not opt to retwist regularly and may simply resort to washing (oiling the scalp, etc.) and then separating their locs to avoid matting. This style of semi-free forming is not for everyone. Others still, will wash their hair but will not separate their locs. In this fashion, their locs will become matted and join to form a more solid, unified loc in some cases. Freeformers or what some people call organic loc wearers enjoy this level of freedom. 
I suggest you take the time to think about your loc goal. Read and ask questions of other loc wearers in order to make an informed decision. Be patient! You are not alone! 
Final thoughts 
Cover those locs: A silk scarf is recommended for several reasons. First, it keeps your hair from being fuzzy. Next, to keep your locs looking fresh when doing housework or during periods of sleeping/rest time. A scarf or head tie keeps locs from drying out on a cotton pillowcase. Also, it reduces the chances of having your locs full of lint and dust. Some people complain of having small fibers of thread and particles trapped in their locs. Sometimes fibers get into locs from laying flat on shirt/jacket collars, etc. Removing lint can be easy in some cases, not all. This can leave some people frustrated and resorting to dying their locs, picking them down or cutting them off. 
Education is key: Read. Ask questions. And, read some more. Put your feelers out there and log onto resource sites, blogs like this one to find out of the best ways to care for and maintain your locs. There is nothing wrong with learning via trial and error. But do things in moderation and allow time for products to do what they are made to do. Find out what works for you. 
Always remember that these guidelines can be adapted to fit your individual lifestyle. The overwhelming consensus is to allow your locs to just be, especially if you are in the early stages of wearing locs. Your locs will grow and take form in their own way. 
Nurture your locs, allow them to flourish!