Happy to bring you one of the ladies whom I think rocks one of the largest fros I have seen for some time.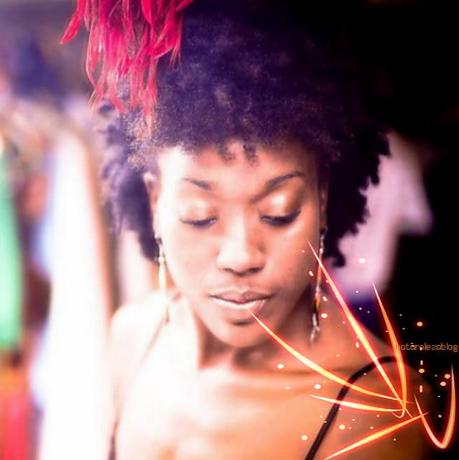 Meet Rhea! A self-confessed risk taker when it comes to her hair - as you will read, Rhea has done quite a bit with her hair and is very open to talk about her highs and lows. When I first began exploring natural hair maintenance and having locs, Rhea was one of those persons who readily encouraged me to take that route. And from that we would always talk about her locs and maintenance. She has crafted a style which is all her own and is very much in awe of natural beauty.  So, Naturaleza fam, sit back and be inspired by what this naturalista has to say! Hi, Rhea! Tell us 3 interesting facts about yourself: I love to sing, I love the smell of fresh bread and track and field and swimming were my first love.You have had a pretty interesting hair story. Talk to us about that.

I have always been a naturalista at heart! I've done so many things with my hair, it's ridiculous! I have always had really long thick hair. However, in my final year at University, I decided to chop off my hair which at the time was relaxed, color treated and highlighted - to go BALD. My hair was down the middle of my back and it was layered but I think it was over-processed and it was starting to thin out. I hated it. Seeing that I was going to be moving to live and work in France, I decided that my best option was to go natural and have fun with it. I'm a risk taker so I didn't worry too much about the change.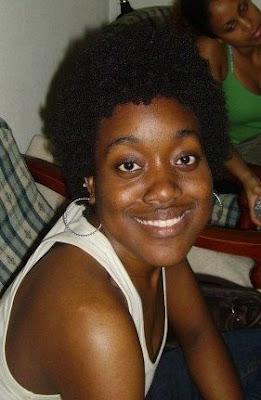 Back in 2007
Her first fro
In 6 months time, I had a huge curly afro and it was working for me then, but It was a challenge to manage and I decided to grow locs in August 2007. One of my brothers has locs and I always thought they were beautiful. I really did not want to have to straighten my hair with chemicals in order for it to be manageable. So, I gave locs a try! And I loved them. After three years I wanted a change and decided to go 'frolicious' again. I felt as if I could manage the fro this time around since there was a lot more information out there about caring for your natural hair. So in August 2010 I did another BC.
What are some of the stereotypes that you just cannot embrace when it comes to how people view having natural hair or locs? People grow locs for all kinds of reasons. In the past, it usually meant you were a devout Rastafarian. Today, that's not the case. Some people get scared and suspicious when you have locs. Once well maintained I think it should be equally embraced like any other hairstyle. I think we're getting there.
Tell us a little about your hair regimen and what products you use.
So I am now really getting to understand my curly roots. I like Nature's Gate products. I have been washing my hair with their Minty Tea Tree line since my scalp has been a bit dry. I like products that are minty. My hair gets dry fast so to lock in moisture, I mix a shea butter potion using pure shea butter, almond oil and olive oil. I did my first co-wash recently so I think I'll be making it a habit when I want the bob look. On another note though, I don't do much twisting at all. That's reserved for vacations and days off :-) I also mix up a good scalp toner which I find has been working really well:
6 drops of cedarwood oil, 6 drops tea-tree oil, ½ oz witch hazel and ½ oz water. 
I use Tea Tree oil as I could not find any Sweet Orange oil which might be better to use in this mix. Depending on your preferences, you could also add in some Sandalwood/Rosemary oil.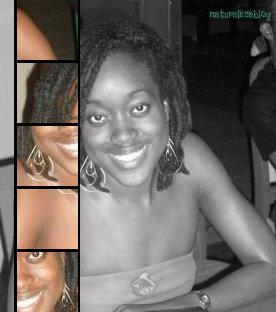 Rhea with locs
Share with us some of the things you like about wearing your hair the way you do.
I love my hair texture. My parents are Guyanese mixed with Black and East Indian, so I got some interesting curly roots. I love working with my hair because it allows me to be creative. The front and middle are long and almost dead straight, the sides are tightly coiled and the back is wavy-curly. I just have a natural bob cut going on. People always ask me if I cut it that way but I have not.  And one other thing I enjoy doing is tying my head. I think I got that from Suzie - my momma. Give me scarf, or a piece of cloth and you've made my day!
Do you have any favorite hairstyles? I love to wear my hair in any updo.Whether it's a Mohawk look, a chignon, a cinnamon bun, or tie-up. I love having my hair out, too and freeeeee! I love a wicked afro!
Do you also take a natural approach into other areas of your life?
;-) At least I try to! When I am very busy I go on shakes and fruit or light snacks. I love to cook veggies, fish and chicken. I mostly steam, bake and stir-fry.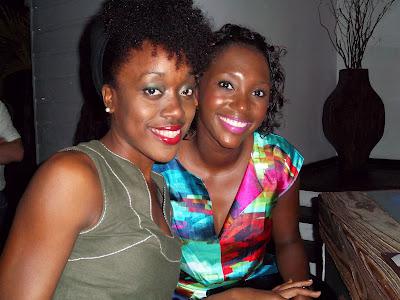 Mohawk tie-up in 2012
I love lamb, too, but I don't eat it as often. I use grapeseed oil when frying (I like this much more than olive oil). Every morning I drink a glass of lemon water. But my breakfast tends to vary most days with goodies ranging from saltfish and plantain with tea OR oats, a banana and some tea. I also use Pure Castille soap which I find is a great multi-purpose cleanser. I am a performing artist. One day this is all I will be doing so I have got to be in good shape to take on the demands of this lifestyle.
And, finally. Share some words of advice!
Do you. Always do you! Going natural is a challenge worth embracing!
Finally thoughts:
Thanks so much, Rhea!! 
Rhea gave quite an interesting tip for her scalp toner. Why not give it a try! Do you have any mixes of your own which work wonders on your hair, scalp or skin?