This is not a review, per se.
Rather just a brief commentary on some purchases.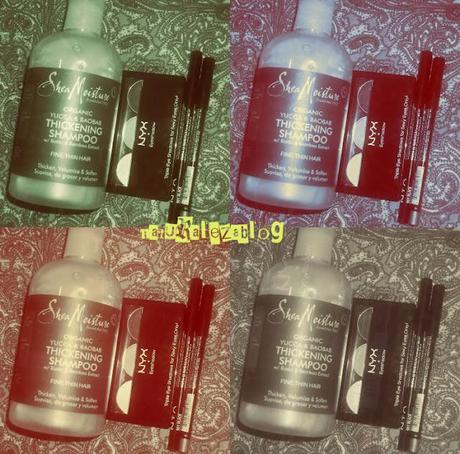 I have been using the Shea Moisture Organic Yucca & Baobab Thickening Shampoo since May because my Raw Shea Moisture Retention Shampoo from this line was all gone. I like  its sweet smell and soft feeling of my hair after shampooing. I am not too worried that it says for 'Fine, Thin Hair' as my own hair is not fine at all. The shampoo was recommended by my loctitian and I thought I'd take up the challenge for review and enjoy the journey. She did warn me that it does what it says as she has seen clients' hair improve over time.

Cost: BDS$35
The NYX makeup products are:
Slim Eye pencils in Black and Gold 

Triple Eye shadow in White/Grey/Black

Cost: BDS$15 (pencils), BDS$25 (eyeshadow)
Both pencils glide on easily and do not pull on the lid or skin when applying. But maybe it is because of this quality that it comes off so easily even from simply wiping my face during the day. Needless to say, it is easy to remove with makeup remover wipes or liquid/foam wash.
I am still waiting for the occasion to try the entire triple eye shadow set. I have tried the black separately and it is gritty to the touch. I don't really like the applicator brush either, but it is not a problem; it is quite easy to replace.
Well, that's it for now :)