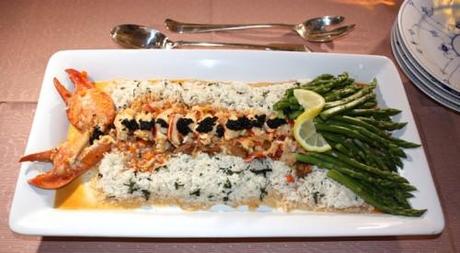 This updated recipe for a Spectacular Lobster Newberg earns its "neighborhood favorite" status because I happen to live a mere block from the legendary Delmonico's Restaurant in lower Manhattan.  The founder, John Delmonico, who first fired up his stoves in 1827, dragged back two white marble columns from the ashes of Pompeii to decorate the doorway of the unusual (but not entirely uncommon) triangular-shaped building.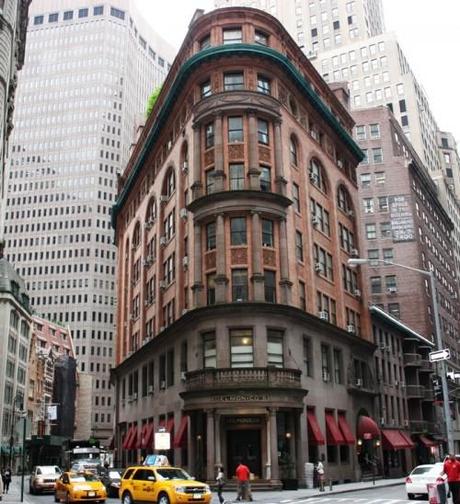 In 1891 the original building was replaced with this one which still stands at the corner of Beaver and William Streets. The Pompeian columns retain their place of pride in the "new" (now 111 years old) landmark.
A bit more about the provenance of this opulent dish in a moment. But first, consider: anyone can toss a lobster into a pot of boiling water, throw it on a plate with a nutcracker, some lemon wedges, a ramekin of melted butter and wish guests "Good luck!"  Depending on your appreciation of kitsch, the optional cheap plastic lobster bib is either an added enjoyment or insult.
That's just not the Spectacularly Delicious way.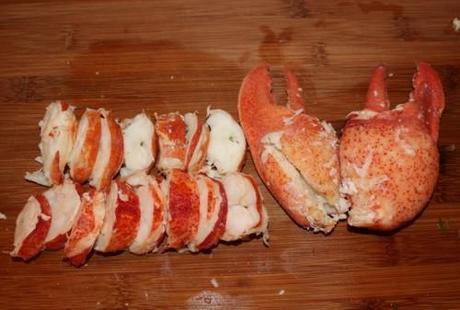 The essentials of Lobster Newberg, from its first appearance on Delmonco's menu in 1876, are medallions of lobster tail and whole claws cooked in butter, flavored with sherry, finished with a bit of cream and hot pepper.  Our spectacular Lobster Newberg recipe turns up the heat with Habañero pepper and replaces the button mushrooms that have infiltrated the dish over the years with chanterelles.  We gild the lily with dollops of caviar and you should too.
Now all you internet conspiracy theorists will find a trove of controversy and conflicting claims surrounding the real, true, authentic origins of Lobster Newberg.  As always, success has many fathers while failures are inevitably orphans.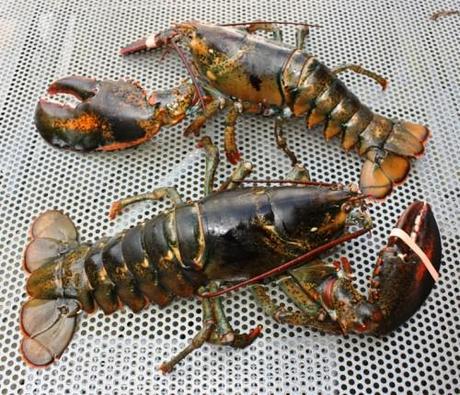 What care I if Louis Fauchère, who sweat over the sauce pans at Delmonico's, claimed he invented this marvel when he opened his own Hotel Fauchère in Milford, PA? Yeah, right,
Pennsylvania,
home of "Virtue, Liberty and Independence and Lobster Newberg." Don't think so.
And please, Alessandro Filippini, an 1849 Delmonico chef 1849, no one doubts Delmonco waiters before and since have expertly sautéed succulent bits of lobster table-side.
But it wasn't until 1876 that retaurant patron Ben Wenberg, whose self-made fortune stemmed from the fruit-shipping trade with Cuba, boldly took control of the chafing dish duties from an undoubtedly startled maître d'.  Wenberg doctored up his sautéed lobster with some hot pepper (all that time in the West Indies) and cream and sherry and a star was born!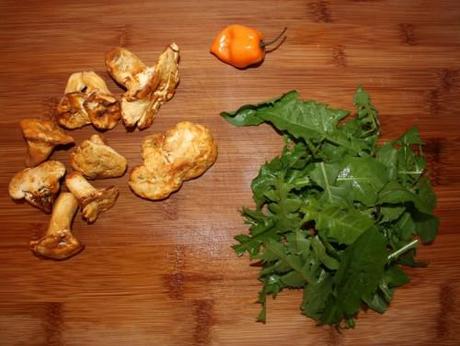 Yet as these things tend to happen, Mr. Delmonico and Mr. Wenberg had a falling out. Wenberg and his cursed name were banished from the premises. But how to satisfy the continued customer demand for the celebrated delicacy?
And that, kiddies, is how Lobster á la Wenberg became Lobster Newberg.  Delmonico's: both timeless and ahead of its time.  Look no further than Oprah's Harpo Studios or Arnold Isaacs' Scassi fashion label as proof of Delmonico's creative naming skills.
Bringing our Lobster Newberg recipe even more up-to-the minute, included with the recipe is an update on the French classic Riz Vert — employing a chiffonade of foraged dandelion greens rather than the traditional spinach.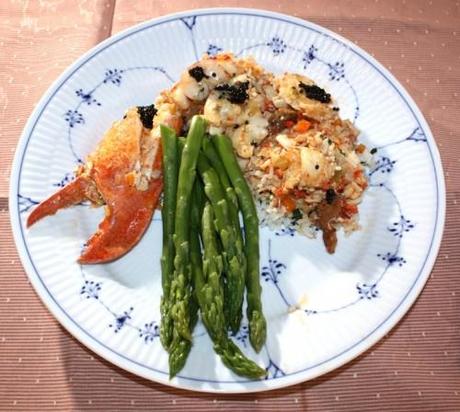 A note about lobsters: In the quest for the biggest, fattest lobster tails and yet not wanting to break the bank (we did have that caviar to factor into the equation) we selected these monstrous 3 lb. + culls. One claw each, but what claws they were. And you see that they look just dandy in this party appropriate presentation.
Click here for the recipe for Lobster Newberg and Dandelion Rice.