Hi everyone, today I'm going to do a review on a face mask that I have recently tried and loved:
Liz Earle Deep Cleansing Mask
.
I bought the
Deep Cleansing Mask Starter Pack
(£12.75) which contains a 75ml tube of mask & two sponges.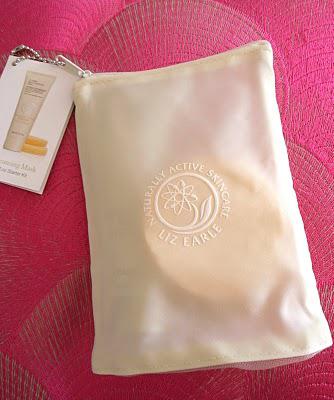 The 75ml tube is not huge, but a little goes a long way with this mask and I can see it lasting quite a long time.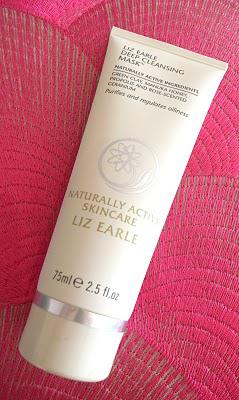 The two sponges it comes with. They aren't very soft to the touch, but are effective in removing the mask.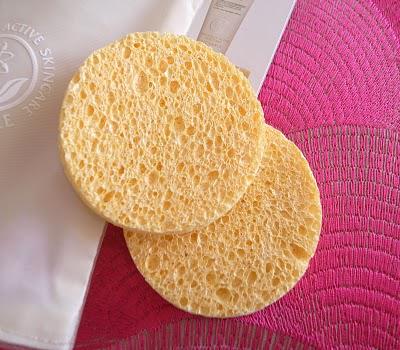 Ingredients:
Ingredients include; aloe vera, manuka honey, propolis, white clay, green clay, and geranium essential oil
Liz Earle is a company that uses organic products whenever they possibly can. Their products harness the powers of naturally active ingredients. Liz Earle is completely against animal testing, they do not use animal ingredients, nor do they use mineral oils in their products.
I am already a fan of their haircare and have heard lots of great reviews on their skincare line. I normally use hydrating paper masks, so was looking for an effective deep cleansing clay mask.
According to Liz Earle:
Our highly concentrated clay and botanical mask for spots, oily, and combination or problem-prone skin. Includes green kaolin clay to help eliminate impurities and absorb excess oil, calming manuka honey, sootinh propolis plus rose scented geranium essential oil to leave you skin looking clean and clear.
Not suitable for sensitive skin.
Instructions:
Smooth over face and neck. Leave on for 5-10 mins. Wipe away residue with sponge.
My Thoughts:
Scent and Texture
The mask certainly has that 'natural product' scent. It's quite strong and smells of clay and
slightly
of fermenting fruit. The texture is a lot lighter than typical clay based masks. It's creamy, light and very easy to spread. Only a small amount is needed as a little goes a long way.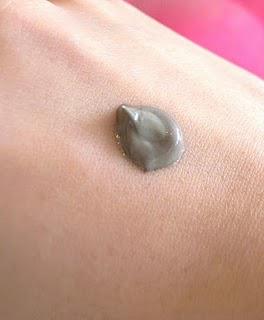 How it felt on skin
It felt really fresh to apply. The mask sets very quickly and soon tightens as the mask begins to dry. Though the mask felt tight on my skin, it wasn't unbearably so. I used the sponges included to wipe off the mask from my skin. I then splashed my face with cold water to get rid of all traces of the mask. The sponges felt a little rough on my skin, so those with sensitive skin beware (you might have to give this mask a miss). Eventhough I have sensitive skin, the mask did not irritate my face.
I'm using pictures of the mask on my hand to show you what it looks like once applied.
mask first applied: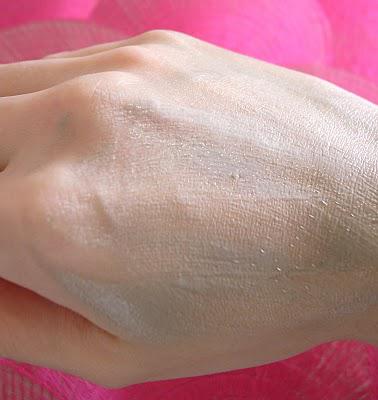 mask after 5 mins: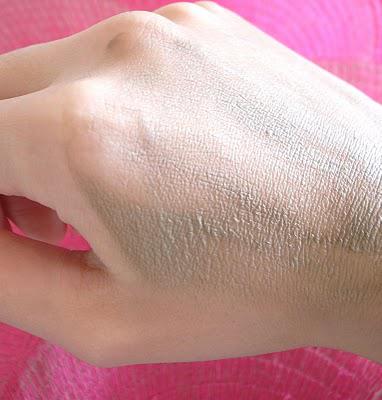 Effectiveness:
This mask is great! My skin feels super fresh and clean after using it. My pores look smaller, my skin looks clearer. Right after using the mask, my skin feels really supple and springy to the touch. My skin also feels incredibly soft after use.
I found the mask to be pretty affordable for such an effective product. I really love this mask, and my skin always feels great after using it.
Pros:
-good value for money
-really effective at deep cleansing
-skin felt great (fresh, supple and smooth) after use
-uses naturally active ingredients
Cons:
-may not be suitable for sensitive skin
-some might not like the scent