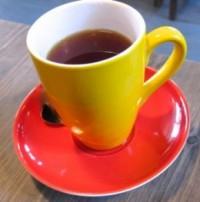 Tea
Little Georgia I hadn't intended to write about the tea at Little Georgia, but a comment on my last post, Tinderbox cafe, gave new insight into the significance of the site.
As a tea lover and cricket fan, it is fantastic to discover I am living yards away from the site of an 18th century tea-garden, and the original site of Lord's cricket ground; so I thought it worth a mention.
Rob Smith from Footprints of London kindly took the time to write:
'Not far from where N1 is now, used to be one of the most fashionable tea gardens in 18th century London, the White Conduit House. Crowds would gather at the gates, eager to get the best seats to be served tea, cream and the house speciality White Conduit Loaves, which were small sweet buttered rolls. People like the poet Oliver Goldsmith visited, and Thomas Lord played cricket there, before moving his cricket club to Marylebone. Fashions change and the White Conduit House was built over in the 1820s. A Victorian pub stands on the site on Barnsbury Road, now a Georgian restaurant.'
The food at Little Georgia is fantastic and is my favorite place to eat in the area. It is a lovely old pub interior with an old fireplace, wood panelling and stained glass. The owners have created an interesting space hung with Georgian film posters. Fruit and freshly baked cake on the counter give it a warm, welcoming feel.
I have also been for tea and cake. To be honest the tea was pretty average, but the home-made warm apple cake (below, left) was divine and Little Georgia is a pleasant place sit, with windows on both sides.
I've now got quite a fancy for a White Conduit Loaf, sounds lovely with a cuppa. So if anyone knows the recipe…?
---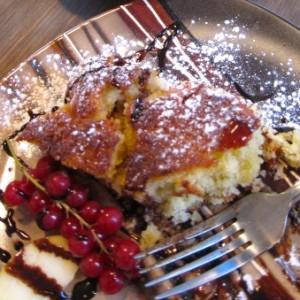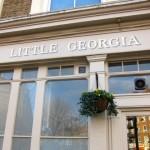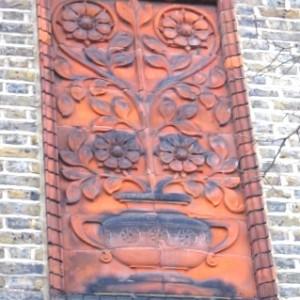 ---


Price of a Cuppa : £2-ish

Leaf or Bag : bag

Crockery : red and yellow china

Music : none

Service : Welcoming and friendly

Food : Excellent

Kitty says: I loved this place before, but a bit of history makes it better
Address: 14 Barnsbury Road
London
N1 0HB
+44 207 278 6100
Website: Little Georgia
---
Walks in Islington
London's Larder – Footprints of London
I have not done any of Rob's walks but I better give him a plug after all that info – and this does sound good:
'This walk looks at how Islington has kept London fed for the last 800 years…you'll hear about dishes like White Conduit Rolls, Islington Cheesecake and White Pot; Cream and Cake Boys, Nippies and Merry Milkmaids…the home of Webb's Soda Water and Mad Frankie Frasers favorite café…'
Date: 21st February 2013, 7pm
Details: footprintsoflondon.com

---
North Clerkenwell with Old Maps – London Trails
This is walk that I have done and can heartily recommend.
Ken Titmuss' (a.k.a. the Old Map Man) excellent walk around north Clerkenwell.
'Hillside walk…exploring what became of the fields around Sadler's Wells, the New River Head and Randell's Tile Works. Along the way… William Chadwick Mylne, Fanny Wilkinson, Joseph Grimaldi…Arnold Bennett's celebrated 1923 novel Riceyman Steps.'
Ken is a fascinating guide, and the use of old maps really brings the past to life.
Next North Clerkenwell Walk – 17th February 11am
Details: londontrails.wordpress.com
---
Cricket Tours of Lord's
The 274 bus will take you from the Barnsbury site of Thomas Lord's original ground, to the present day 'Home of Cricket' at St John's Wood.
The tour of Lord's is fantastic and well worth doing.
Details: Lords Cricket Ground Tours
---
Places for a cup of tea in Islington and Lord's Cricket Ground

Bill's
White Lion Street

Candid Arts Cafe
Torrens Street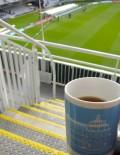 Grand Stand
Lord's Cricket Ground

---