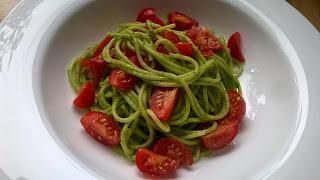 Ingredients
100g wild garlic, 100g fresh basil, 50ml olive oil, parmigiano, 1/2 lemon, 50g pine nuts, linguine, tomatoes.
Preparation:

 5-10 minutes
If you follow me on Twitter, you may have seen me recently posting about foraging for wild garlic pesto but I have finally got around to actually updating here! I love wild garlic. It's so vibrantly green and though every bit as pungent as garlic bulbs, when eaten raw it does not have that same sting of heat. When I was pregnant with The Starchild I swapped garlic bulbs for wild garlic on many an occasion to avoid getting heartburn. This dish is so fresh and glorious and ridiculously quick and simple to make.

1) Put the pasta on to boil and slice the tomatoes into quarters.
2)
Add the basil and wild garlic to a mortar bowl and grind to a fine pulp. You can use a blender if you wish of course
3) 
Add the pine nuts, olive oil and grated parmeggian and grind thoroughly, adding lemon juice to taste, and if you wish a pinch of salt though personally I find the parmigiano and wild garlic take care of the savoury notes
4)

Drain the pasta and stir in a few spoons of pesto, then toss with the tomatoes and serve.