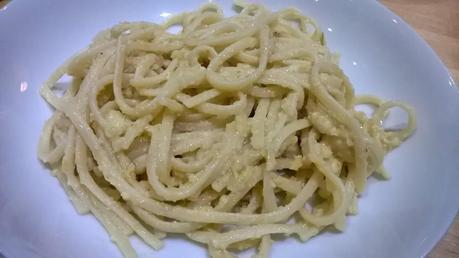 Ingredients
Artichoke, olive oil, linguine.
Preparation:

 40 minutes
This ridiculously simple pasta dish is nothing short of fabulous! Silky, luxurious artichoke cream stirred into linguine - what could be easier? If you can't be bothered cooking your own artichoke, you could probably even use a jar of antipasti!

1) Break the stem of the artichoke as close to the base as you can, then put the artichoke head first into a pan of hot, salted water and keep it submerged with an upturned pan lid (or plate). It will take 20-30 minutes to cook until tender - test the base with a knife - if it goes in smoothly it's ready!

2) Simmer the linguine in hot, salted water for 8-10 minutes then drain.



3)

Slice the artichoke leaves and add to the blender along with a generous glug of olive oil. Blitz until a soft puree has formed and stir in the linguine.