You'll be hard pressed to find a woman that wouldn't love to receive a silk nightwear set as a gift. It's the perfect present - luxurious, decadent and yet wonderfully practical too!
But with the huge selection of silk nightwear available, which set to buy her?
Here is our guide to picking the perfect silk nightwear for your partner...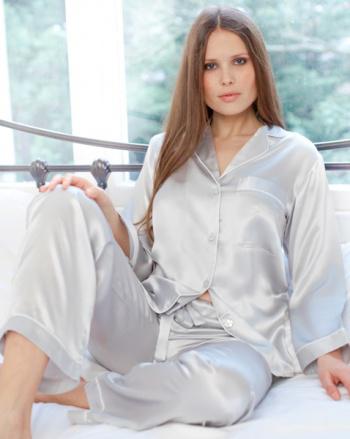 Long silk pyjamas are perfect for the woman who values comfort above all 
Size
First and foremost, you'll need to know her size. If you've been together a while you'll (hopefully) already know this, but if not you may need to do a bit of secret investigation. 
Look for the number on the label of her clothing, e.g. '12'. Offer to help her hang her washing or get her coat, so you can take a surreptitious peek at the label without raising suspicion - you don't want to get caught rummaging through her drawers and have to confess and spoil the surprise!
Remember that not all women wear the same size tops and bottoms, so if your lady is a pear shape (curvy hips, small bust) or an apple shape (large bust, slim hips) check the labels from a t-shirt and a pair of trousers or a skirt.
Style
There are various styles of silk nightwear available and not all women will like the same thing. It's also important to remember here that you are buying a gift for her, not for yourself - if you want her to love the gift, choose something that she will enjoy wearing, not what you want her to wear!
Think about the type of nightwear that you've seen her in. Does she prefer traditional pyjamas with long sleeves and long bottoms? Or is she more of a camisole and shorts kind of girl? Perhaps she even prefers a nightdress.
Consider the time of year too. It's not sensible giving a long pyjama set in the height of a very hot summer!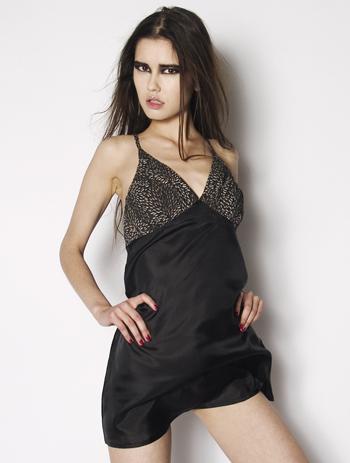 A black silk nightdress is perfect for the sexy, confident woman who loves to look good!
Colour & Print

Colour is important too - again, think about the types of colours she normally wears and opt for something similar.
If she's always in black or white, chances are she has a classic style and will like whites, blacks, navy blues and dark, silky greys. On the other hand, if she's always wearing something bright and colourful then plain and simple just isn't her style, so go for a bold red or a girly pink.
Prints are just as important as colour so consider whether your partner is more of a classic, simple woman (block colours), a girly girl (floral prints) or a trend-led fashionista (polkadots and stripes). 
Brand
Last but not least, consider the brands she normally wears. Again, you can find this from her clothing labels, or otherwise next time you're out shopping together take a mental note of the shops she goes in (plus this is a great opportunity to gauge an idea of her favourite styles and colours!).
Still stuck for ideas? If in doubt, a lingerie gift voucher still makes a lovely gift and by letting her choose for herself, at least you know she'll love the set!