Now let's start with this... I know there shouldn't just be one day to show those you love, how much they mean to you. Those special people being besties, partners or family. Valentine's Day is not just for loved up couples. But it is kind of nice to have that day, where you're reminded of that love all around you. Especially if that love isn't necessarily from a partner, so you don't have an anniversary as such. In that one day, there's a whole lot of love going around - because... Heartfelt can happen anywhere!
In my case, I do have a special male human being whom I call my boyfriend. The comedian in my life who often crops up on here or on Instagram. This Valentine's Day will be our second. I think this is the first time I'm actually super excited about it.. because we have changed plans around so we can spend it together. We have a cute evening planned with some of our favourite things. In case you're looking for some inspiration on what to do this Valentine's Day, here are some of our tips:
Night In
We tend to prefer a night in rather than a night out on Valentine's Day. There's something about using the occasion to cook a fancy meal (possibly together), sitting at the dining table (or on the sofa with no tv) in candlelight with a glass of vino. Proper quality time together. Talking about our day, giggling about the funny bits or the constant jokes Chris makes, and generally just giving each other our time.
I don't' know whether it's because we both do enjoy cooking (especially with a little music and a boogie) or whether it's because we're then on our own. But it's so cute.
And if you don't like cooking... a favourite takeaway (do you both have a favourite?) or something speedy and simple is still a great shout. It's all about your fave food, together.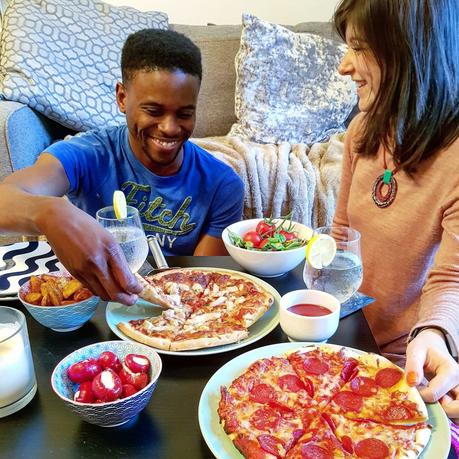 Board Games
We are super competitive and love any chance to go head to head. We did really get back into the Nintendo Wii, however, I quite like an old fashioned board game or something similar. We've played some awesome ones recently (including one VERY tense game of 'On Your Marks' with my sister and brother-in-law).
For Valentine's Day, we thought we'd try something new. A couple's board game. The game of Perfect Partners.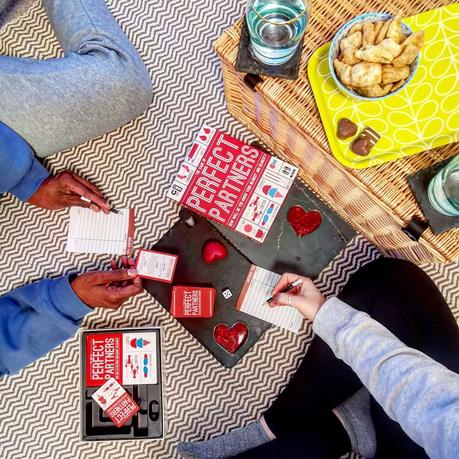 Yes, I thought it might be a little cringe too, but it was actually hilarious. I absolutely loved it. We had so many giggles, laughs and stories. It's a great way to get to know a few things about the other you didn't know yet - and don't worry there weren't any awkward moments! This is a fab way to have a little fun, get a little competitive, and enjoy yourselves.
Drinks creation
We do love a glass of wine. A smooth, light red goes down beautifully with dinner. In fact, back when we first got together, we drank quite a bit of red. But we also often have a booze-free evening, and they are just as good.
I have fallen in love with mocktails of late, and just like cocktails, you can whip up some awesome inventions. So why not get in a line-up of mocktail ingredients, pop on some music and have a go at creating something new together. If you do fancy a cheeky beverage, you can always make them cocktails. Entirely up to you. Just have a little fun.
Films
This is probably how we end up finishing our evening. Snuggled up on the sofa, in front of a film we've chosen. We don't often choose a romance, but I do love the classics - The Notebook, P.S. I Love You, The Proposal, the list goes on. So perhaps this Valentine's Day we will go for something a little more in tune with the day. However, you don't have to - the joy of being at home in front of your tv, means you're in control. We have an ever-growing Netflix list, so I'm sure we'll find something on there. Or will end up flipping a coin.
Don't forget the film snacks though! As we do love a cosy night in, in front of a film or TV series, my pressie to Chris this year is a hamper for such an evening - A Beer & Snacks Tray from Moonpig. It arrived in a wooden crate, and was filled with two bottles of craft beer, pork crackling, peanuts, chillipuffs and Black Cracked Pepper Sausalami. Such a selection! Chris is a savoury lover, so although I was tempted by the chocolate, I knew this was perfect for him. And would be a great gift idea for a lover of nights in... or equally a joint pressie to enjoy together!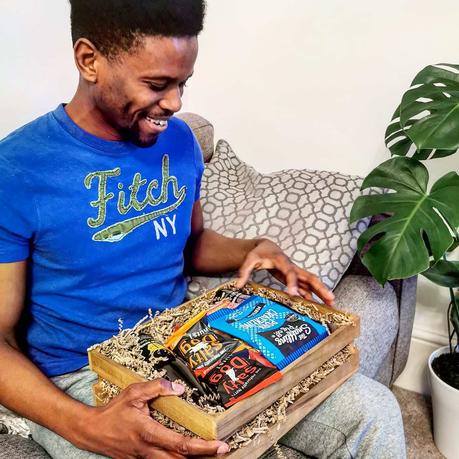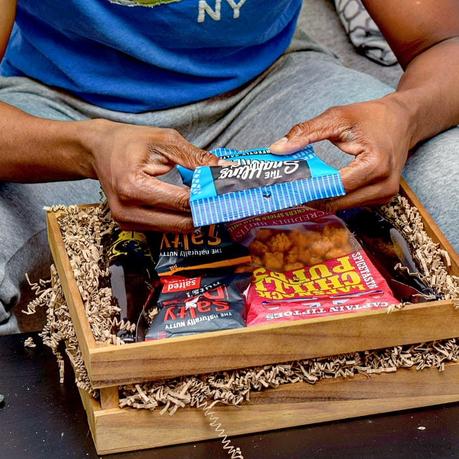 Cards & Gifts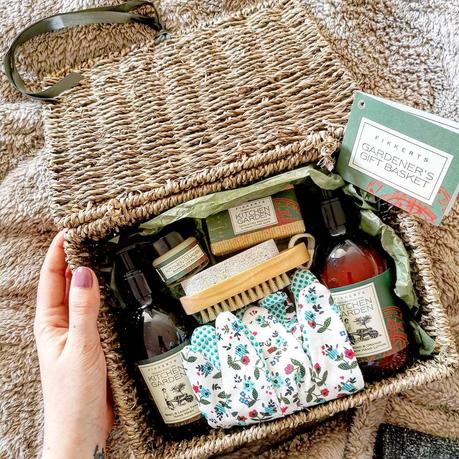 As you know by now, we are doing gifts this Valentine's Day. I was never the Valentine's gifting person before being with Chris. But we set a budget and just buy a little thoughtful something for the occasion. We have already exchanged gifts (mainly to give you guys some inspiration before the day) - basically, we get two Valentine's Days! haha. Chris loved his Beer & Snacks Tray! Great minds thinking alike and all that jazz, Chris also picked me a hamper. Knowing how much I love our plants, he picked a Gardeners Beauty Gift Basket ...
It was gorgeous! A hand-made seagrass hamper filled with Basil and Lemon Thyme Hand Wash, Almond and Orange Blossom Hand Lotion, Exfoliating Soap, Beeswax Lip Balm and a nail brush. The scents of the beauty products were divine! We move flat in a few weeks, so I'm saving them especially - he knew I wanted some new fancy hand stuff for our new bathroom!
As well as the Beer & Snacks Hamper I did also order a joint pressie. You see, occasionally we lack inspiration for date night too.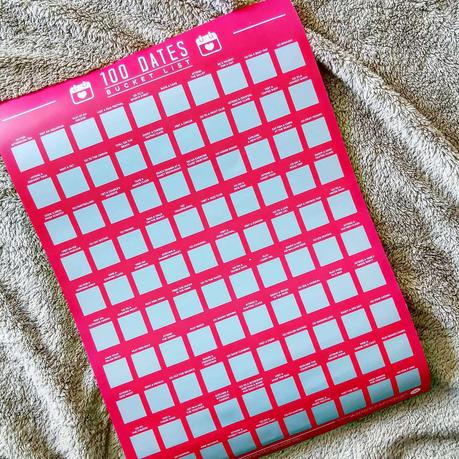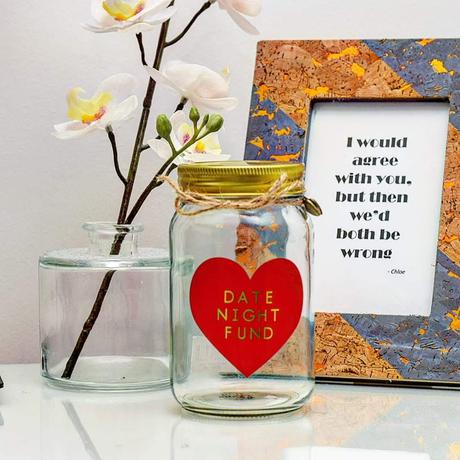 Especially as we often do go out to eat, and fancy shaking things up occasionally. So when I spotted the 100 Dates Scratch off poster, I couldn't resist! It looked so fun! I did think it might be a bit of a novelty, and perhaps something which might not stick. But it's of great quality, and there are so many fab suggestions. I can't wait to stick this up inside one of our cupboards in the new place, and start switching up our date nights to try some of these new ideas! Can already see the fun we're going to have! Plus we also have a super cute date night money jar from Moonpig too - so we can put a little aside when we can to go towards one of the bigger ideas. Also, if you actually fancy a night out on Valentine's Day, this could give some inspiration on what to do 😉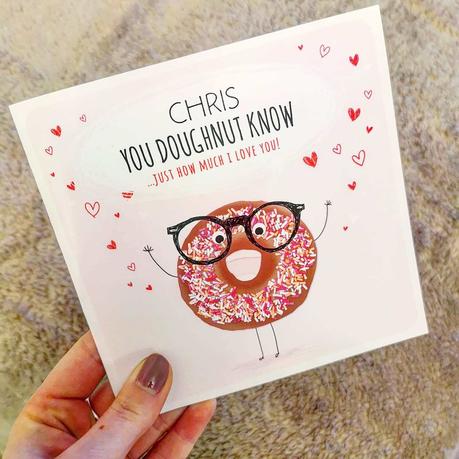 I actually thought Moonpig mainly did flowers, and the odd bottle of fizz. But there's such a variety of gifts online, including cute personalised gifts, more hampers, jewellery, mugs, teddies, activities, books, beer and more! What's more, our gifts arrived next day on just a standard first class post (90% do!) so if you leave it last minute, you'll (most likely) be covered 🙂
We also picked our cards from Moonpig, because they have an awesome selection including rude humour, humour, topical, cute/sentimental, various partner terms and personalised ones too. I had such a giggle browsing these for half an hour! We are holding off giving these until the day, but here's a sneak peek of Chris' (He knows not to read my blog post :)) ...
Had to be a food pun, didn't it! Plus he absolutely loves doughnuts, so it's very fitting!
And there you have it. Our fave way to spend Valentine's Day, and some tips/inspiration for things to do, as well as gifts. How do you think you'll spend your Valentine's Day?
Chloe xx
* This post is in collaboration with Moonpig. All items were gifted, however, all views are our own!