How many quizzes have you done since lockdown began? Let me guess - quite a few. Online quizzes have quickly become THE thing to do in the UK right now. There are so many virtual ones from themed ones around our favourite pop culture, to pubs holding their usual weekly quiz just online. We've done our fair share including the weekly one I have at work, through to those friends have created to bring everyone together. I have been loving it. But what about when you want something a little different. When you've had enough of the straight-up quiz life. That's where Quingo comes in - The virtual quiz crossed with bingo from Dabbers.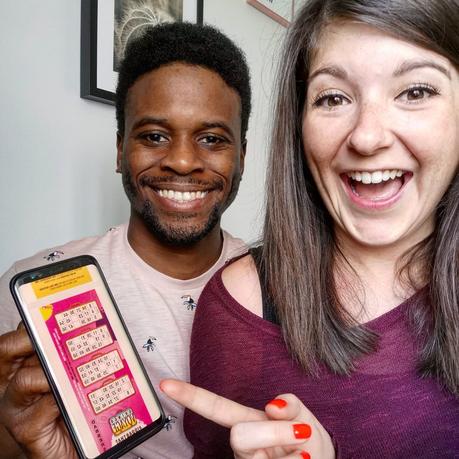 Dabbers, the creators of Dabbers Bingo, Musical Bingo and Gospeloke, describe the new hybrid as a 'bingo flavoured quiz'.
Presented by a hilarious comedian host and an 'assistant', they pull numbers from the bingo machine and ask questions. The answers to which are numbers for you to dab off. Questions range in difficulty; such as the address of the prime minister, to the how many steps were in the title of the Alfred Hitchcock film, or how many years in two decades.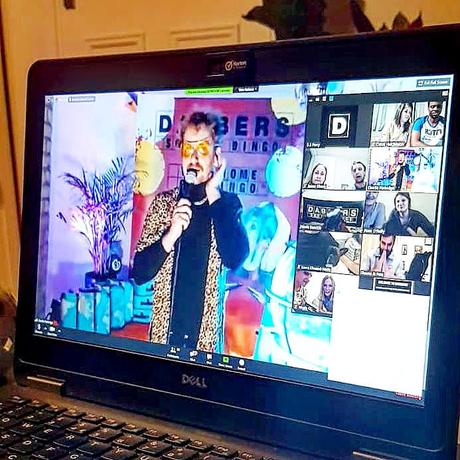 But it's no standard quiz, the comedian was cracking jokes throughout. Charlie Partridge was a little cringe, so you have to be in the right mood for this kind of humour. But if you embrace it, it's really funny. There are also music rounds, where the DJ will play a song and the answer will be in it. The catch to this round is everyone needs to dance too! The producer puts many different people who have joined on the main screen which is great to see as it makes you feel part of it. We appeared a couple of times, throwing shapes from our sofa.
As for prizes, there are prizes for the first to get to a line, and then first to a full house. If more than one gets 'Quingo' at the same time, they head into the 'Battle Zone'. Viewers get to watch the 'Quingo' callers battle it out to pick a prize. We watched a virtual rock, paper, scissors game, and a hilarious air guitar battle! It was so funny.
Prizes themselves included some great things to win.
On the night we played, there was a £25 Uber Eats voucher, a table at Dabbers live when they re-open, and free games at Plonk crazy golf (for future use of course). It really was all to play for.
Each session, you play three games in total, with a short interval for a quick wee break and time to make another cheeky beverage.
Good thing is there shouldn't be a wait at the bar or queue for the toilet as you're in your own home!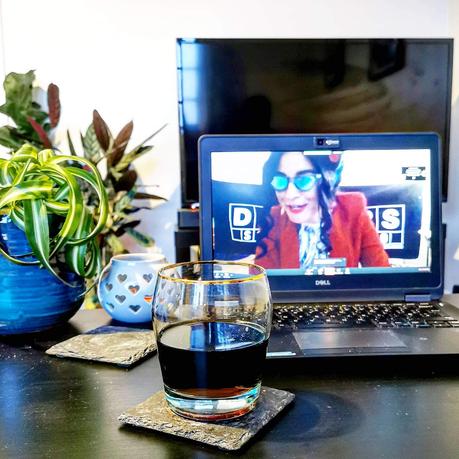 'Bingo took off in the UK towards the end of the second world war because during difficult times, it provided communities across the country with a chance to come together, socialise, and enjoy themselves around a fun game of bingo. It had a huge positive impact on our grandparents' generation, and it's why most of us know it as a game that old folks used to play!', Co founder Ed Wethered explained. They wanted to bring this to people during lockdown, but make it more up-to-date, competitive and social, and encourage more remote interactions for those isolating alone.
We think they did just this!
With a drink in hand, it's not quite got the 'night out' feeling. But that's so hard to recreate through online interactions. It was however really fun. We think the questions could have changed for each round, as we soon got used to which questions had which answers (we've fed this back so they might bring this in). But we still played right through to the end. Three whole games, plenty of boogie-ing on sofa and laughs.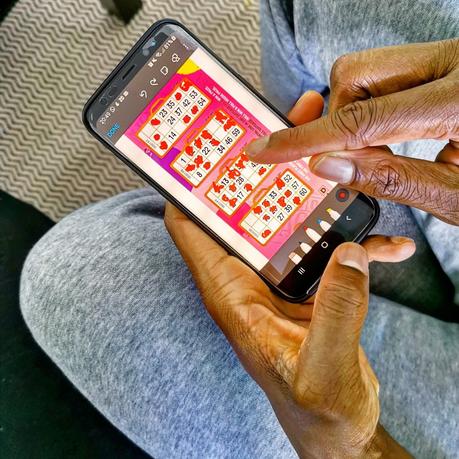 Quingo is running every Friday and Saturday during lockdown. It's £9 to join - with this you get one bingo card and three games. You can buy additional bingo cards if you're playing with others in your household for just £4! Chris and I had a bingo card each and we would recommend. It made us get a little more competitive between us too! What's more, Dabbers Social Bingo is pledging 10% of all ticket sales to support Hospitality Action, a charity that helps those working in the hospitality industry. A great cause and something I'm VERY keen to get behind!
If you're thinking of new things to do at home during this lockdown, why not give it a try?
Summary - Quingo (Virtual Quiz crossed with Bingo):
Price: £9 for one bingo card and the zoom meeting details. £4 for additional bingo cards for others in your household. We'd definitely recommend one each so you can get competitive between you too!
Experience: Funny. Cringe at times, but funny. The questions range in difficulty, really getting you thinking. Hopefully, they'll start shaking the questions up each round, but still fun.
Atmosphere: Not quite a night out. But still fun. The Dabbers team engaged with plenty of those dialled in and streamed as many videos of people dancing throughout too so you felt like you were part of a big event, which was really nice!
Book?: Yes do book. You can find the events and book through the Dabbers calendar (they use Design Your Night to process the booking)
How many times have you done a virtual quiz during lockdown? What else have you been enjoying? What are your little pleasures?
Chloe
* I was invited to join Quingo for review purposes. All views my own.