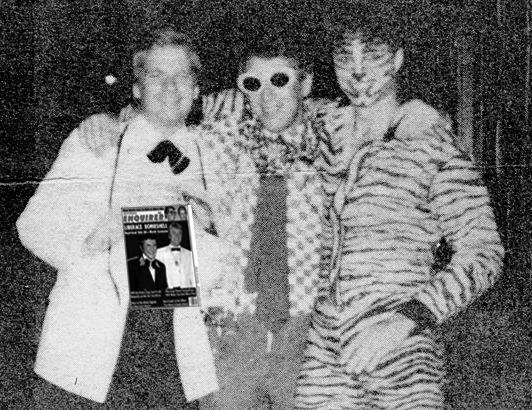 "I don't care about the money — I just want Lee back!" cried this rueful Scott Thorson (the late, great Peter Croce) on a balmy Greenwich Village Halloween long ago, as seen in this New York Native's full-page photo headlined Night of Beasts and Fairies.
No doubt jilted lover Thorson also missed Liberace's (or Lee, as he was known to family and intimates) scrumptious cooking. No matter the purported high-jinks enacted in HBO's "Behind the Candelabra," Liberace's dazzling lifestyle and visionary gourmandise  compose the true legacy that will endure the ages.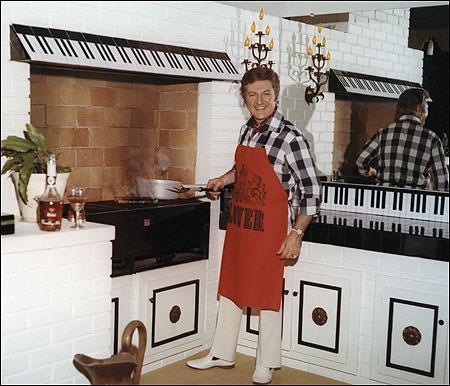 Spectacularly Delicious has payed homage to Liberace's vast and sophisticated culinary repertoire:
Tuna Sashimi
(in the 1970s!), buttery
Sablés
and over-the-top Prosciutto Scampi.
This big-hearted man with seven dining rooms never tired of sharing his wit, talent and divine sense of glittery luxury. So for any major TV event no one need wonder WWLD?
What would Liberace do for the premier this historic HBO biopic? No doubt he'd whip up a creamy casserole of Chicken Divan.  Succulent white chicken breasts astride shafts of asparagus, blissful comfort both enriched and masked in hot bubbling cheese.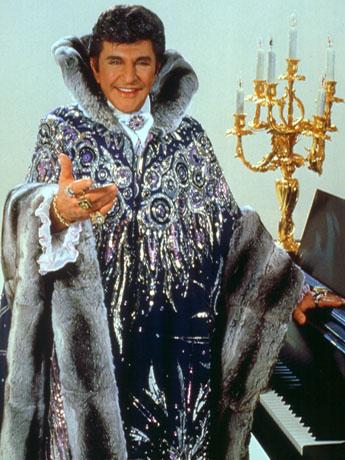 This Liberace recipe is adapted from from Liberace Cooks! written with Carole Truax.
Liberace Recipe for
Chicken Divan
2 lbs asparagus
2 large, poached boneless, skinless chicken breasts
3 T. butter
3 T flour (Wondra is wonderful for this, it'll eliminate any lumps in the sauce)
1 1/2 c. half and half
1 t. salt
1/4 t. pepper
1 T. dry sherry
juice of 1/2 lemon
1/2 c. grated Parmesan cheese
It's best to poach the chicken breasts in whole milk.  When cool, slice the cooked chicken breasts into 1/4″ rounds.
Peel the bottoms of the asparagus stalks. Barely cover with water in a wide shallow pan and bring to a low bowl. Cook asparagus for five minutes, immediately drain and plunge into a large bowl of ice water to arrest the cooking and preserve the vibrant color. When completely cooled, drain well.
Arrange the asparagus in the bottom of an attractive gratin or casserole.  Fan out the chicken slices on top.
In a saucepan melt the butter, stir in the flour and cook, stirring, for 1 minute.  Into this thick base whisk in the half and half, mixing it completely smooth as you bring the sauce to a gentle simmer. Add the sherry, lemon juice and s&p. Cook for 2 minutes, stirring all the while. Stir in 1/4 c. of the Parmesans, and cook until the cheese is melted into the sauce.
Nap the chicken breast slices with the hot sauce, using a spatula to cover evenly. Sprinkle on the remaining 1/4 c. cheese.
Place the dish into a pre-heated 350º oven and bake for 10 minutes, until heated through. Finish by turning the oven to broil and burnishing the top until lightly brown and bubbly.
Serve at once directly from the dish it was cooked in.
[print recipe]