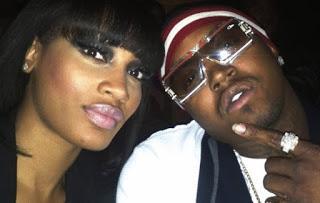 Do we even believe the Love & Hip Hop franchise is REALLY reality anymore? No. Still, it is highly interesting to watch isn't it. You still have people that will scream from the rooftops that the show is 100% real, unscripted, unsweetened TEA! Blah! So now we are all basking in the after glow of Yandy and Mendecees wedding, only to be brought back to reality because the show must in fact, go on. I was sitting here watching reruns for something to blog about and I thought to myself, Isn't Little Scrappy supposed to be on his way to jail for lack of child support payment? I mean correct me if I'm wrong, isn't that where we last saw the Erica and Scrappy? Well, me being the nosy person that I am I'm like, I don't want to wait. So I start digging.
Leave it up to me to find that Erica actually has NO case pending against Scrappy for child support or anything otherwise. In the show we see Erica claiming Scrappy owes her $45,000 in back child support. We see her meet with her lawyer, we see her lawyer say he is going to petition the court for a warrant for his arrest. Erica and her lawyer meets with Scrappy and his lawyer... Right...
So tell me why the ONLY case pertaining to Erica Dixon and Darryl 'Scrappy' Richardson, although dismissed as quickly as petitioned, is one where Scrappy is the Plaintiff? Scrappy however has a small list of criminal cases, all closed. HUH? This particular family court case was dismissed as of 2/23/2015. (Darryl Richardson VS. Erica Dixon).
DEFENDANTDIXON, ERICA

  College Park, GA 30349
PLAINTIFFRICHARDSON, DARRYL
DISPOSITIONS

02/23/2015  DISMISSED WITHOUT PREJUDICE (Judicial Officer: JUDGE, FAMILY 1)

  


  OTHER EVENTS AND HEARINGS

02/24/2015  30 DAY CONTESTED  (10:30 AM) (Judicial Officer JUDGE, FAMILY 1)

02/23/2015  DISMISSAL WITHOUT PREJUDICE

01/20/2015  PLAINTIFF'S ORIGINAL PETITION

01/20/2015  CASE INITIATION FORM   

 
 I mean I really don't know, but I guess, I usually take a lot of speculation with my 'Truths'. Maybe they went to the same place that Bambi went to get her abortion, I mean after she had her miscarriage, I mean to get the piss for the pregnancy test. Who knows. If it weren't for Joseline Hernandez and her 'shenanigans' the show wouldn't even be half as entertaining as it is. So, I guess we are at the point that is going to be soap opera-ish. IF this is where the show is going, why not fire everyone without a real storyline and hire replacements. Anyway, y'all still have me as long as Joseline is a cast member, you can't BUY that type of ratchet!