Flip Covers are very popular and offer protection for the screen of your smartphone without having to use huge, bulky case. In March, Samsung came up with the Galaxy S4 and immediately showed S View Cover, which is basically redesigned flip cover with a small opening on the front, allowing users to see notifications. LG also introduced a similar case for the LG G2, named Quick Window.
LG Quick Window
LG has recently released some details about the LG G2. This handset is the successor to the LG Optimus G, but the company will not use the suffix 'Optimus' any more for their high-end devices. What we know about the G2 is that the device has a fast Qualcomm Snapdragon 800 chip and it will be equipped with a fingerprint scanner on the back. We already wrote about G2 here.
The Quick Window is one of the premium accessories for the G2 that LG has just introduced. This is a flip-style cover with a small square window on the front, which displays a bit of the screen. Users can change the information shared through this window by simply swiping their finger over the screen. Information that can be seen through the window include: time, weather, news, alarm clock, music player and incoming messages and phone calls.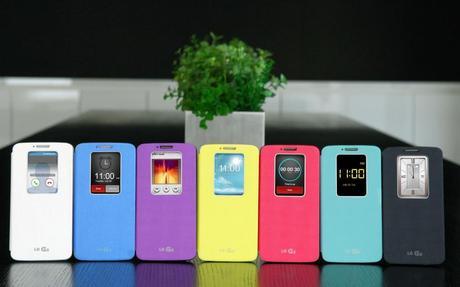 The interesting thing about the Quick Window is that it seems that you can choose the display theme on the screen. This allows you to choose a particular color of the cover and then choosing a Quick Window theme, you can completely change the look of your phone.
The LG Quick Window will be available from the launch of the LG G2, and it can be found in the following colours: black, blue, mint, pink, purple, white and yellow. A price is not yet known, but it is expected to be much lower than the cost of S View Cover from Samsung.