Recently it has been rumoured a lot about LG's upcoming Optimus G – the first mobile with LG's areas of expertise cooperated fully in order to deliver an LTE smartphone with the best possible performance, screen, design, battery and user experience.
There is no question that this will be one of the top phones. So what is the Optimus G? It is a new premium smartphone with an innovative and intuitive user interface and innovative hardware. To begin with, it is a quad-core phone (Snapdragon S4 Pro processor) clocked at 1.5 GHz. The screen is 4.7 inches and the resolution is 1280 x 768 pixels. The inside of the phone hides 2 GB RAM and 32 GB of built-in storage.
More premium than competitors
Optimus G is narrower and thinner than competitors like HTC One X and Samsung Galaxy S3, but it is not all. LG has chosen to spice it all up with some exclusive materials – the back is made of glass and has been declared to have a "polarized" look. This of course means that Optimus G is slightly heavier than the aforementioned competitors. Back side design means that the surface reflects light differently – something that makes the color change if you tilt the phone. LG calls this "Crystal Reflection Back". The back has also been equipped with a camera of 13 mega pixels (front camera is 1.3 megapixels). To keep it all running LG has poked a battery of 2100 mAh, which might make sense given that the phone is capable of both NFC and LTE.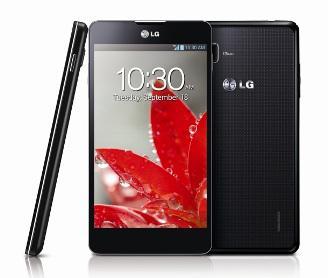 LG Optimus G Smartphone
Forget multitasking – meet the cross-tasking
LG Optimus G comes with Android 4.0 and so far we do not know if this will be upgraded to 4.1 until it is time for the global launch. The interface has been LG modified (Optimus UI) and the manufacturer says that it not only allows multitasking – but "cross-tasking". While multi-tasking means to have different applications running simultaneously, it means cross-tasking users can use applications simultaneously and perform multiple complex tasks simultaneously on the screen. Among other things, you should be able to connect your mobile phone to your TV and view two different images on the screens simultaneously.
The most interesting innovative features on LG Optimus G
QSlide: This feature shows the real benefits of cross-tasking. It allows the user to use two programs or functions simultaneously on the screen using transparent layers. For example, sending a text message while watching a video or referencing an email while looking at a map.
Live Zooming: The Live Zooming allows the user to zoom in and out of the picture, even when the video is playing. For example, you can zoom in on a road sign in the film you look at, to identify the location for the filming.
Dual Screen Dual Play: You can mirror your smartphone screen on the TV or project different content to your TV screen, like a PowerPoint presentation. For example, a presentation is displayed on a TV while Optimus G shows the accompanying presentation notes.
Icon Personalizer: This function allows the user to customize icons by editing their size and add photos, so that the most used apps become more visible and easily accessible.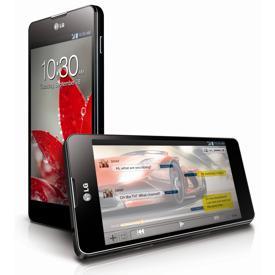 LG Optimus G – innovative user interface
* The LG Optimus G is launched in Korea in September 2012, followed by Japan and other selected markets in October. European availability is estimated for the first quarter of 2013. Exact specifications for the European version will be announced closer to launch.
Until this phone becomes available, check out the accessories for this phone's popular competitors: HTC One X accessories, iPhone 5 accessories or Galaxy S3 accessories.