It's been a busy year for major smartphone manufacturers – Samsung released the Galaxy S5 back in February, HTC launched the One M8 in March, Sony the Xperia Z2 in April, and LG launched its most recent flagship smartphone, the LG G3, in May 2014. Apple is expected to launch its upcoming iPhone 6 in September, so if you're looking for a new phone, you'll have to choose carefully.

Today, we decided to compare the One M8 and the G3 – both fantastic devices, with high-end specifications. But which one is better? Here are their main specs: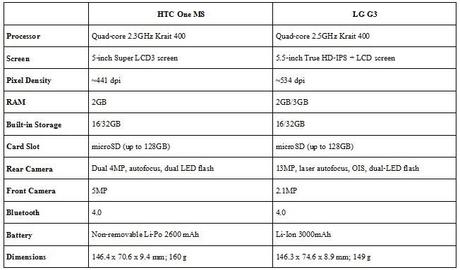 Conclusions
There's no denying the fact that the LG G3 is a unique smartphone – the company managed to fit in a 5.5-inch screen into a body almost the same size as the One M8′s. It's also the first phone to come with a QHD display. In addition to that, the G3 sports an impressive 13-megapixel camera and a number of interesting features, such as the Knock Code, the Guest Mode, the dual-window option etc.

On the other hand, the One M8 is famous for its dual-camera system that uses the UltraPixel technology and it has a much better front-facing shooter, ideal for taking the popular selfies. According to the folks at GSMArena, the One M8′s battery life is also a lot better than that of the LG G3, so that's definitely a huge plus.
Which one do you prefer and why? Share your opinion with us!