Hello all..
   Today am going to review a product which am using for past 1 month and liked it. We all always want clear skin but dark spots and scars trouble us . I have pimple marks all over my cheeks. So when i was searching for an effective anti marks cream i came to know about ayush face cream. I purchased it and had least expectation on it since most of the anti mark creams are either not effective or they take long time to show results. so read further to know about it.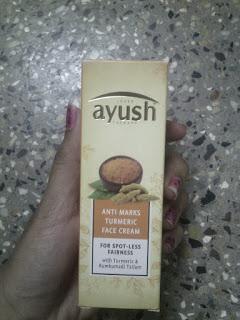 CLAIMS   The anti marks face cream is formulated with 5000 years of ayurvedic wisdom to give you spot less fair skin. It contains goodness of turmeric and kumkumadi tailam.
PRICE
   Rs 65 for 25gm.
INGREDIENTS
   Composition: Each 10g contains,
Haridra(Haldi) 10mg
Kumkumadi tailam 10mg
   Exceptients:
Cream base q.s
   Preservatives:
Methyl paraben, propyl paraben and phenoxy ethanol.
SHELF LIFE
      2 years.
MY EXPERIENCE
   The face cream comes in a travel friendly tube. The cream is white in color and a little goes a long way. As i said you earlier i had no expectation on this face cream but i used it 2 times daily and everyone around me noticed the change in my skin. Everyone said that the acne scars that i have all over cheeks has lightened and my skin stays brighter whenever i use this cream. I take the required amount of cream and dot it all over my face and neck and apply it all over face and massage my face in circular motion for 1 minute. Initially the cream felt heavy on my skin but within 2 minutes i felt as if i didn't apply any cream on my face. And also it leaves whitish cast which vanishes after 1 to  2 minutes. So dusky skin beauties may not like it since it leaves temporary whitish cast.The cream has mild smell and it won't bother sensitive noses.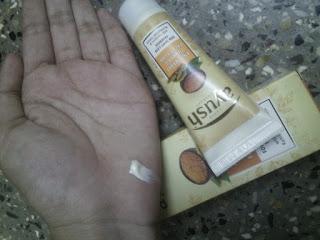 Since it has turmeric, it dried the small zits around my forehead. It helps to reduce new acne scars effectively. For old acne scars, it takes time to show result. I have combination to oily skin and it turns my skin oily within few hours of application. As far as claim of fair skin is concerned i didn't notice any difference.
PROS
⦁   Fades new acne scars.
⦁   Travel friendly tube.
⦁   Economical.
⦁   Has turmeric and kumkumadi tailam.
⦁   Makes skin brighter though temporarily.
⦁   Little goes a long way.
⦁   Dries small zits quickly.
ALSO READ
⦁   Natural ways to treat acne scars.
⦁   Skin brightening face pack.
⦁   Homemade facial bleach.
⦁   Top grape face packs
CONS
⦁   Takes time to fade old scars.
⦁   Leaves temporary whitish cast.
⦁   Feels heavy initially.
⦁   Skin turns oily within 3 to 4 hours.

   OVERALL RATING: 4.7/5