In our last episode, Cori had just kicked her own ass and registered for a half marathon in 12 weeks time.  Goal?  To find the runlove again.  She knew she'd be slow but she knew she had to do something to get moving again...to kickstart the weight loss to combat the stress fracture weight gain.  But could she actually do it?  Well - the training plan kicked off this week...let's watch and see.
Ok..enough of a trailer.  I am officially training again.I'm keeping my training plan simple.  I am not pushing anything except my brain at this point.  I just need to plod one foot in front of the other and build up my base again.  That's it.  I am also working on cleaning up my crappy diet so I can start to beat my weight down..because lets face it - a year and a half of sedentary life leads to a widening arse and a bit more belly weight that I am proud to sport.  But enough about how fat I've gotten.  Let's talk about my first run of the training cycle.
My goal is to run before hubby leaves for work so that means hitting the road by 6:30 AT THE LATEST...so that means running in Langdon for my short runs.  No problemo  I have 4, 5 and 6k routes that I can do without being attacked by birds.  The main problem of this first run was that on sunday, LANGDON FLOODED!!!  Honest to goodness, disaster quality flooding.  You see - drainage here sucks.  The older east side of town has ditches for drainage.  Our side of town has drainage channels that take rainwater to a drainage pond.   There are no sophisticated underground sewers for drainage.  It is all over land.   
We had been camping in Carseland, only 20 mins away, when we heard thunder and headed for home on Sunday to avoid packing up a wet tent.   When we got to Langdon - it was quite apparent it had been raining for some time.  Langdon Park was under water.  Power was out all over the place. Langdon School was under water.   It looked like we were a lake town.  We aren't.  Our sump pump came on twice...for the first time in the 8 years we've lived here!
So, with that in mind - almost every one of my running routes was affected by flood water.  As I left the house on Monday morning, I half expected I'd be turning back to finish the run on my treadmill.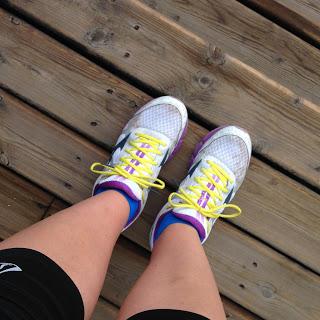 Luckily, thanks to the emergency crews - most of the water had drained off or absorbed into the ground.  People had piles of ruined items from their flooded basements on their lawns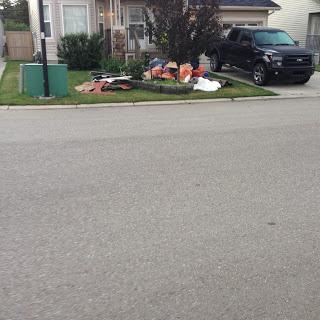 The ditch around the school field looked like a watery running track.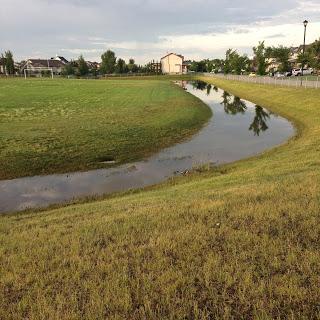 The park was still quite marshy.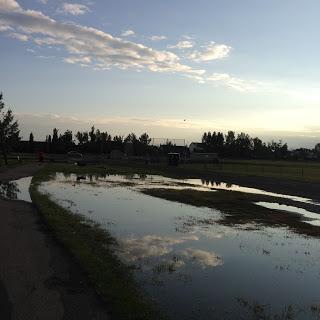 Some power lines were still down.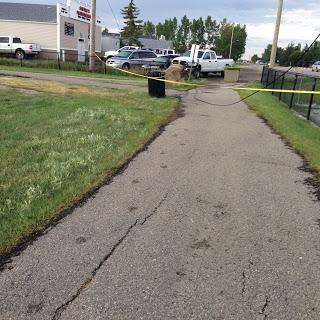 But the rain had thoughtfully turned our skating rink into a pool for us.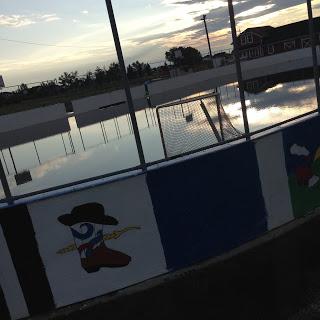 Luckily, I only encountered one section of path that was flooded...so I dashed through it to get back to the road.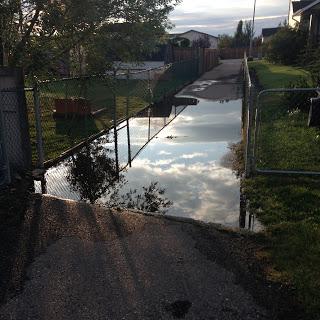 With 1k to go, I decided I should probably take a selfie to shame myself into losing weight get myself used to showing my face around here.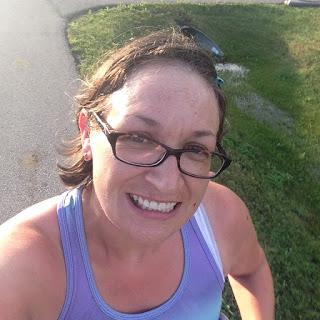 I look tired and humidity is NOT my best friend.
All in all - I got my 4k done.  I'm slow but I'm moving and that is all that matters.  I expect that I will have a 3hr finish at Harvest Half, but I really just want to get back to training consistently so I can enjoy running again.