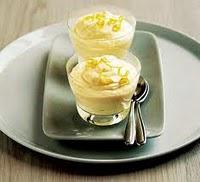 TIME: 20 MIN.
DIFFICULTY ': *
INGREDIENTS:
3 eggs
3 lemons
80 gr. granulated sugar
6 gr. gelatin sheets
200 ml. whipping cream
PREPARATION:
Separate egg whites from the yolks and keep aside.
Whip the egg yolks in a bowl with the sugar until the mixture is white and fluffy.
Squeeze and strain the juice of 2 lemons and half and pour into a saucepan. Add the gelatin and let stand for 5 minutes.
Put the saucepan on the stove over low heat and melt without stirring well and simmer.
Remove the saucepan from the heat and leave to cool slightly, then add to egg mixture and mix well.
Whip the cream as a result of the first and then the egg whites until stiff.
Gently mixing from bottom to top, the cream is incorporated into the egg whites to the egg mixture.
Place the mousse into 4 dessert bowls, put them in the refrigerator for 4 hours before serving.
Serve garnished cups with a slice of lemon.