To start off the new year, here's my Lemming List, the January 2013 edition!
Hopefully the Lemming List will be a more frequent thing on beaute fabuleuse- maybe not monthly, but more of a 3- to 6-months-once thing? I was looking through and pinning stuff on one of my Pinterest boards- Beauty Stuff I Want- when I thought, "Hey, why not?" :P I am also partly inspired by one of Joyce of Bronzer Bunny's post- Brands I Want More Of In 2013 :) However, not every single thing I want is on this list, though, just things I am really crushing on as I'm writing this post right now!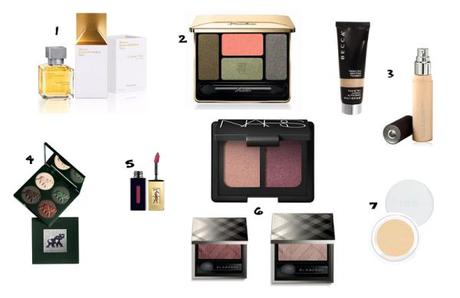 1. Maison Francis Kurkdjian Lumiere Noir Pour Femme EDP
I've been in love with this perfume for the longest time ever since I've tried it quite some time ago, but being priced at RM 499 for 50ml (If I am not mistaken), I was always a little too stingy to get it. However, since I am getting married this year I guess I should splurge on it as my special wedding fragrance? :D
2. Guerlain Écrin 4 Couleurs Long Lasting Eyeshadow in #502 Coup De Foudre (Spring 2013)
The only Spring 2013 release that I really have my eyes on so far, especially so after owning Guerlain Écrin 4 Couleurs Long Lasting Eyeshadow in #500 Les Ombres Turandot from the Holiday 2012 collection (Review soon!) and loving it a whole lot. I like that it's a green/khaki-ish based palette with a hint of coral and grey. Somehow I have a soft spot for green/khaki-ish eyeshadow colours and I don't seem to own enough of such eyeshadows and/or palettes in my collection :P This is a special one for sure and I simply must get it when it comes out.
3. BECCA Radiant Skin Satin Finish Foundation in Buttercup/BECCA Luminous Skin Colour in Camel
I'm a self-confessed foundation junkie, and these somehow caught my eye, mainly also because I've not tried anything from BECCA yet and heard that they make quite good foundations, so why not? I can't decide between the both of them though- whilst Luminous Skin Colour offers a lighter coverage than the Radiant Skin Satin Finish Foundation I've been reading rave reviews about both… so I just might get both because of their different coverage types and I can alternate them around :P
4. Chantecaille The Elephant Eye Palette
Elephants. And Chantecaille. Enough said. However, I am also swayed by the Tiger In The Wild Palette (Because I'm born in the year of the tiger), but in the end I prefer the Elephant Palette more as I hardly (Read: Never) use blush and the colours of the Elephant Palette are more wearable in my opinion.
5. Yves Saint Laurent Rouge Pur Couture Vernis A Levres Glossy Stain in #5 Rouge Vintage
I already have the Glossy Stain in #7 Corail Aquatique (Review soon too!) and I like it a lot, so I thought I should expand my collection a little :P
6. NARS Eyeshadow Duo in Kuala Lumpur/Burberry Beauty Sheer Eyeshadow in Mulberry and Rosewood
Looking back, the shades are pretty similar that's why I lumped them up together :P I don't exactly have these shades in my eyeshadow collection as well it seems, and even though the Guerlain Écrin 4 Couleurs Long Lasting Eyeshadow in #500 Les Ombres Turandot might come close it's still not similar. I'm not sure which ones exactly I should get at the moment though but am leaning towards the Burberry Beauty Sheer Eyeshadows hehe.
7. RMS Beauty "Un" Cover Up
This is a bit of a cheat- I've actually ordered this from Naturisimo and am still waiting for it to arrive, and in the meantime I can't wait to get my hands on it because of the glowing reviews it's received. I like how it says it can be used as either a concealer or a light foundation, and am eager to try it especially for my wedding (Considering I rarely use concealer normally) to cover up any dark circles and/or blemishes I might have!
I'd also like to try more of Rouge Bunny Rouge this year if possible :D Not sure what yet, but would definitely love to considering how much I love their eyeshadows (Which I will soon review as well) hmm.
Skincare-wise I am pretty satisfied with my current routine (As highlighted in the About Me section) and as such am not intensely lemming after any particular skincare at the moment, maybe except some masks to boost radiance but that's not high on my list as well. It might change though- I never know! :P
So what are your current lemmings? ;)