Hello! Am now in Labuan and will most probably be here until the end of February :) It's going to be quite a busy year for me- with courses and flying back and forth, but in the meantime I'll still try to update as much as I can!
As most of you might know, I am here not only for work, but also for the solemnisation, or the registration of my marriage to my dear other half, which was held on the 19th January 2013 :) It was a short, legal ceremony at the National Registration Department with the ring exchange and signing of the marriage certificate, followed by a beach pre-wedding photoshoot, and finally a simple buffet dinner reception later that night at the Palm Beach Resort & Spa beach pavilion for our employees, friends, clients and suppliers here.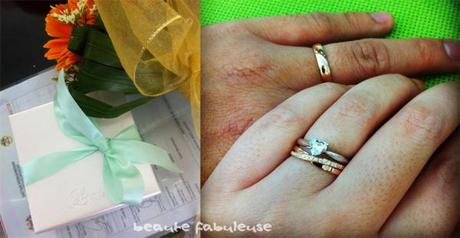 And… I actually did my own makeup for the whole day! :P It's quite a feat considering how I don't exactly have confidence in my own makeup skills, and for such an important event as well :s I also did my own hair! It's not that I wanted to skimp on a hairdresser or a makeup artist, but there were no reliable ones here so I had no choice really :(
I have to say- this is the most makeup I've ever brought along to Labuan, as I usually go with the bare minimum and  ones that are easier to travel with, but since this is a special occasion I guess allowances has to be made :P I'm also trying to go for a more natural, polished look, as it's by the beach and not so formal so no need for anything special.
So what were the makeup I used for my big day?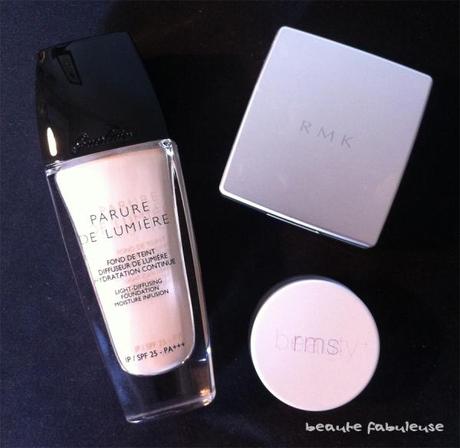 Face
My base is Guerlain Parure De Lumiere Light-Diffusing Foundation in 31 Ambre Pale, with RMS Beauty "Un" Cover-Up in 22 under my eyes to erase any dark circles and everything is then set with RMK Pressed Powder N in 03. It lasted the whole day!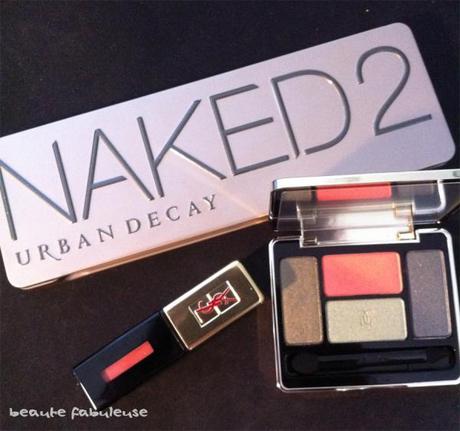 Eyeshadows & Lips
For the registration of marriage, I used neutral shades from the Urban Decay Naked2 Palette, with YSL Rouge Pur Couture Glossy Stain in #7 Corail Aquatique on my lips. Then for the beach photoshoot and reception, I topped up my eyeshadow with the green-ish shades from the Guerlain Écrin 4 Couleurs Long Lasting Eyeshadow in #502 Coup De Foudre  palette from the Spring 2013 Collection to complement the greens of my beach photoshoot "sarong" and dress. I stuck to YSL Rouge Pur Couture Glossy Stain in #7 Corail Aquatique for my lips.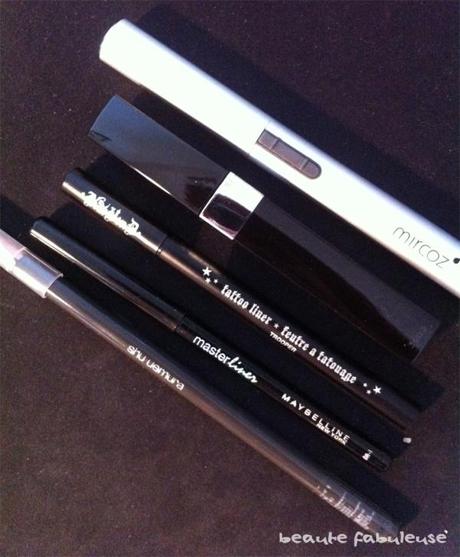 Eyes
To complete my eyes, which is the feature I chose to emphasise- I applied Maybelline New York Master Liner in BR-1 Black all along on my lower waterline and lined the upper eyelid with Kat Von D Tattoo Liner in Trooper. I curled my lashes with Mircoz heated eyelash curler and applied helpings of Chanel Inimitable Extreme Mascara in Pure Black on my lashes, and finally defined my brows with Shu Uemura Hard Formula 9 Brow Pencil in Seal Brown 02.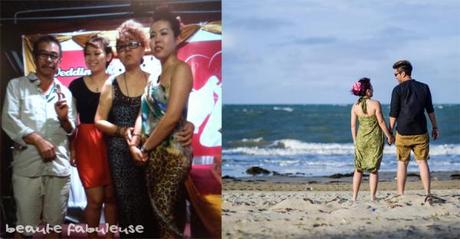 And on the left, is pretty much the result, taken during the reception at night, with my parents and a foster sister (One of two) who flew down to attend the event. Husband is out of the picture because he was busy finalising some last-minute just-in-case arrangements with the staff. It was also super windy that night, which explains my fringe sticking up and everyone's expression and hair :P There's no way any amount of blow-drying can ever help me achieve that fringe! And on the right is one of the beach photoshoot photos- super beautiful!
I'd like to think that everything went well, as I got compliments about my hair and makeup :D
Thankfully this won't be the case for my ceremony and reception in K.L. later this year though- I won't be doing my own hair and makeup but I will have a wonderful makeup artist who will be doing that for me, the same one who did my hair and makeup for my first pre-wedding photoshoot :) It was a great experience but not one I'd like to keep doing, for one :P
Many thanks to Asyraf Lee as well for covering the entire event and for the beach photoshoot!