*Waves* Hello! Apologies for the serious lack of updates- lots of things have happened that are occupying my time which leaves me with none to write even though I've amassed a huge collection of potential products that I want to review in the meantime!
I've been contemplating on what product to review as my first "proper" beauty-related review of 2013… but I only have photos of foundations and my current crushes are a foundation and a cleanser, and they're products which I've been reviewing a lot… I haven't been free enough to photograph the eyeshadows and eyeshadow palettes that I'm using and loving so far, so I thought I'd do something different for this one! It's something beauty-related at least, still, and something I really really adore! :P
Now I have a serious love for handmade items. When I read Trona of Aye Lined's post about a handmade porcelain Bunny Brooch from iamsjm*, I was immediately smitten! Doesn't help that my husband calls me "bunny" or "rabbit" affectionately at times ever since we started dating on account of my "rabbit teeth", so deep down inside I do have a little soft spot for bunnies/rabbits :P  I don't usually wear brooches though and have never owned one properly myself (The only one I have is a vintage one from Mum which I never wore), but this was just too cute to resist!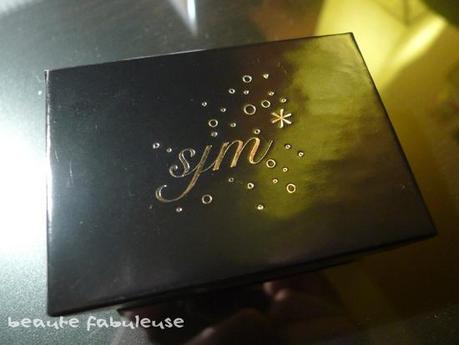 So I got one. iamsjm* themselves don't ship internationally, but an email inquiring about it pointed me to Not On The High Street, where they listed it for me, so I was able to get my hands on it! Hurrah for wonderful customer service here :D
It comes in a small, simple yet beautiful, monogrammed gift box and is well-lined and well-packed to protect against any bumps in transit.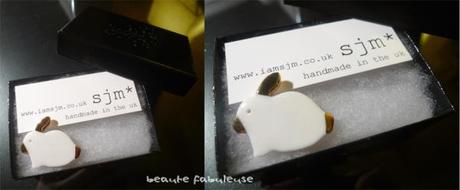 The Bunny Brooch is just as adorable as it can be! There are a few choices of finishes for the brooch-  Solid Black, Solid Gold, White With Gold Spots and White With Gold Details, and mine, like Trona's, is White With Gold Details because they look just like a Himalayan rabbit and in my opinion the cutest :P That, and in my opinion and practically it shows up better against most of my clothing colour, which are usually dark.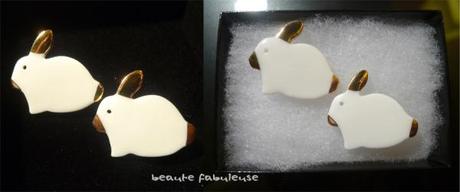 Confession: I love it so much, I actually got another one. Just in case.
There is a slight variation if you look close enough, but being handmade it's expected :D It's also not flimsy or fragile-feeling, actually, but of quite decent thickness but not so thick that it's cumbersome when worn, and they have a very lovely sheen to it on both the white and the gold parts. If you feel each Bunny Brooch, they actually feel different- Bunny Brooch #1 has a slight "indented" feeling in the middle, whilst Bunny Brooch #2 feels thicker there. A true handmade feeling!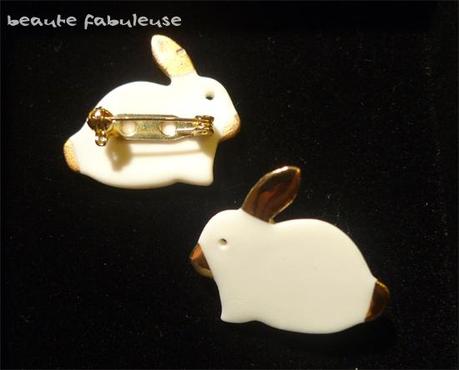 The Bunny Brooch fastens at the back with a clasp, if you're curious :)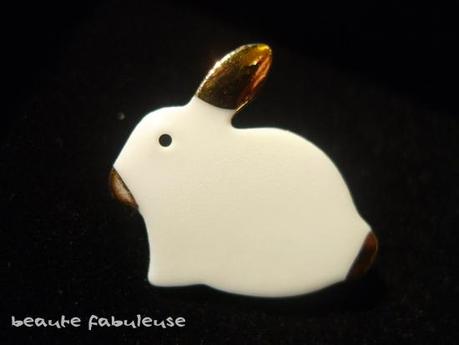 There's a little discolouration now on the gold of the nose of Bunny Brooch #1 as you can probably see, which made me really sad at first when I found out, but then again it makes it even more special and gives it more character! It's also not that visible unless you look really close. When I sent a Tweet to iamsjm* about it, they very kindly offered to replace it (Kudos!), but I didn't have the heart to return Bunny Brooch #1 should I need to because it's just so cute and we've already bonded :(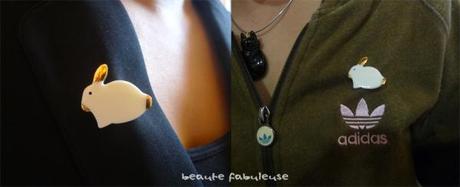 I've been wearing it every chance I got- on my blazer lapel (Pictured on left), on my Adidas track jacket collar or hoodie (Pictured on right), on my dresses, on my linen shirt. It looks very good, is of course unique and is definitely one of my must-have accessories now :D
You can get the sweet Bunny Brooch here if you're in the U.K., but otherwise you can get it here, which is where I got it from :) I paid approximately RM 100 each including the shipping after conversion- a little pricey for some but to me it's worth every single cent… or penny if you so please, because it's definitely a unique piece and is so gorgeous!