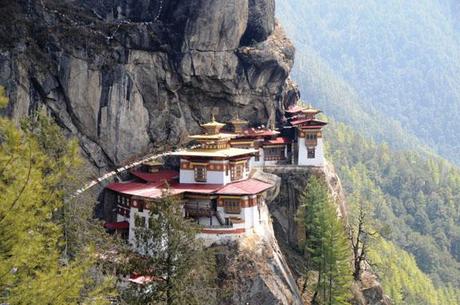 Taktsang Monastery, the 'Tiger's Nest,' is a legendary icon of Bhutan. It could be argued that no other image appears so frequently in Bhutan slideshows and travelogues as this dramatically situated temple perched 2,700 feet above the Paro Valley floor. Just like Machu Picchu is a 'must-see' for every visitor in Peru, the hike to the Tiger's Nest is a 'must-do' for every visitor to Bhutan.
What is the story behind the Tiger's Nest, and how did it get its name?
The legend of the Tiger's Nest goes back to the eighth century, when the Guru Padmasambhava flew from Tibet on the back of a mighty tigress to the temple's present site. It is said that Padmasambhava subdued a demon, mediated in Taktsang Senge Samdup, one of the cliffside caves, then emerged in the form of eight different manifestations and blessed the place. Guru Padmasambhava, also known as 'Guru Rinpoche' in neighboring countries, is widely credited for introducing Buddhism to Bhutan, and it was his flight on the back of the tigress that earned the site the name of 'Tiger's Nest.'
Spiritual leaders built the monastery 1692, and centered the complex upon the original cave where Padmasambhava meditated. Today, the Tiger's Nest attracts visitors from around the world, drawn by the temple's architectural beauty, inspiring location and spiritual significance. 
We hike to the Tiger's Nest on day two of our Bhutan Chomolhari Trek. Read more about the trip by clicking here.