Galaxy S3 is currently the most popular smartphone, and every Galaxy S3 owner should try to protect it in the best possible way. Considering the price of this phone, you wouldn't want to get it scratched, or even worse, cracked, would you? This is why we suggest very attractive case in high quality, available in many colours. Meet Commander Elite leather case for Samsung Galaxy S3!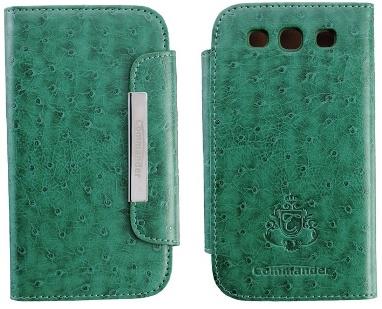 Commander Elite Samsung Galaxy S3 Leather case – Green
This Galaxy S3 case offers perfect fit for your phone, and all connections, buttons and camera can be used without removing the case. Commander Elite Galaxy S3 case is both stylish and at the same time very practical. Inside of it there is plastic holder for fixing the phone, and making it stay in place no matter what. With its unique design and magnetic closure, the case is protecting both the phone's front and back. And inside the case, there are slots for credit card, IDs, business card, etc.

Leather cases for Galaxy S3 by Commander
You will worry no more about scratches and dust on your smartphone, and for more Galaxy S3 accessories make sure to visit MyTrendyPhone.co.uk! You will be surprised to see how many mobile accessories we offer, at the most affordable prices!