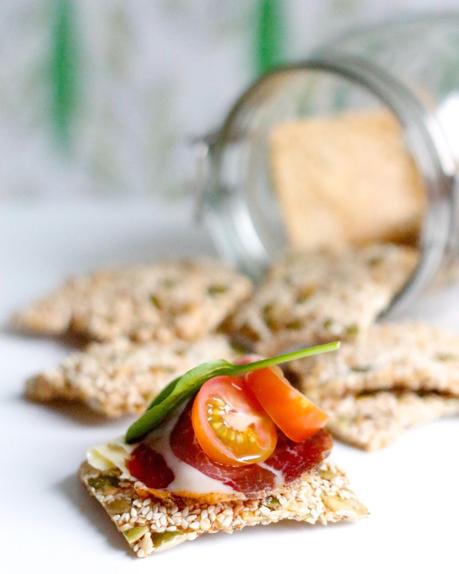 What do you eat for breakfast on LCHF? The short answer is you don't need breakfast. But in case you want one - and not eggs & bacon - here's suggestion number four.
As before the creator is Fanny Lindkvist, who runs a popular Swedish blog and the Instagram account LessCarbs.
Sesame Crispbread
I love to sink my teeth into something crunchy now and then. As I suffer from IBS and don't tolerate flaxseed this LCHF crispbread is a great alternative to flaxseed version. In addition, it also tastes better if you ask me (and many others), this is one of Lesscarbs most popular recipes.

Ingredients (one batch)

● 1¼ cup (300 ml) sesame seeds
● ½ cup (100 ml) sunflower seeds
● 2 oz. (60g) grated cheese
● 1 tablespoon psyllium-seed husk
● ● 2 eggs
● ½-1 teaspoon salt (I think my taste bulbs have changed, I now use ¼ - MAX ½ teaspoon)

Instructions

Mix together all ingredients (grate the cheese coarsely), and spread out on parchment paper on a baking sheet. Sprinkle sea salt on top.

Set the oven to 340°F (170°C) for 20 minutes. Carefully cut the crackers into the desired form. Lower the heat to 280°F (140°C) and let sit for another 40 minutes.

Remove the crispbread and make sure it's dry all all the way through. I usually let it stay in the oven with the door slightly open until the oven is cool.

Tip! ​ The sesame crispbread may also be made without cheese and you can replace the sunflower seeds with things like pumpkin seeds.
More Breakfasts
What do you think of this breakfast recipe? Do you have any good ones of your own to share? Feel free to leave a comment.
Fancy some more? More breakfast ideas coming up here on the blog soon!
Previous recipes by Fanny Lindkvist
More
Diet Doctor's LCHF
Healthy Tasty Green Chips!
Picnic at Diet Doctor's House
Dinner at Diet Doctor's