I thought I'd do a quick post about the latest Glossybox as it arrived this morning and there's been quite a lot of discussion about it on twitter!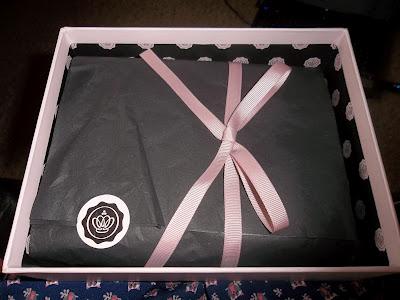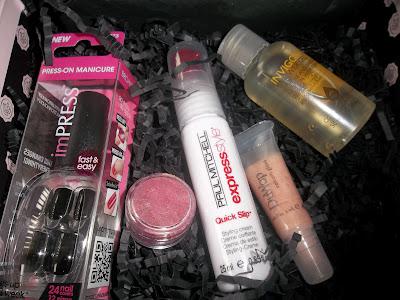 Duwop Venom Gloss
Impress Press-on Manicure
Paul Mitchell Quick slip
BM Beauty mineral eyeshadow in Her Majesty
Como Shambhala Invigorate shower gel
There has been a mixed response to this months box. I spied the pink eyeshadow and my heart sank - I would never wear it, as it is far too bright. Definitely something I'd give away to somebody. I like the Duwop lip venom gloss, as i've used it before, and everybody needs little travel sized hair and shower products. I don't like the black shade of the press on nails, perhaps if they had been a more neutral color I would like the idea more. I feel a bit like the sparkle of beauty boxes has gone for me now, maybe because I hear about them before I receive them. I'm going to give Glossybox another month or so, I really liked their December/January boxes, and the Valentines one was okay. I've signed up to SheSaidBeauty, which is a bit of a risk considering we don't know any of the brands they're affiliated with yet! But, it has a nice element of surprise to it I guess. I can only afford to have one beauty box a month so I'm going to see which one fares better next month and make a decision then. What did everybody get in their boxes, and what did you think?
Very quickly, Maisey at makeupandmemaisey.blogspot.com has awarded me the Versatile Blogger Award, so THANK YOU! It means a lot to me that people read and like my blog. So, as per, here are five bloggers I award it to because I love their designs and writing styles:
Essie at essiebutton (I love her tutorial videos!)
Laura at petitchatons
Vicki at themagpiegirl
Lucie at hummingbirdandtherose
Hareem at iheartmexoxo
I'm supposed to say 7 things about myself, but I'm in a rush! So I just want to say thank you again for reading my blog and I appreciate all these little signs you guys like what i'm doing :)