Laneige Water Bank Essence Skincare Range Reivew | Korean skincare
Today I am going to review the Laneige Water Bank Essence Skincare range. Laneige is a Korean skincare brand and is considered as one of the best skincare brand out there. Its a tall claim to make but I did put it to test and I am sharing my review with you all. I have two products from this range a day cream and a night cream.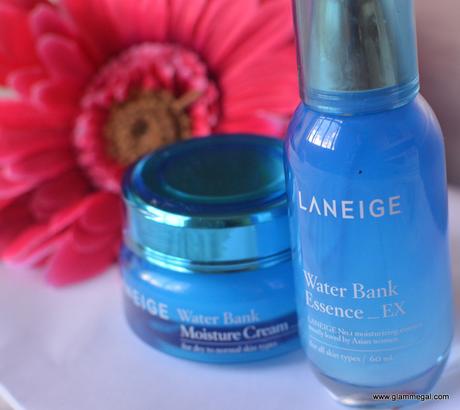 Laneige Water Bank Skincare
Laneige Water Bank Essence Ex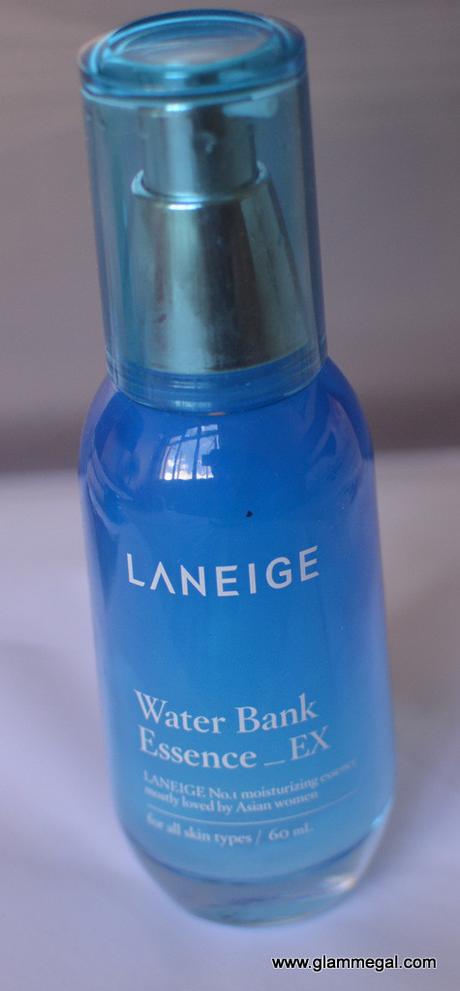 Laneige water bank essence day cream
Price: $49.50
This is meant for all skin types, I specifically told the SA that I have dry skin and I wanted something for hydration. She told me to go for the Water Bank series. As much as I love a hydrating cream I dont really enjoy the heaviness that comes with it and so I was particularly surprised when I found out how light weight it felt on the skin. I was skeptical as to if it will be hydrating enough for me. And it sure was. I needed  very little amount to apply this all over the skin and my skin felt moisturised and hydrated without feeling greasy and heavy.
Laneige Water Bank Moisture Cream
Price: $46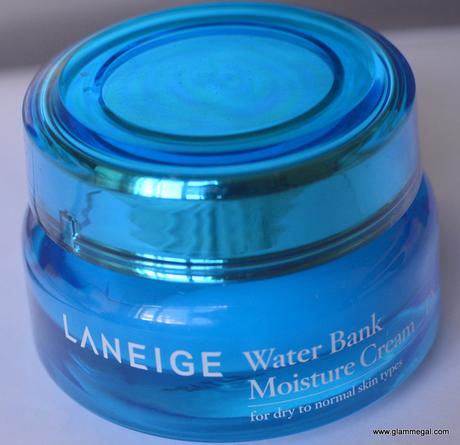 Laneige water bank moisture cream
This is a night cream and is a little bit thicker in consistency and it comes in a tub unlike the day time essence cream which comes in a pump. They do give little spoon thingy to use which i dont use. This is like heaven for the skin. Being a beauty blogger and youtuber I use makeup a lot and at night after taking off all the makeup I feel my skin needs extra care and extra hydration. I am so happy with this cream that I repurchased it even before the first one was over. This is so calming and soothing on the skin and my face feels so relaxed after applying this. And the best part is when I wake up the nest morning my skin doesnt feel dry and un-nourished. It has a nice healthy glow which for someone with dry skin is a big bonus.
My main fear with this cream was also feeling greasy, but thankfully its just correct.
But you really need a small amount of this too, if you do overapply the product then you will feel hot and greasy especially in summer. I did that and I had to wake up in the middle of the night and wash my face. You really truly need very little. Since its oil free it will work well fro oily skin as well.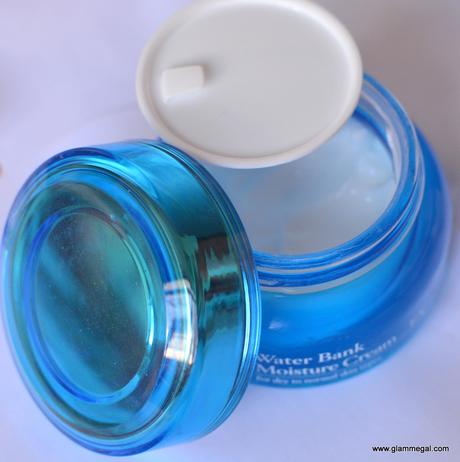 laneige water bank moisture cream
Laneige has taken very good care of my skin , and now I dont want to use anything on my skin, but here is the problem both the times I picked it up from DUTY FREE in Dubai, it isnt available either in Mauritius or in India. So i need to get my next set from somewhere.
And these are not the only products I use on my face , hence the quantity I need is very  less. I will do a separate post on my skin care routine. I absolutely love Laneige Water Bank Essence Skin care range and I want to try their night mask .
These are a bit expensive but they actually work so I am happy to shell out the bucks on Laneige skincare and I would really highly recommend you try them once and I am sure you will be hooked.
Related
You Might Also Like
JUST LIKE HEAVEN HANDMADE FACIAL CLEANSER FOR DRY SKIN : BURST OF HAPPYNESS
WOE BE GONE SOAP BY BURST OF HAPPYNESS
ORGANIC HARVEST SUNSCREEN SPF 30 REVIEW
H2O PLUS AQUAFIRM WEEKLY ACTIVE FOAM MASK : HYDRATION FOR DRY SKIN
H2O PLUS FACE OASIS HYDRATING TREATMENT : REVIEW
Gentle Exfoliation of Dry Skin – THE BODY SHOP HONEY AND OAT MASK Review
THIS VALENTINES PAMPER YOUR SKIN WITH VICHY
VLCC PEDICURE KIT : AT HOME PEDICURE
Tags:
hydrating cream for dry skin, korea skincare, korean skincare, laneige for dry skin, laneige moisture cream, laneige water bank essence day cream, night cream for dry skin, skin care, skincare for dry skin