Hey everyone, today I am going to be reviewing an angled eyeliner brush by KRYOLAN. To the uninitiated Kryolan is an international cosmetics brand and is a pioneer in stage makeup and makeup for actors and professional makeup artists and is now available in India. Though it has limited stores and virtually no publicity in India it has quickly found a big fan base in makeup enthusiasts.
Okay so back to today's post, Iwanted to try out Kryolan products from a long time but they arent available in Pune, when my lovely friend Shweta from Glam n Gloss got to know about it she told me she would get me whatever I wanted . Isnt she a darling? Love you!
Among other things I got myself an angled eyeliner brush.

Priced atthis angled eyeliner brush is very pocket friendly. Cheap in price and good in quality what more can you ask for?
USES of an angled eyeliner brush. I like products that can multi task. Same goes with this angled eyeliner brush. It is perfect for applying eyeliner. I use it for applying gel eyeliner, but you can apply liquid eyeliner with it too, just apply the eyeliner on to the brush and use it away.
When I hold it sideways you can see how thin it is and that is what makes it perfect for getting a sharp angle or wing for cat eye or a winged eyeliner .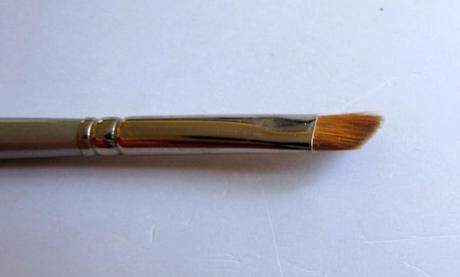 Another great use I get off this angled eyeliner brush is to fill my eyebrows. I am going to do a post soon on how to fill your eyebrows .
Its so thin and I love the way its cut, it has the perfect angle to fill the brows and get a clean line on top and bottom of the eyebrows.
Its a great quality brush and I am totally surprised at the price .

I want to try a lot of products from KRYOLAN, my list is slowly increasing. And I do have a couple of interesting products to review which I am loving thoroughly.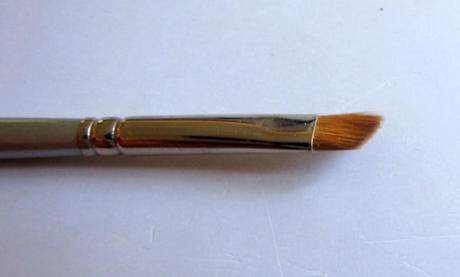 You can order your Kryolan products from their Facebook Page.
So that is all for this post. See you all soon with another post . I hope you found this review of Kryolan angled brush useful.
Until next time.
You Might Also Like