Hi everyone, hope you're all having a

brilliant start

to the

new year

. Mine has been pretty good but

extremely stressful

. I've been so stressed and worried about things that my sleep is suffering, I'm not eating healthily and my skin isn't looking great. So part of my New Year's Resolution would be to not stress too much, get plenty of sleep and eat healthily.
I recently came across a

Korean brand

called

Peripera

. I'm terrible in that I judged this product by it's name and wasn't too impressed with it (it reminds me of Para Para, a plant in the Amazon that is used to cure erectile dysfuntion.) But then I read rave reviews on these products and decided to give them a try. I'm so glad I did as I have extremely happy with my purchase!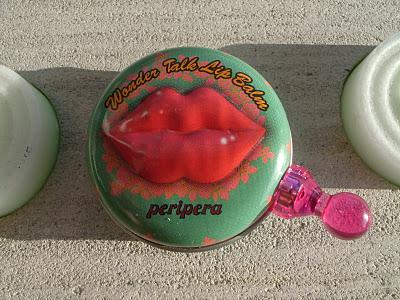 I bought the Peripera products from Prettyandcute. First up is the Peripera Wonder Talk Lip Balm in Wonder Red. The packaging is really fun and it comes with an interesting applicator (the pink think stuck onto the side). The applicator sticks to the lip balm tub magnetically, which is handy or else I would have lost it already. Applicator may look funny, but it applies the lip balm

really well

and prevents sticky fingers and badly applied balm on the lips. Although I did get entremely funny looks from my husband and in-laws with them actually asking

'What ARE you doing?'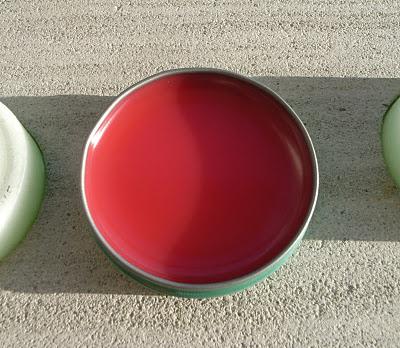 The color of this lip balm is a

sweet cherry red

. It applies sheer on the lips, though color pigmentation is actually quite good for a lip balm. With heavy application lips can actually look a bit red.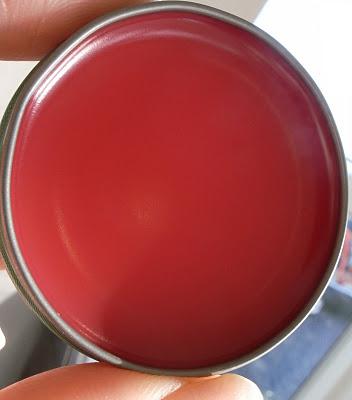 The lip balm has a semi-sweet, light, fruity scent. It feels a tiny bit

tingly

on the lips, a bit the the sensation you get with fresh mint. It does not feel sticky at all, and the texture is definitely more of a balm than a gloss. It also gives the lips a slight shine. Here's the product on my lips with just one light layer. It looks nice and natural yet giving me slight rosy red lips which makes me look a little bit healthier (I look a bit ill with a nude lip).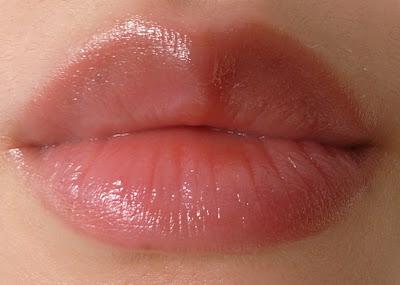 Next up is the

Peripera Smile Fit Blusher

in Rose Pink (no.3)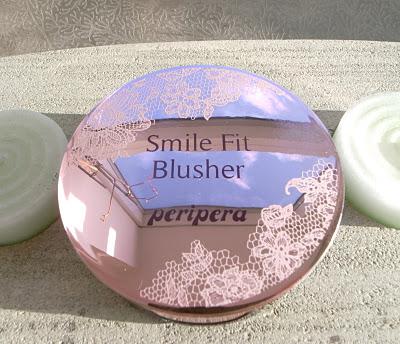 I love the lace pattern on the packaging. Really cute. It comes with a portable brush in a separate compartment underneath the blush.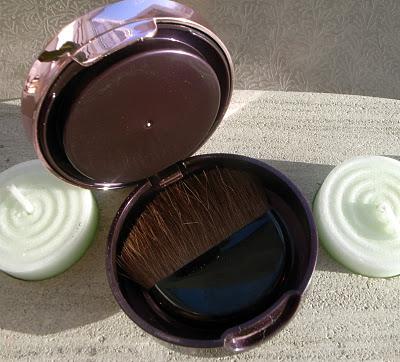 I'm

impressed of the quality of the brush

. I prefer it to a lot of brushes which comes in the palette of luxury brands (Chanel in particular). The brush is lovely and soft. The bristles are packed dense, and feels

silky soft

on the skin.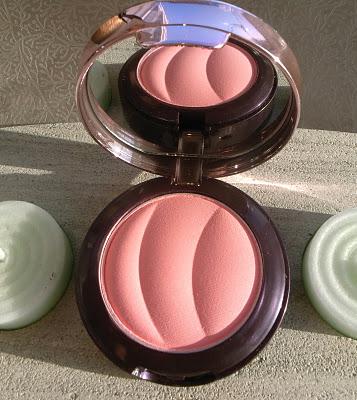 The blush itself looks a tad brighter pink than in the picture above. On the skin it's a bright, yet soft pink. I especially like this blush as it brightens up my whole complexion nicely.It gives the skin a nice'soft focus' glow and gives the impression that my skin is a whole lot nicer than it actually is! This is the first blush I've come acrossthat does this.
I'll end with a pic of a recent FOTD that featured both the blush and lip balm to give you an opportunity to see what it looks like in vivo.