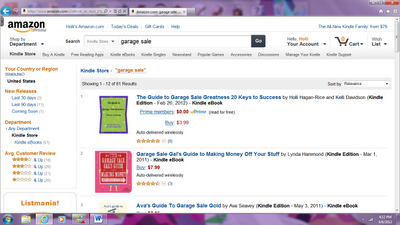 Reviews on Amazon are Important!
This is why it's worth it to give away copies of your ebook early on.
Well, the hope is that the people you gave a copy to will give you a review on Amazon. The more reviews and book sales you have the better. Of course, you hope for great reviews but you should want honest ones, too. 
Our goal is to keep our ebooks steadily sitting on the first results page in an amazon.com search of our categories. So far it looks like we've managed that with one of our books. We've gotten eight 5 Star Reviews on amazon for our garage sale book and it's been sitting at #1 in a search for the last few days. Sitting in this position in a search helps drive sales. Sitting anywhere near the top is desirable. 
It's hard not to obsess about your placement or you sales rank. I don't recommend checking it more than once or twice a day. You should think about how people will search for your book. For our garage sale ebook I search amazon books or Kindle for the key words 'garage sale'. I find that it's a pretty good way to get an idea of how well you are doing. 
Unsure how to give away an eBook on Amazon? One each Kindle ebook page there is a button that says Give as a Gift. 


Use this button to purchase an email gift certificate for your book that you can then send to someone. This is how we gave away copies of our ebook. 
Now we have to focus on the Nano Canning book. We need to repeat our marketing process with that one. 
We have also been sharing links to our books on twitter.  We've created short links to our books by signing a tool called bitly.com. I recommend using it to create links for both Twitter and Facebook. It's free and very easy to use. You can actually track clicks if you have an account.
Hopefully, you can get your friends to support you. Starting out it's important to have the support of your family and friends. Here is a link to a recent blog post from Women on Writing that talks about just that: Open Letter to Friends of Authors.
Good luck and happy promoting!