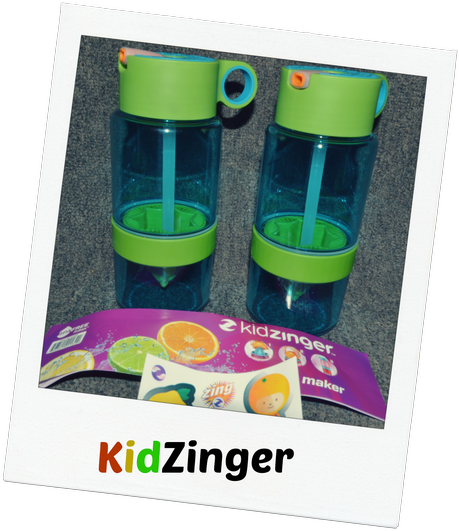 Disclaimer- 

Precious Little Worlds

 have been sent out the Kid Zinger for free in exchange for our honest opinion for the purpose of our blog, to report back to you the viewers our findings.As we are working with

Root7

&

Zing Anything 
Kid Zinger- Kids Campaign,t
o mark the launch of this special product we have been asked to join in and take part and document our experiences using the Kid Zinger.
About-
Hey kids! Tired of that boring, tasteless water? Well then give it a zing! With the Kid Zinger, you can flavor water with your favorite citrus fruit. Make tasty juice water using fresh oranges, clementines, lemons, and limes. Or add in other fruits and create unique combinations like strawberry lemon, orange mint, and berry lime.Fruit juices are often given to children with the best intentions in mind but they can contain large amounts of sugar which can be harmful. The Kid Zinger allows children to drink healthy fruit infusions without all the excess sugar.
The Kid Zinger allows for endless tasty flavor combinations
Fruit infusions have all the goodness and less of the sugar compared with fruit juices
Easy to use and clean. Simply unscrew the bottom compartment and twist half a citrus fruit onto the reamer. Screw the bottom compartment back on and fill with water.
Made from BPA free tritan plastic
450ml volume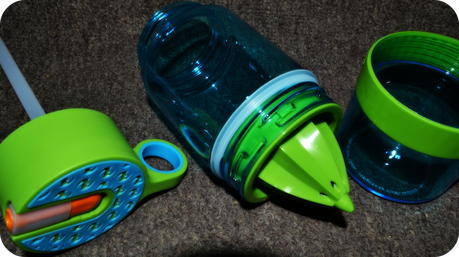 Using Your Kid Zinger Water Bottle

Turn the bottle over and unscrew the bottom cup. Twist half of a citrus fruit into the citrus press. Screw the bottom cup back on and fill the bottle with water. The fruit's pulp, rind, and seeds are contained at the bottom for infusing more flavor. Just twist, fill, and shake!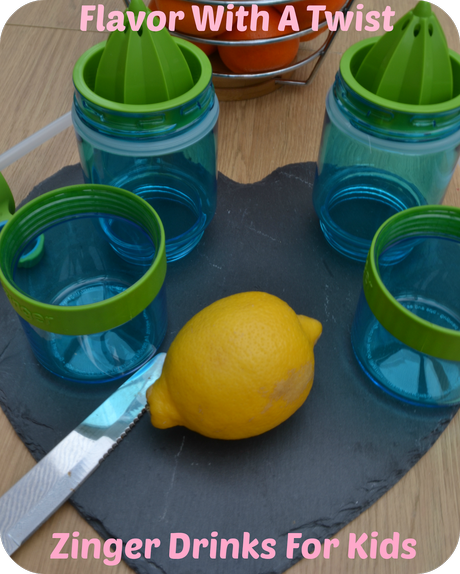 My 4 year old daughter Millie helped me in twisting the lemon for the drink, its also good for kids to learn a healthy way then the normal rubbish juice drinks kids have now a days.You can control the amount of sugar plus other citrus fruits you decide to pop in.At the RRP of £12.99 You might be thinking "oh that's a lot" but in the long run its not as you will be getting a high quality bottle but remember its not just that it has the juicer inside. I personallydon't know of any other bottles that have this as a bonus. 
Acid resistance test leak-proof sealing strip can be placed in dishes strengthen Machine washable easy to clean. 
We have done a short video of my kids having fun 
decorating
their
 bottles.
Kid Zinger Water Bottles - Reuse and Cleaning
The recommended shelf life for your Kid Zinger creations is three days, if refrigerated. All mixtures should stay chilled after mixed. If you plan to consume your Zing creation within a 12-hour period, refrigeration is not required.
The Kid Zinger typically produces one-two drinks per Zing. In order to return to a tasty concentration, add new ingredients after two servings (or 56 oz. / 1.6 L) have been enjoyed. Empty the Zinger completely, discard used ingredients, and clean before Zinging a tasty new batch of water.
Kid Zinger Water Bottle - Frequently Asked Questions
How many drinks will you get from one press with the Kid Zinger?

About two. A trick to obtain two "equal" fill-ups in terms of flavor is to do a partial press of the lemon on the first press, drink down the beverage, and then unscrew and press the lemon again for the second drink.
Should you leave the lemon in or out of the vessel after a press?

It is your choice. The lemon will add additional flavor, however, if the lemon is left in too long, the drink may begin to take on a sour/bitter taste. Add more water to help even out this sour zing.
Can you add ice to the Kid Zinger?

Yes. Simply remove the citrus press, and add ice via the bottom opening. Then add back the citrus press.
Kid Zinger Water Bottle - Instructions Of Use
Thoroughly wash and dry ingredients before Zinging.

Thoroughly wash and dry Zinger before using.

Make sure the vessel is empty and that the top lid is on tight before adding ingredients.

With the zinger facing topside up, remove the bottom base cup by unscrewing. Flip the citrus zinger on its head (top cap), to reveal the citrus press as facing upwards. So, the top cap is referred to as a "double base".

Slice citrus fruit in half and twist press the fruit half on the citrus press. Always try to use ripened and fresh ingredients when Zinging.

Grab the vessel with one hand, and press the fruit with the other hand.

Once the fruit is pressed, screw back on the bottom cup tightly and then flip the bottle back over (top side up).

Unscrew the top cap, and add water, cool tea or other beverage option.

Reseal the top cap, shake aggressively, and enjoy!
Notes:
Leave the citrus half inside the bottom cup, or not, based on preference and fit.

When emptying ingredients and performing a refill and new infusion, follow the above steps.

When the Kid Zinger is wet, there can be droplets of water stuck in the threads. Using the bottom cup to catch these droplets can be a good way to keep things clean when doing a fruit change.
 Kid Zinger Water Bottle - Tips & Tricks
You can also add ingredients to the liquid portion of the vessel (main body) for additional infusion or flavor as desired, such as cinnamon sticks or even larger fruit items. Simply open the citrus press and add the items to the vessel (then replace the citrus press). Ice can be added via the same method.

Keep refrigerated if possible, as water is best served cold.

Over steeping citrus fruit can occur if the fruit is left in for too long – i.e. 12-24 hours, producing a sour taste.

Add water to even out the sharp taste if needed. Some potential flavor families that work well with your Citrus Zinger: SWEET: peach, strawberry, pineapple. SHARP: lemon, lime, grapefruit. BOLD: Clementine, orange.
Kid Zinger Water Bottle - Cleaning & Emptying Trips
To empty the used ingredients of a Zing, simply unscrew and "flick" the bottom cup into a trash can or sink with garbage disposal and the "waste" should easily remove itself. A rinse and clean will set you ready for a new press.
Kid Zinger Water Bottle - Serving Recommendations
Serve water cold or chilled.
Kid Zinger Water Bottle - Cautions & Warnings
If you notice any adverse reaction, or feel you may have food poisoning after consuming a mixture, please seek medical attention immediately.
Discard infusions if apparent cloudiness bubbles or foul odor develop.

When in doubt, throw it out.

Parental supervision is recommended*
* Children love to be a part of making things, and it is our bet that zinger drinks will become their favorite beverage in no time. That's a great thing! However, as a practice of safety parent supervision is recommended. Note, all parts are made of Tritan BPA/EA free plastic.
Additional Food Safety Tips
Make sure there is no odor or residue in the Kid Zinger. It should not have any remnants from past Zings.

Be sure your fruit is in good condition—bruising or decay indicates the presence of bacteria. If you harvest your own ingredients, do so in the morning, when the essential oils are at their peak.

Clean the Kid Zinger thoroughly between uses.
Warnings
Use care when operating and washing this item to avoid injury.
Cautions
Do not use with hot liquids

Avoid exposure to excessive heat when consuming a mixture.

Do not microwave

Do not freeze

In order to minimize bacterial growth, do not use to keep warm milk products or baby food.
Thank you for taking time to read our blog post.