Hello Kittens!
I know I haven't written a review in a little while now but I can't tell you how busy I've been! Since my last post I went to The Makeup Show (in NYC) and came back to work, work and more work! 
I had to start taking appointments for my spa work again a few days a week because my makeup clients kept asking when I'd be available for facials, waxing & body treatments. I am blessed to be working doing more of what I love without having to give any of it up. There have been a few days where I've been at the spa then had to go do makeup and back again. Lol!
I am more settled in now so I have more time to write, so thank you for your patience! :-)
Speaking of patience...I have been meaning to do this review for a few months now. In March while at The Makeup Show (in LA), I met Sheila McKenna, owner of Kett Cosmetics. We talked about everything from my skincare background to her fantastic line of products. She is so smart and the kind of person you can just talk to for hours! I do a lot of work that's filmed in HD so she offered to send me some of the Fixx Creme Makeup to try on my clients. 
I was really looking forward to it because, in my opinion, HD makeup really makes a difference on film/live TV. I have seen so many shows where people look greasy & their pores look huge! Not to mention HD products can also be pricier than regular makeup so if you're looking to build a predominantly HD kit, it could burn a serious hole in your pretty

pink

pocket!
I was
thrilled
to see Sheila had sent me 6 Pro Palettes! That consisted of 2 of each color series;
Olive, Ruby & Neutral
. 
*Olive* 
L to R 
(011, 09, 07, 05, 03, 01)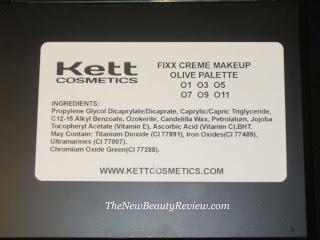 *Ruby*
L to R 
(R11, R9, R7, R5, R3, R1)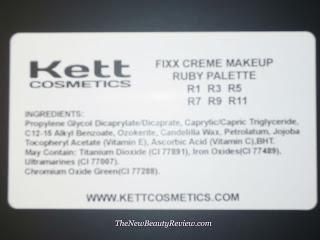 *Neutral*
L to R 
(N11, N9, N7, N5, N3, N1)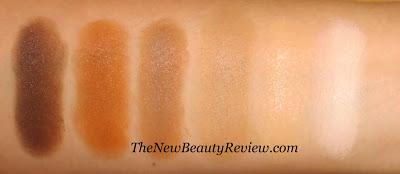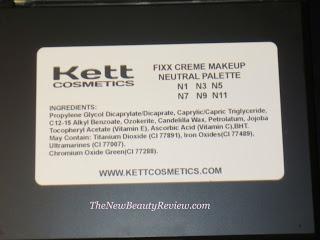 Each palette comes with 6 shades, that's a lot of makeup!! 
They came individually wrapped, label and all, so I had the freedom to place the products in any order I chose.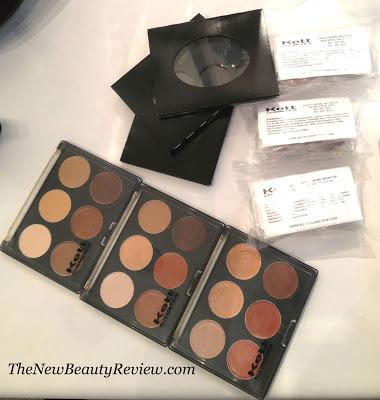 I also really like that the palettes aren't heavy. This is an issue for me because I tend to want to bring every piece of makeup that I own with me on every job (I don't but I want to. Lol!) and my bags get heavy! Not these guys, they're lightweight so I can have all 3 on hand without feeling like I'm carrying around 18 bottles of foundation! 
I do love that they are dual purpose because I don't need to use concealer. Especially on men where they don't need a ton of makeup to begin with. 
The formula is 
waterproof
 and the coverage is build-able but strong if you need it to be. A
nything that will cover a 5 o'clock shadow is sufficient in my book! 
To say this is "the good stuff" is an understatement!  I found this to be true as I worked on Congressman David Schweikert & it completely covered any trace of facial hair.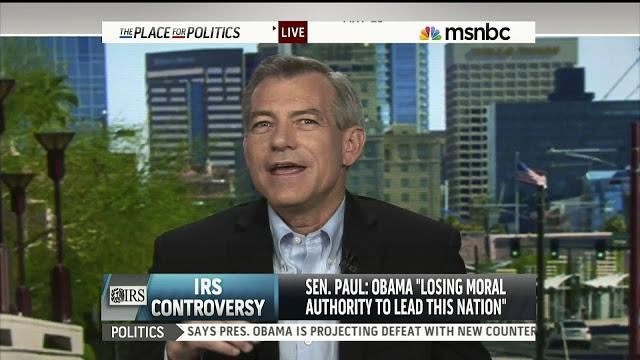 But the BEST part is that it makes you look flawless on camera! There is ZERO shine! Your skin is even, soft and not a visible pore in sight. I applied a little bit of Nurturing Force Blot Out Offensive HD Primer and the makeup literally slipped right on.
If you go to the Kett Cosmetics website you'll see their "Skin Prep" page has exactly what I used and everything I keep in my kit! Lol! Great minds think alike but they did work very well together!
It's main ingredients consist of Vitamins A, C & E and Licorice Root Extract. I noticed it removes well and without difficulty, as some waterproof makeup can be resistant to removal. Just 1 Alcone makeup wipe was all I needed to get the skin back to pre-makeup application status. 
I love playing mad scientist & I'm always custom blending shades to find the perfect combination for each client and this formula mixes so well. It melts right into the skin without leaving streaks or flakes.  It's like a second skin but softer! When doing makeup for Live TV, I pack up & wait to watch the client on screen to see how it wears. When I looked at Congressman Schweikert on screen it was almost as if there was a filter of soft lighting, you would not know you were watching HDTV.
A little goes a long way as you can see here on my palette, I mixed a tiny bit of 3 shades and still had some left over.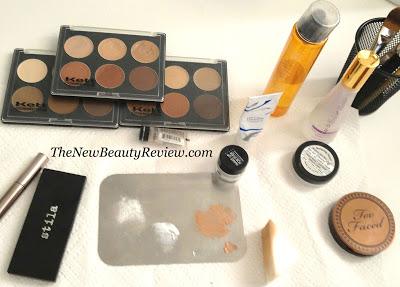 Kett Cosmetics are known for their amazing airbrush products so it's no surprise they've mastered the art of "coverage" in general. I was blown away by the all around quality of this product and I'm positive every Pro Makeup Artist will be too!
It's an on set must have! 
For pricing & to shop Kett Cosmetics go to www.KettCosmetics.com
Keep it Prettie!
✨Stephanie✨