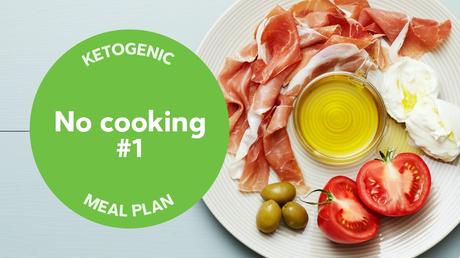 In this week's meal plan, we're giving you a week off cooking! It's crammed with no-cook, yet deliciously tasty meals, that are perfect if you're looking to spend less time in the kitchen.
Amongst this week's star dishes, you will enjoy breakfast tapas and keto-coffee for breakfast, salmon-filled avocados, roast beef and cheddar, and a fabulous classic steak tartar.
This meal plan will keep you below 19 g net carbs per day. How great is that?
Our popular keto and low-carb meal plans give you everything you need to succeed on a keto diet. Meal plans, recipes and shopping lists - no planning required! Adjust, change or skip any meal - and the recipes and shopping lists will adapt.
We now have 152 low-carb meal plans available - including keto, quick & easy, budget, vegetarian and Team DD favorites. Why not explore a few if you are staying at home and looking for ways varying your keto eating.
This keto meal plan is filled with deliciously simple and no-cook, time-saving meals. And it all keeps you below 19 g net carbs per day.
Try out for free 1 month
Top keto recipes
What is everyone else eating? Check out some of our most popular keto options that thousands of readers come back to, time after time. These tasty dishes are keto favorites for a reason:
Latest keto meal plans
Missing cheeseburgers, pizzas, tacos, and BLTs on your keto diet? Well, you don't have to. This meal plan really proves how for every high-carb favorite there is a delicious keto alternative. This week's meal plan brings you some of those favorites. But of course they are all jazzed up and turned into healthy meals by our keto recipe wizards. It's like having your cake and eating it too.
This meal plan will keep you below 18 g net carbs per day. How great is that?
Full meal plan →
We're not just fishing for compliments: we know that if you are following a keto diet, and you LOVE fish and seafood, this just might be the meal plan of your dreams! This week you will get to enjoy the bounty of the sea in low-carb dishes like a creamy keto seafood chowder, fresh salads with tuna and smoked mussels, perfectly seared salmon with tender asparagus, and a crazy quick and delicious hollandaise sauce. Will you take the bait?
This meal plan will keep you below 20 g net carbs per day.
Full meal plan →