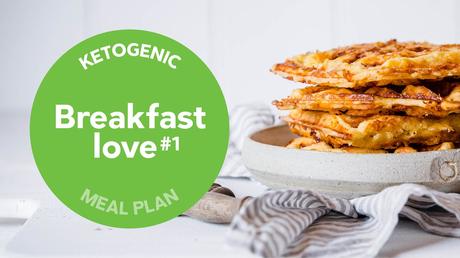 Our popular low-carb meal plans give you everything you need to succeed on a low-carb diet. Meal plans, recipes and shopping lists - no planning required! Adjust, switch or skip any meal - and the recipes and shopping lists will adapt.
Not a fan of skipping breakfast? If you'd rather not fast until lunch and find breakfast is your favorite meal of the day, this latest meal plan is perfect for you.

Kick off the day with delicious keto French toast, an Italian-inspired omelet, and trendy chaffles. Enjoy each morning meal with water and a cup of freshly brewed coffee or tea, with or without a splash of heavy whipping cream.

This ketogenic meal plan will keep you below 20 g of net carbs per day.
We now have 129 low-carb meal plans available - including keto, quick & easy, budget, vegetarian and Team DD favorites.
Try out for free 1 month
Top keto recipes
What is everyone else eating? Check out some of our most popular keto options that thousands of readers come back to, time after time. These tasty dishes are keto favorites for a reason:
Latest keto meal plans
As the days grow short and dark, and the cold winter air descends, the time for a selection of warming, hearty keto classics arrives. At least in the Northern Hemisphere, when the barbecue is away until the spring, a collection of rustic, filling, comfort meals fits the bill. Think of these dishes like the food equivalent of the Danish "hygge" - that feeling of cosy, cocooning contentment. Put on the big sweater, the fluffy socks, and get cooking.
This meal plan will keep you under 18 g carbs per day and is tailored for intermittent fasting (16:8). But feel free to add breakfasts using the meal planner tool.
Full meal plan →
"Oh no... That's too much avocado..." Said no one ever! If you're also a big fan of this keto super fruit, you will absolutely adore this week's avocadelicious meal plan. Avocados have many faces, and sometimes you won't even be noticing their presence. You will have this tasty fatty treat included with every lunch and dinner, while keeping each meal varied, exciting and keto at the same time. You'll eat grilled salmon, cheeseburger, Venezuelan chicken salad, the mighty keto pulled pork and much more, while staying 20 g net carbs per day.
Full meal plan →