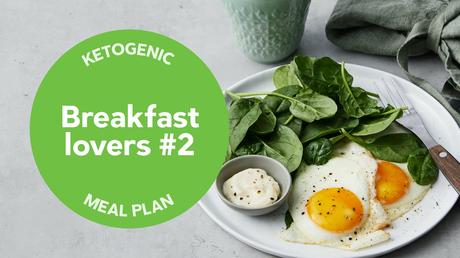 With this week's breakfast lovers plan, you'll find a whole collection of irresistible morning meal ideas.
Among this week's star breakfast dishes, you will enjoy our delicious cheese-crusted omelet, French pancakes, and a classic plate of good ol' bacon and eggs.
Also on the roster, we have garlic mushroom chicken, lasagne, and bacon-wrapped keto burgers. (Deelish!)
The best part is, these recipe ideas will keep you below 18 grams of net carbs per day.
And remember: With this week's lineup, you can feel free to adjust, change, or skip any meal. It's completely up to you!
More meals ideas
Looking for more recipes? We now have 161 low-carb meal plans available - including keto, quick & easy, budget, vegetarian, and Team DD favorites. With so many options, there's no need to feel bored while eating keto.
Try out for free 1 month
Top keto recipes
What is everyone else eating? Check out some of our most popular keto options that thousands of readers come back to, time after time. These tasty dishes are keto favorites for a reason:
Latest keto meal plans
Are you tired of complicated recipes, odd ingredients, and long shopping lists? Well, with this week's 5-ingredient meal plan, keto has never been easier or more delicious.
With just a few ingredients, plus some basic pantry items, we have put together this convenient ketogenic meal plan, which is as kind to your wallet as it is to your waist.
Full meal plan →
Could dairy products be slowing your weight loss or holding you back from your potential health gains? Try a week of dairy-free meals and see.
This meal plan also introduces intermittent fasting (16:8), meaning you'll skip breakfast each day. These two dietary adjustments can speed up weight loss, help to reduce insulin resistance, and can potentially result in the reversal of type 2 diabetes.
With this meal plan, you won't go hungry. You'll enjoy protein-packed meals, such as Diet Doctor's flavorful keto chicken garam masala, succulent pulled pork, and keto crispy Chinese pork with cabbage.
This meal plan will keep you below 17 grams of net carbs per day.
Full meal plan →
If you're in the Northern hemisphere, you are currently enjoying warm weather. Here's a fresh and nutritious low-carb meal plan for those hot summer days when you naturally opt for slightly lighter choices. This meal plan is packed with fresh seasonal produce and an abundance of flavors. It's truly designed for summer.
This meal plan will keep you below 20 grams of carbs per day.
Full meal plan →
A ketogenic meal plan offering you a week of delicious fast-food favorites in a healthy homemade version. Enjoy pancakes, pizza, burgers, and tacos - while also staying below 19 grams of net carbs per day.
Full meal plan →