Continuing with summer desserts its time for Kesar Pista Kulfi .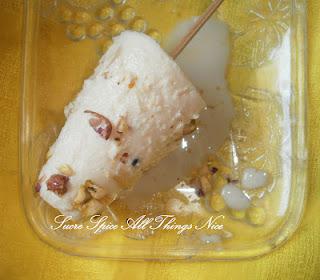 Apparently King Akbar mentions the Kulfi in his 16th century journals thus you find  Kulfi and Falooda combination is deep rooted in North India's culture especially Old Delhi.
Having spent most part of my childhood in Delhi ,kulfi has a very special place and brings back some lovely memories!!
Kulfi or Indian ice cream, as its popularly known,is rich,creamy and dense.Its laden with Almonds,Pistachio and delicately flavored with Saffron and Cardamom.
Kesar Pista Kulfi
Makes 6-8 small kulfi moulds
4 cups full cream milk
1/2 tsp crushed Saffron strings
6 tbsp sugar
2 Green Cardamom,crushed
1/4 cup Slivered Almonds
2 tbsp pistachios sliced
Boil the milk on medium heat till its reduced to half .Add the saffron while its boiling.Add sugar and boil for another 7-8 minutes.Remove from heat .Add cardamom and nuts.Divide the mixture between the moulds and freeze until set.