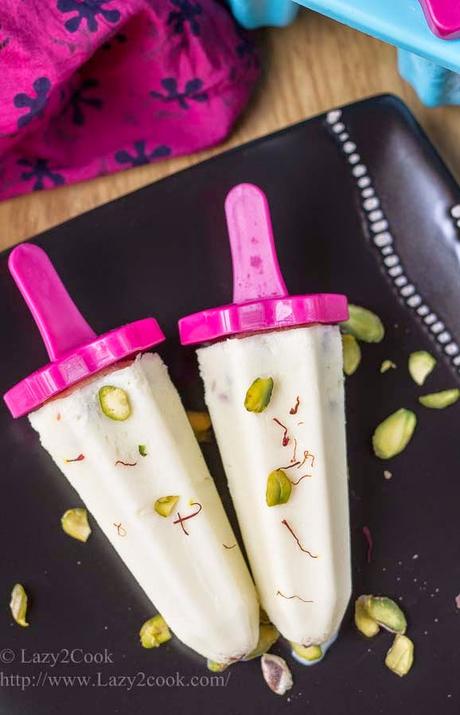 To beat the summer heat, I made Kesar Pista Kulfi and it is super delicious. This is such a nice and delicious kulfi with lots of goodness of milk and kesar, Pista. Summer is at its peak and Kesar Pista Kulfi can help us to feel cool in this summer season. It is an item which relates to everybody's childhood. I also love Matka Kulfi, because all these kulfi has childhood memories. In my childhood, my mom used to make kulfi and Ice cream at home. That time, summer vacations means a lot of enjoyment.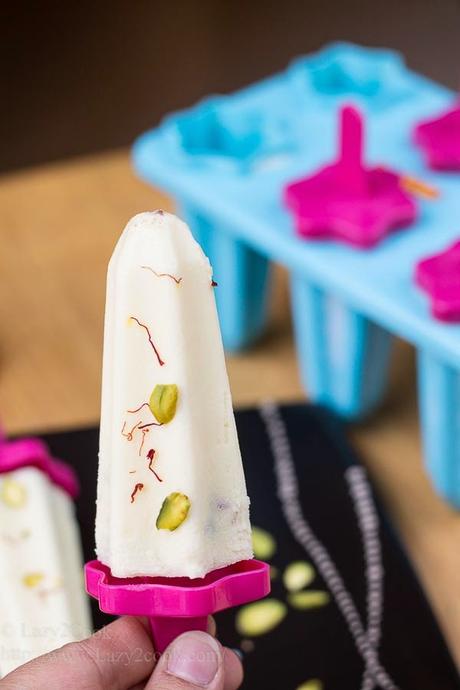 For my kids, its super enjoyment as I am making ice creams, popsicles and kulfi and many more. They even forget to have lunch and dinner. If your kids are bored of drinking milk all the time, you can give milk in such a delicious manner like Ice creams and Kulfi. Summer are the time to enjoy everyday with cold, chilled treats.
I have lots of funny popsicle molds, even you can get colored ,funny, stainless steel(specially for kulfi) and many more shapes online or nearby shops.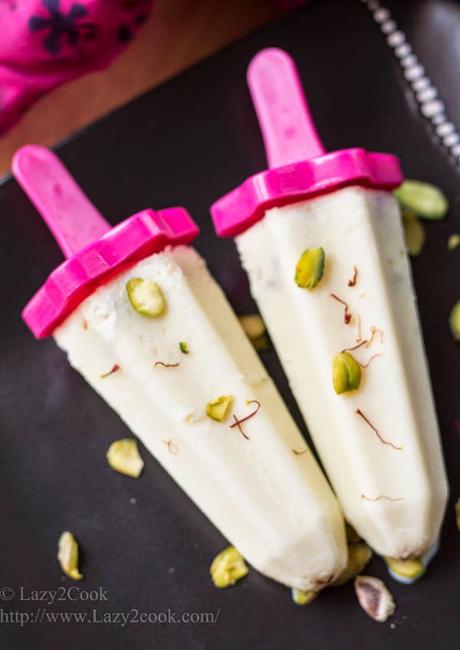 Creamy yet grainy this Kesar Pista Kulfi is irresistible! Cherish all your memories of this awesome kulfi.
1 liter Milk
4 tbsp Cream/Malai
1/2 cup Sugar
few strands Kesar /Saffron
1 tsp. Cardamom powder
11/2 tbsp Pistachio
1 1/2 tbsp Almonds
1.Heat milk in a pan. Once it gets a roaring boil, add a huge tablespoon of hot milk to the saffron and keep aside.
2.Now add the cream to the milk, stir well and cook in medium-high flame until it reduces to half, most probably about 20 minutes. Just like Basundi, we have to reduce milk to half. We have to stir it continuously, so it should not stick to the bottom of pan.
3.Once its reduced to half, add the chopped nuts and sugar. Stir well and cook for 5 more minutes.
4.Switch off the flame, add the cardamom powder and let it cool to room temperature. Add to the kulfi moulds and freeze for 5-6 hours. You can insert bamboo sticks after 2-3 hours as well.
5.Take the kulfi moulds out, use a butter knife and loosen the edges. Serve and enjoy.