So so excited that Kerb has just launched a new site in Camden Market!
Living in North London, and working close to Covent Garden, I didn't really get many/any opportunities to go to the sites at Kings Cross and the Gherkin, and I ALWAYS got so much food envy from all those popping there for lunch! Could there really be a better place for for a lunchtime treat? 
The new spot at Camden Market opens today, has 35 traders and is open 7 days a week! Yeah you heard right, Kerb Food ALL week! On friday and Saturday it's even open until 11pm, so it'll be awesome for Friday night plans – they have a bar too – or a quick pit-stop on the way home from drinks with friends.
I was super lucky and got to go along to the preview night last night! I took Lucy as my plus one (my friend who shows up on my blog every now and then), and headed there straight from work to check out what was going down at the new location. Check it out…
Kerb has taken over the entire West Yard. It looks a lot smarter, is so pretty with all the lights when the sun starts to set, and offers so many options – I mean SO many! – there's definitely something for everyone.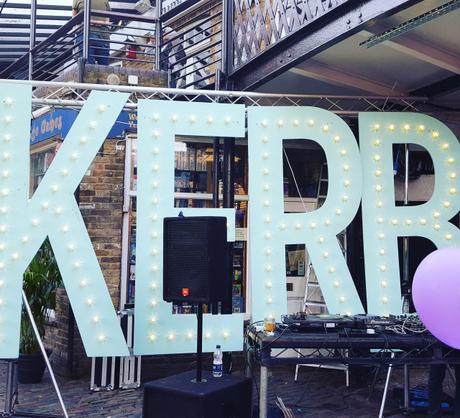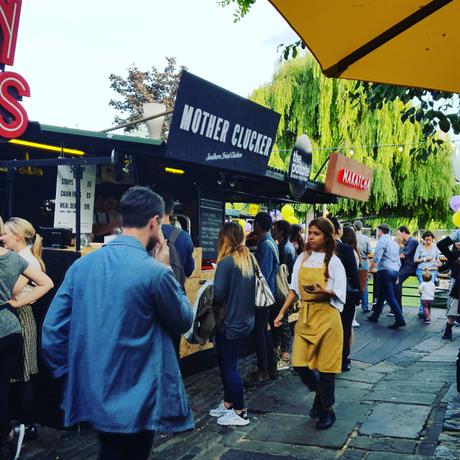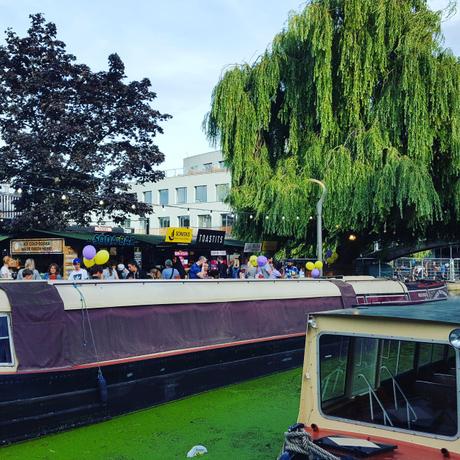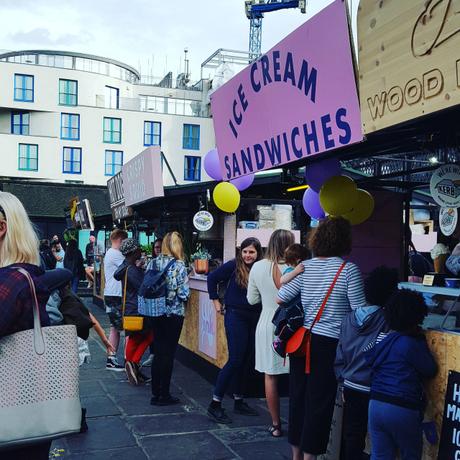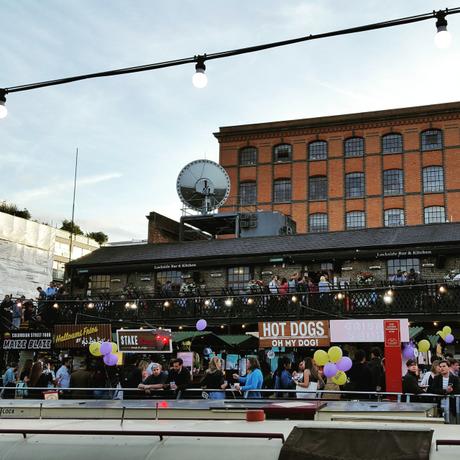 The bar serves all locally brewed beer and distilled gin and vodka. I had a gin & tonic (delicious and refreshing) whilst Lucy went for a Camden Hell's strawberry lager. Myself not one for lager, this didn't really appeal, but Lucy said it was really good!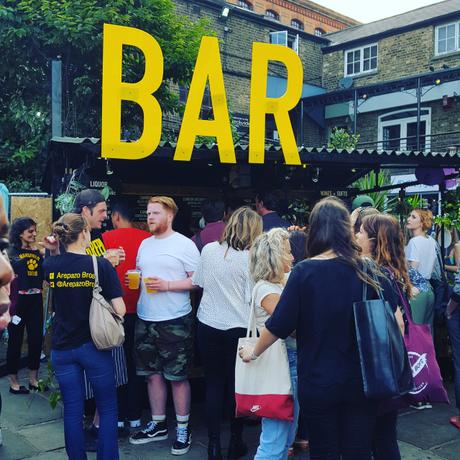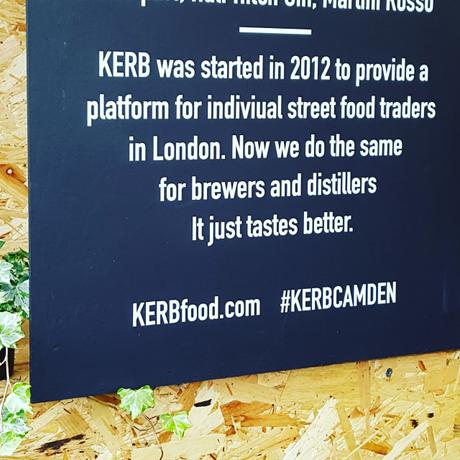 We always needed a selfie!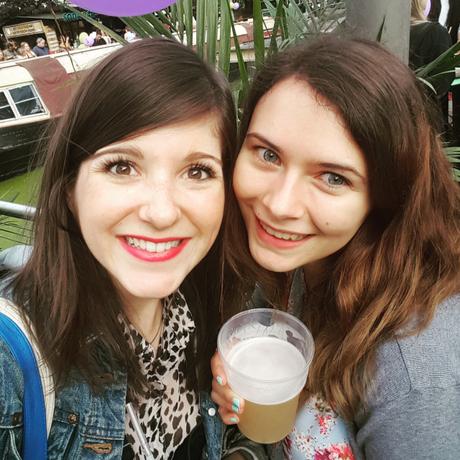 We obviously had to try as much food as possible, so we shared several little dishes to taste as much as possible.
First stop was Oli Baba's for Halloumi Fries. These were incredible. Crispy on the outside, slightly soft in the middle, yet still resembling the rubbery halloumi. So flavoursome, and great with the sauce and pomegranate, which I never would have put with it before! An awesome change to standard halloumi, but being deep fried, they're obviously the naughty option.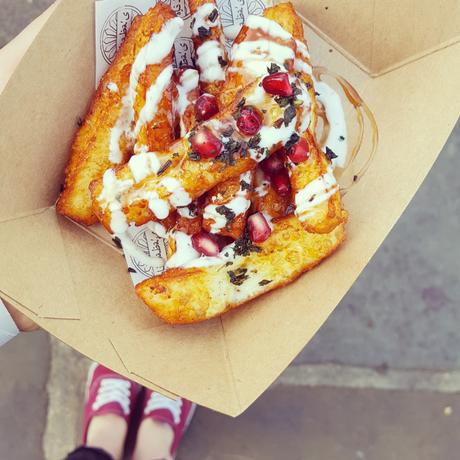 Next stop, Mother Clucker for friend chicken. I've had Mother Clucker once before, near the Truman Brewery, and they never disappoint. A crispy coating with a slight kick, and tender chicken inside, these are so tasty. The sauces add that little extra. The chicken tender strips are a must for your visit to Kerb!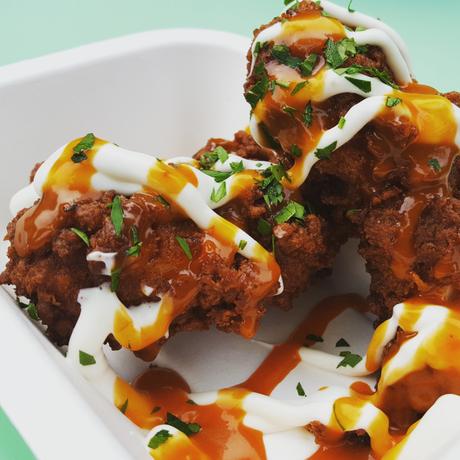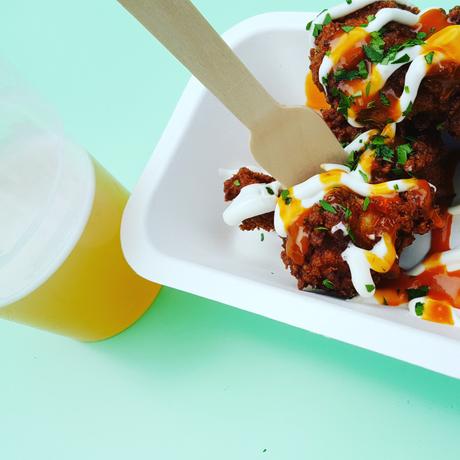 Next up, Arepa for Venezuelan street food. The guys serving at this stand were hilarious. Dancing and trying to get the queue involved, trying to pass out a plaintain to use as a microphone, this had to be one of the most fun stalls.
We'd both never had Venezuelan before, so this was totally new for both of us. We watched as they grilled the corn bread, and stuffed Lucy's with beef, plaintain, avocado, beans and pico de gallo, and mine just with the veggie bits – I always eat meat so thought might be good to shake things up!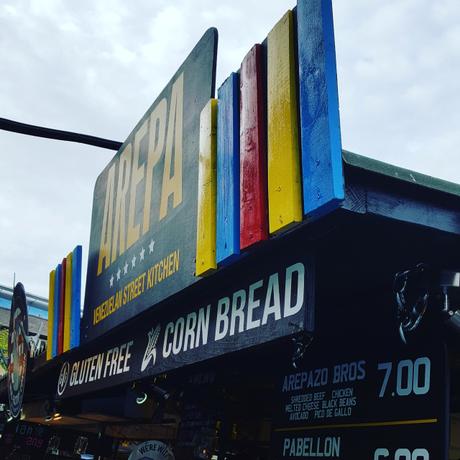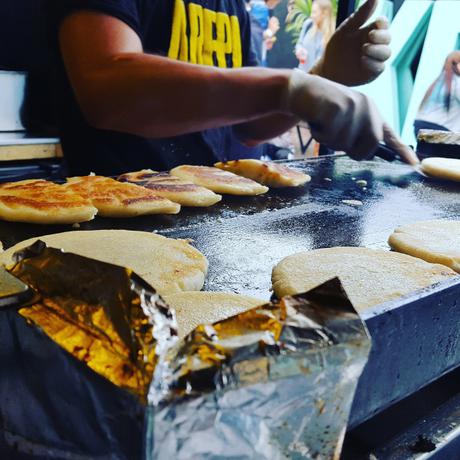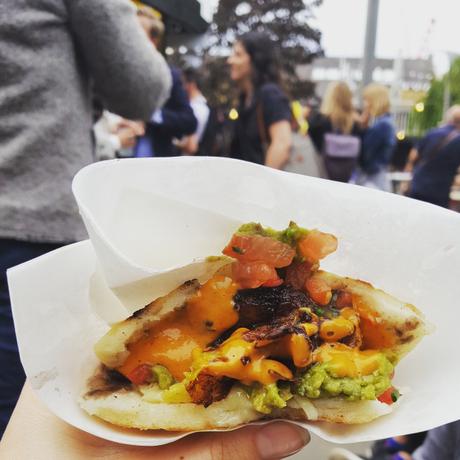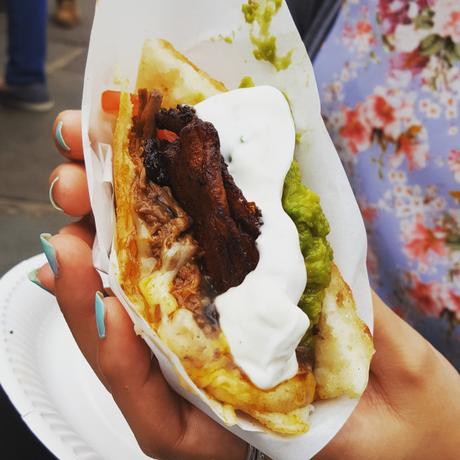 The corn bread was soft and slightly dough-y, with a crisp outer edge, and super tasty. Lucy really enjoyed her beef one, saying how tender the beef was, and how well everything went together. My vegetarian one was amazing. The plaintain was cooked to perfection, served with the avocado, cheese, beans and pico de gallo, it sure was a taste experience. I highly recommend visiting this stall! I know I'll be going back.
After a couple of alcoholic drinks from the bar, I decided I fancied something soft and refreshing, so headed to Square Root for a soda. I went for the Pomegranate and Rosehip which pretty much tasted like a cup of Turkish Delight Soda. Really tasty, but maybe a little rich so I couldn't quite finish it all. It was really good to see a stall just selling soft drinks though, and obviously all made really fresh!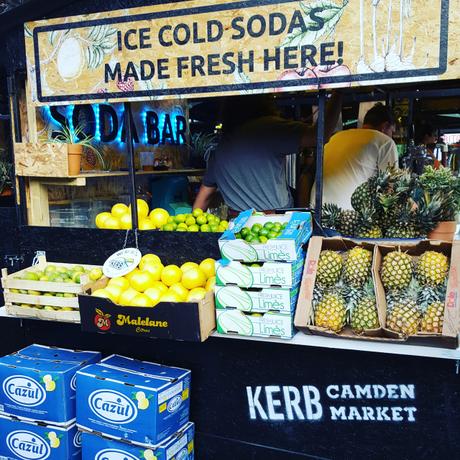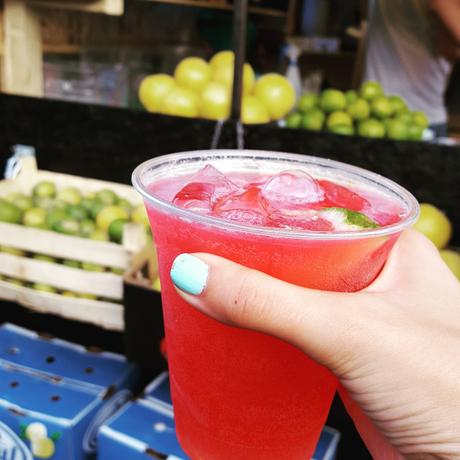 We wandered past the cake stand and were extremely tempted. It all looked so good.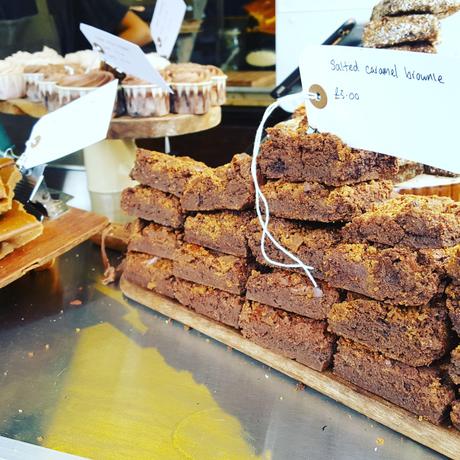 After a little wander we stopped for sauteed potatoes from Maize Blaze. These were really tasty too. A great texture, served with onions, chilli and chorizo (we asked for this), this was a fab dish. I do love a potato!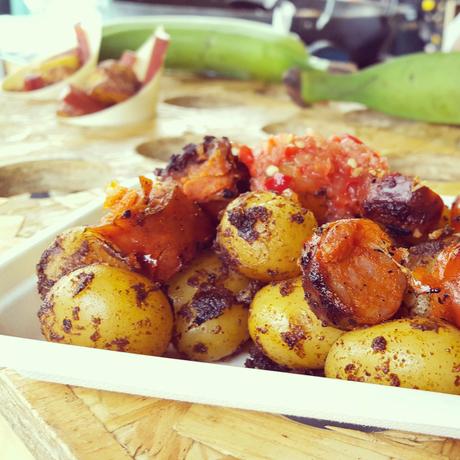 We wandered past The Mac Factory, but were way too full to try any of these. Next time!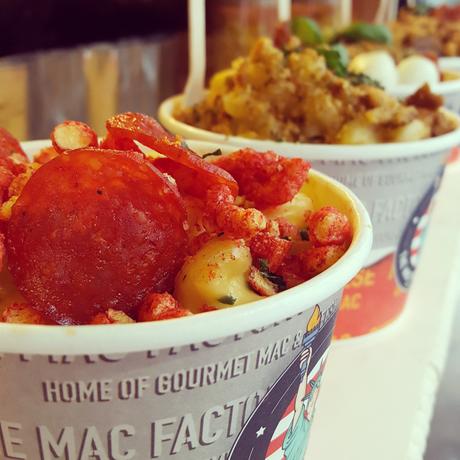 Even though we were so full, we just couldn't resist the ice cream and cookies from Blu Top. And I'm so pleased we didn't.
I went for the carrot cake ice cream with a red velvet cookie, and Lucy the Sea Monkey Ice cream (dark chocolate ice cream, nuts, and more) with a red velvet cookie too. We were in heaven.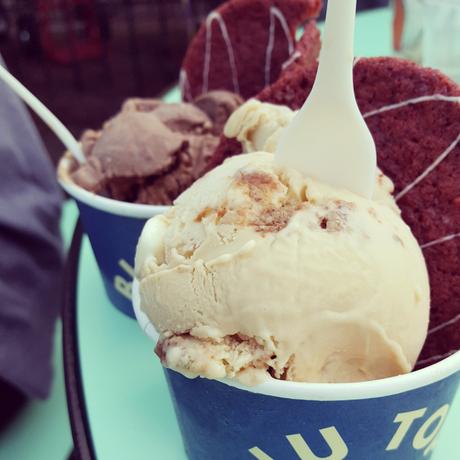 Lucy's ice cream was so good! Crunchy with the nuts, yet creamy, it was rich and chocolatey. A chocolate lover's dream!
My carrot cake ice cream was just like I was eating a cold carrot cake. It was incredible. Creamy, with little chewy bits of cake, it was divine. I definitely recommend this – You just HAVE to try it!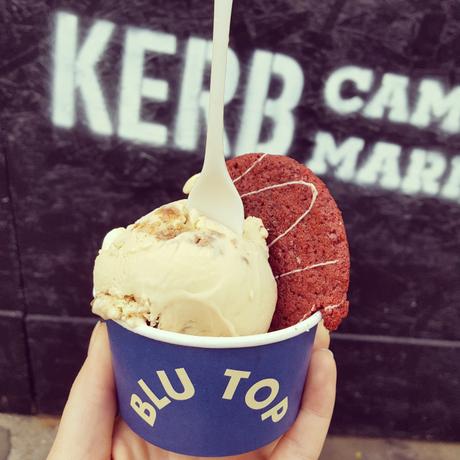 We finished up, and sat around one of the tables at the back of the market to let our food go down before heading off (there are quite a few tables around the market, but they do get full quite quickly).
I cannot tell you how pleased I am that curb has set up this new spot – I'm definitely going to be a regular😉 I need to try all the food, there's too many for one or two visits!
Have you been to one of the other Kerb locations yet? Which is your favorite stall?
Chloe xx
*I was invited along to the preview night of Kerb's new Camden Market location. All views my own.