Keratin treatment has  been revolutionary in the hair industry. And with more and more scientific advancements new techniques the results we see after keratin treatment are also getting better and better. I had an opportunity last month to attend an event for GK Hair India by Auraine Botanicals, who are responsible for bringing this hair care giant to India. It was an informative session on  keratin treatment by GK Hair.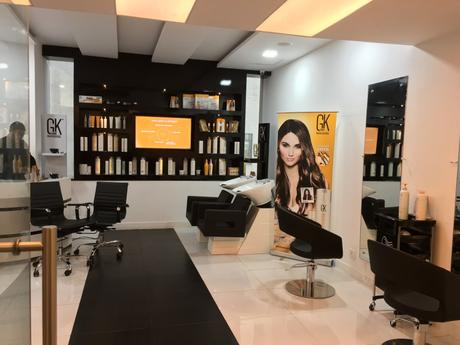 GK Hair
Why GK hair Keratin treatment?
Keratin is a protein which is present in skin, hair and nails as well. Keratin restores the elasticity and strength of the hair and make it more healthy and good looking. As we expose our hair to pollution and color treatments, heat we lose the natural keratin in our hair. So that is when keratin treatment comes to the rescue. Keratin treatment allows to infuse the hair with keratin again.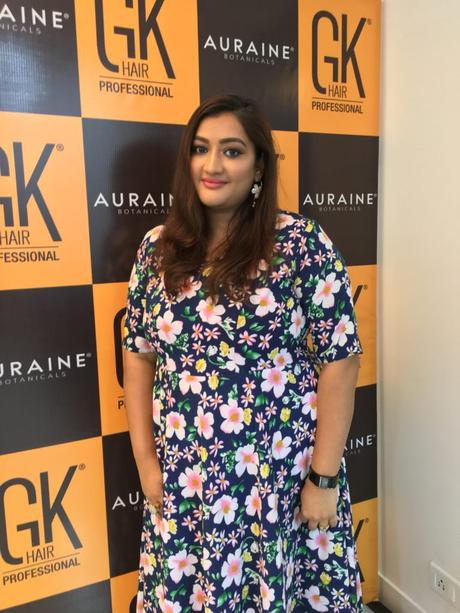 At the GK Hair event
Juvexin in GK Hair treatment
At the event we got to know why GK Hair is the best choice for your keratin treatment. Keratin treatment by GK Hair uses Juvexin in their keratin treatment and shampoo and conditioner. Juvexin is a keratin protein blend, which is extracted from sheep. And Juvexin is exclusive to GK Hair products hence its the best keratin treatment available in the world. Juvexin has been developed in a way that it protects an restores the hair back to its youthful state. Juvexin is a revolutionary innovation in hair care industry.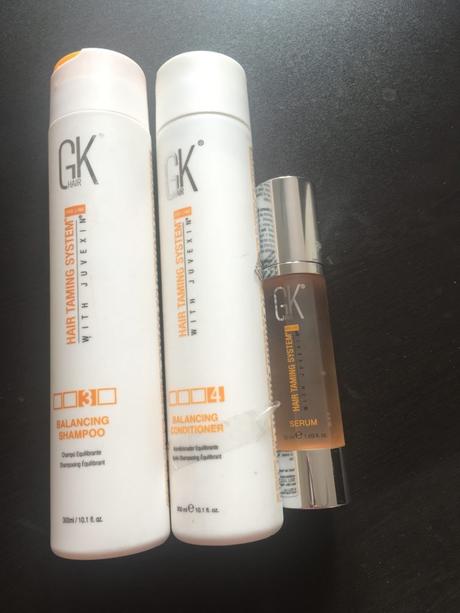 Why Keratin Treatment is good for you
You may wonder of all the treatments and solutions available why should I go for Keratin treatment ? If you have dry hair then
You will have lustrous hair even without brushing your hair.
Reduces split ends due to not frizzy hair
Keratin makes the hair softer and managable
Keratin treatment does not use any harsh chemicals
It reduces blow dry time by 60%
Keratin treatment helps your hair retain moisture, so your hair wont feel dry and dull
It also enhances the color of your hair.
I have covered a lot about Keratin treatment in this post you can read here 
What is the post care after getting Keratin treatment done
After getting any treatment done weather its for your skin or hair, post care is very important to reap the benefits of that treatment for a longer period of time. At the event we were told how we can manage our hair and extend the life of the keratin treatment if we follow some simple rules.
Use sulphate free shampoo and conditioner.
This is a very important rule to follow. Sulphur is not very gentle to your hair. It will rip the keratin off your hair if you use a shampoo and conditioner that has sulphate. Try to use a shampoo and conditioner free of paraben also, parabens are harmful chemicals and must be avoided at all times in your skin care and hair care routine as well. Instead use GK Hiar balancing shampoo and conditioner which is gentle on your hair and also helps keep the hair keratin intact ,since it contains juvexin. You can use any sulphate free shampoo and conditioner, but you will get the best results from GK hair shampoo and conditioner.
The first month you need not go for a hair spa, because your hair wouldnt really need it. But after a month get a hair spa done , it will extend the life of your treatment. Once you get your first hair spa done then wait 45 days for the next hair spa. This is done so that you can extend the benefits of keratin treatment from 4 to 5 months to 7 to 8 months. A little bit of extra TLC for your hair will extend the life of your hair treatment. This is because of the humid climate and pollution in India, but if you go for keratin treatment by GK Hair, then you can extend the duration of your keratin treatment and also reap the benefits of Juvexin.
Use GK Hair taming system Serum
This serum from GK Hair is very light weight and is extremely good at maintaining your hair and giving it a smooth feel. I am using this and absolutely loving it.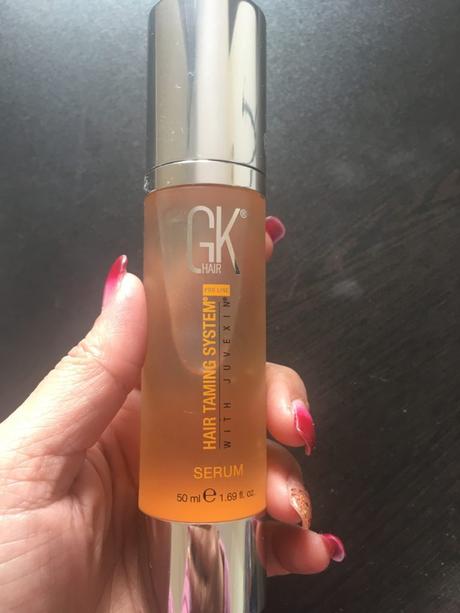 GK Hair serum for post care
I have had two Keratin treatments done and I am so happy with how my hair look now, they are so easy to manage and I dont have to blow dry them everytime. INfact my hair feels tamed even without brushing them. My hair are naturally straight , but because of all the damage to my hair, they had become frizzy and wavy,but now I dont even need a straightner to make them appear straight, they are back to their original straight frame. They are not stick straight obviously but they are naturally straight now. I am so happy to have done my keratin treatment by GK Hair. And I would recommend that if you are planning on getting keratin treatment done then get your Keratin treatment by GK Hair only because they are the best in the industry.
Related
Related Posts via Categories
Being Confident is hard. OOTD Orange Summer Dress
Wet n Wild Mega Shield Lip Color Barely Legal with SPF 15 Review
Fashion tips you should follow in current era
Indian Festive Makeup Tutorial and Video
GLOW IN THE DARK LOUNGE WEAR: ENAMOR REVIEW
ZOUTONS.COM REVIEW : MUST VISIT BEFORE YOU SHOP ONLINE NEXT
RUDRAKSHA PUNE HOSTS ACCESSORIES WEEK
AISHWARYA RAI CANNES 2014 MAKEUP
SONAM KAPOOR CANNES 2014 MAKEUP BROWN/BLACK SMOKEY EYES
Tags:
gk hair, HAIR CARE, hair taming, juvexin, keratin treatment