Keratin Hair Treatment in India
I recently got Keratin Hair Treatment done, so I am going to give you all the details on how and what to expect before and after keratin hair treatment. Our hair goes through so much, heat tools we use, pollution in the environment, chemical products and procedure on our hair. We sometimes need to give our hair some extra TLC. This post will tell you everything you need to know about Keratin Hair treatment in India
What is Keratin Hair Treatment? Our hair is made up of a protein called Keratin. And over time the hair loses the natural keratin and that is when you need an extra boost of keratin. Keartin fills the hair so that its not porous, because porous hair causes for more frizz and brittle hair. When you do a keratin treatment you basically refill your hair with keratin protein making it healthy and less susceptible to damage.
Who can do Keratin Hair treatment ? Keratin treatment  is meant for chemically treated hair, coloring, permanent straightening, perming, smoothing, if you have had these treatments done to your hair and want to repair the chemical damage you are eligible for keratin treatment. If you have virgin hair, hair that has not been chemically processed in any way then keratin treatment is not for you.
What does Keratin Hair treatment do to your hair ? Keratin hair treatment boosts your hair with keratin and makes it shiny, less frizzy ( not frizz free ) and overall more manageable.
How long does Keratin treatment last? This is my first time getting it done and my hairstylist told me with proper care I can make the treatment last up to 5 months.  YOu do have the alternate of doing olaplex once a month or Kerastase fusio dose powder once a month but I wanted to get a keratin treatment done which wouldnt require me visiting the salon every month.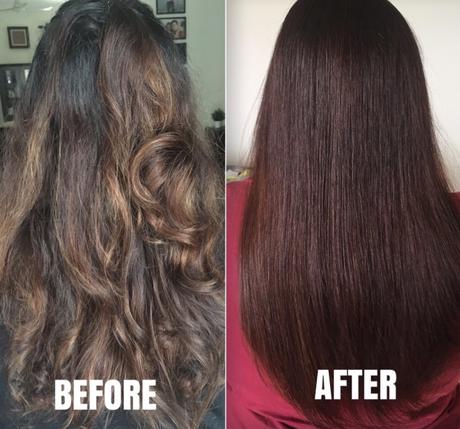 Before After of Keratin Treatment
Dos and Dont's after the Keratin treatment : There are some pointers you need to keep in mind once you get the Keratin treatment done.
Do not oil your hair after you get the Keratin treatment done.
Do not use shampoo and conditioner that are not sulfate free. Only use sulfate free shampoo and conditioner. You dont have to use the Kerastase range only, any sulfate free shampoo and conditioner will work, but if you dont mind spending then the Kerastase discipline range is meant for the keratin treated hair, you may look into that.
Do blow dry your hair every time you shampoo it , just a blast blow dry with warm setting on the blow dryer. The moisture in the hair will make it frizzy if you dont blow dry your hair. This for me is a con because prior to getting my keratin treatment done I wasnt much of a blow dryer person , simply because I am too lazy for it, but that being said  I am doing it twice a week religiously.
Do not  color your hair after keratin hair treatment. You cant apply hair color over keratin, so if you have any gray hair that needs covering, or you want to switch up the color of your hair then you can do so just before the treatment. I got my hair colored and cut and then proceeded with my keratin treatment.
Do ask your hairdresser any other question you might have with regards to the maintenance. My hair stylist at Neusalonz answered all my queries and explained everything in detail. Make sure you clear all your doubts per and post Kerastase treatment.
Keratin treatment isnt cheap, its quiet pricey, but it gets the job done. Depending on the salon and the products they use and also considering the length of your hair the treatment can cost anywhere between 7000-10000 plus taxes for medium length hair. This is of course a rough estimate.
The Keratin hair treatment I got done , the keratin was used by a brand called GK. Its one of the best keratin treatment brands. So make sure to know about the brand which is used to do your keratin treatment.
Procedure for Keratin Hair treatment : This is a time consuming process.First the keratin is applied to your hair from roots to the end in sections. Then the hair is blow dried. Next the hair is flat ironed in small sections, this is done to seal the keratin into the hair. Then the hair is washed for 5 to 10 minutes. After that the hair is blow dried again and flat ironed one more time, its very meticulous and hair is sectioned into small sections. Once the procedure is done then you can leave the salon but you need to come back after 2 days for a final wash and blow dry. And during this time you have to take care of your hair.
You cant wet your hair.
You cant tie your hair.
You cant put it behind the ears.
You cant shampoo or condition your hair.
So you back to the salon after 2 days and get your hair washed and blow dried. And voila you have new shiny most health looking hair. Keratin treatment for me didn't eliminate the frizz completely. Its not meant to do that either, if you want that absolutely flat hair either go for straightening or smoothing. Keratin makes your hair shiny and controls the frizz in your hair and makes it more manageable and easier to style.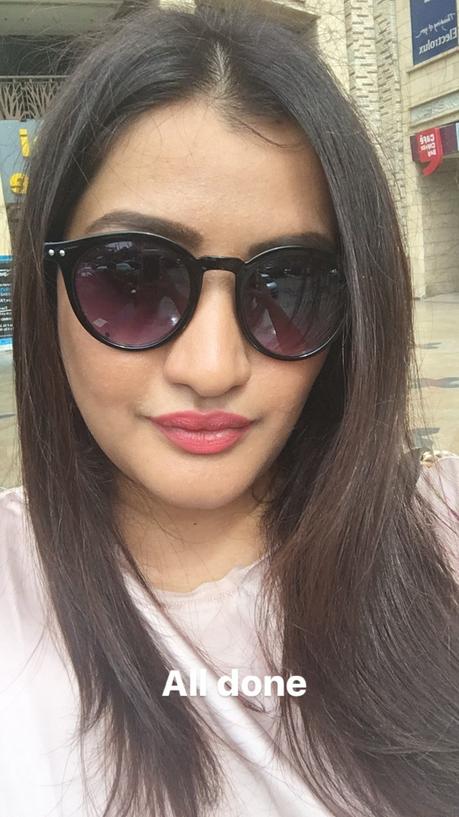 Keratin hair treatment India. My hair after the second wash at salon
I am using the Kerastase discipline fluidssime complete anti frizz care leave in spray to apply on my wet hair before I blowdry them after my shampoo, and thats about the only after care product I am using now and I am very happy with how my hair looks. The frizz is so much less I would say about 70% less. BUt my hair more shiny and healthy and I am glad i did the keratin hair treatment.
Related
Related Posts via Categories
THE BODY SHOP COCONUT BEAUTIFYING OIL REVIEW
Skin care tips for men basic skin care routine to follow for healthy skin
Avene Cleanance Gel Face Wash for Acne Prone Skin : My experience
Vanity Cube At Home Salon service
Himalaya Herbals Pure Skin Neem Facial Kit with Face Massager
Micro Needling : Derma roller how it works wonders for your skin
Maybelline Baby Skin Instant Pore Eraser review | How to reduce the appearance of pores
Laneige Water Bank Essence Skincare Range Review |Korean skincare
Tags:
anti firzz serum, anti frizz treatment, how to do keratin treament, is keratin treatment safe, kerastase, kerastase fluidissme anti frizz leave in serum, keratin hair treatment