The iPhone 4 / iPhone 4S accessories which are at the same time practical and have multiple functions are always interesting. Trying to find most interesting accessories for you, today we have something really great for you – a backup battery that can work as a stand AND a dock. It is compatible with your iPhone and iPod Touch, and it is called Kensington – PowerLift dock and a backup battery.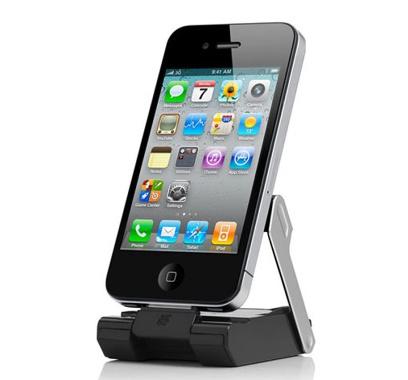 Kensington PowerLift for iPhone and Pod touch
The PowerLift is not only compatible with iPhone 4 and 4S but also with iPhone 3G and 3GS; and of course for the iPod touch. The iPhone 4 / iPhone 4S battery pack provides 1200 mAh battery for fast charging of your Apple device while you can enjoy a lot of freedom watching your favorite movies and chat with your friends. In addition to recharging capabilities, the stand keeps the phone upright for use as an alarm clock, photo slide show, watching movies, or FaceTime video calls. It also folds up into a smaller form factor for in-hand use.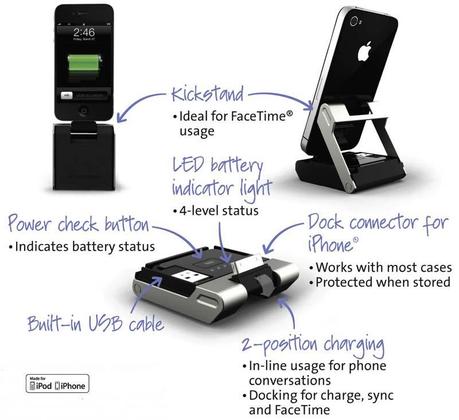 Charger and stand for iPhone and iPod touch – PowerLift by Kensington
The integrated dock connector for iPhone and USB cable are very practical when transmitting and storing the data and the LED indicator tells us about the state of the energy we have left. The Kensington PowerLift also syncs your iPhone or iPod when it's plugged into your Mac or PC.  This little iPhone 4 / iPhone 4S dock charger offers two charging positions and adds many hours of fun on your phone: up to 3.5 hours of talk time over 1.5 hours of FaceTime, 20 hours of music and 5 hours for video.
For those looking for a portable stand and battery pack, a handy accessory like this is worth buying. Especially since it can be used for two types of Apple devices – the iPhone and iPod touch.