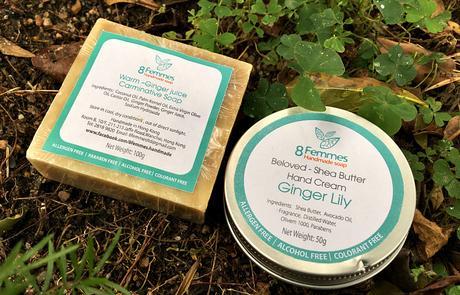 It's freezing outside, and winters and dry skin go hand in hand. I get really dry hands during winters and i am always on a look out for great moisturising products through the year. I am a lot into handmade these days, and no better way to pamper that skin with the products that use hardly any chemicals and better no chemicals at all.
Hong Kong is bustling with entrepreneurs and one such business caught my eye when i was researching for handmade beauty products. So, today i am talking about two products from 8 Femmes Handmade soaps. 8 Femmes was started in 2014 with an idea to create natural soap that is perfect for your skin. Their soaps are made from the traditional cold process using high quality pure essential oils and natural ingredients. Each individual soap is freshly and lovingly handcrafted by their soap master within Hong Kong. They also have beautiful hand creams in five different fragrances.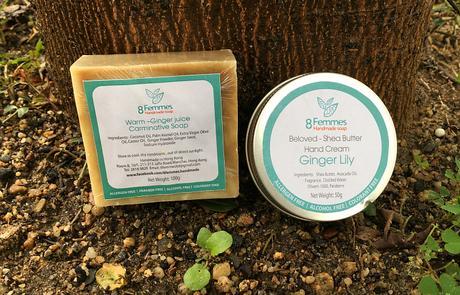 The first product is really one of my favourites now and is keeping my hands all happy and healthy in this killing winter. It's called the Beloved- Shea Butter Hand Cream-GINGER LILY. The cream is just beautiful- touch wise, look wise, fragrance wise and of course results wise. It has a very mild shea and ginger fragrance and you won't be feeling too sticky by putting these on your hands either. The major ingredients of this cream are shea butter and avacado oil, and both love to keep your skin happy! If you are looking for something to nourish your hands this winter, go for this cream and it is so nicely priced at HKD 40 per 50gms.
The next product is their handmade soap, one of their best sellers, Warm-Ginger juice Carminative soap. Again very nourishing for the skin as it is made out of coconut oil, extra virgin olive oil, castor oil, ginger powder and juice and palm kernel oil. All these put together it brings out a great soap especially for this season, when your skin needs all the oil that it can get. This product is also very reasonably priced at HKD 75 for a 100 gm bar.
Both these products come in a nice packing and can be stored very easily. 8 Femmes guarantees that it's products are Allergen, Alcohol and Colorant free; so they are beautifully organic and handmade. I am loving both of their products, and would highly recommend them. Let me know what you feel about their products when you get your hands on them!!