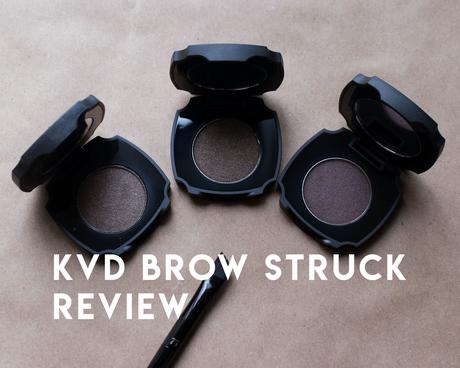 This is part 2 of my review on the newly released brow collection from Kat von D Beauty. Today I'm focusing on the Brow Struck Dimension Powder and the Signature Brow Precision Pencil. In this video I demonstrate how I use both products to fill in my brow as well as giving my full review of the Brow Struck and Signature Brow products from Kat von D Beauty. I'm so happy to have more vegan and cruelty-free options for my brows.
watch my brow routine for full brows 
Shop the Kat von D Beauty Brow Collection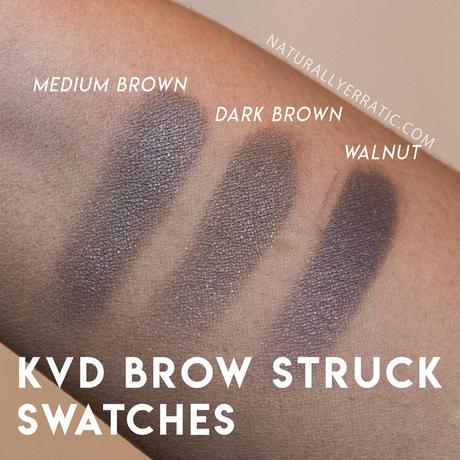 Kat von D Brow Struck Swatches
Medium Brow (grey-taupe undertone)
Dark Brow (neutral undertone)
Walnut (warm undertone)
Buy Now
I was quite skeptical about the Brow Struck Dimension Powder after seeing the reflect in the swatches on Instagram. I just couldn't stop thinking "how is a sparkling brow powder going to work?" Especially since personally with other branded brow products I had to actively prep my brows to not photograph shiny. I don't know what kind of alchemy takes place in the KVD beauty lab but it's awesome.
kat von d beauty
signature brow pencil
This is a hard one…I've been a loyal Anastasia Beverly Hills Brow Wiz girl for years now and I never thought that there could be a brow pencil out their to make me stray. The Kat von D Signature Brow pencil is the best pencil out there. It's exactly what I've been looking for: a hard but pigmented formula, a slim cut to allow fine true hair strokes.
Buy Now