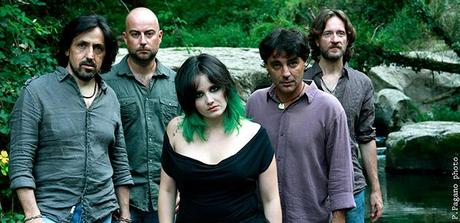 Hello guys! I present today a Progressive Rock band from Italy called Karmamoi which has a new release entitled "Odd Trip".
Karmamoi was born in 2008 when Daniele Giovannoni and Serena Ciacci decided to delvelop their own musical project to express their personal concept of music. The band's line-up was closed with the arrival of guitarists Fabio Tempesta and Alex Massari and bassist Alessandro Cefali, then Karmamoi started to work in its sound with clear ideas from the start, and with musicians capable of being in total harmony with the project.
The band came into contact with Crisalide Edizioni in 2009 and they released a single entitled "Venere" which served to present Karmamoi's sound to the public ranging in radio stations which led to the band taking part in the JIMI Festival de Marne in Paris.
After several shows in Rome in 2009, Karmamoi played in the M.e.i. festival in Faenza and the band featured on the soundtrack of the short film by Paolo Budassi in May 2010. Then Karmamoi began recording the tracks for their debut album.
The debut self-titled album "Karmamoi" was released in 2011 and the album was accompanied by the video of "Vivo Desiderio" directed by Paolo Budassi. After that the band performed in the Eurosonic showcase festival in Groningen and officially launched their first album at Rising Love, one of the most popular venues of the Rome scene. And the real ascent of Karmamoi began, with concerts like the memorably show at the Rome Fnac, and then several interviews and radio appearances came into Karmamoi's life.
After the "Entre Chien et Loup" EP released in 2012 and officially launched at the Teatro Elsa Morante in Rome, Karmamoi come back to the studio and finally in 2013 the band release their new album entitled "Odd Trip".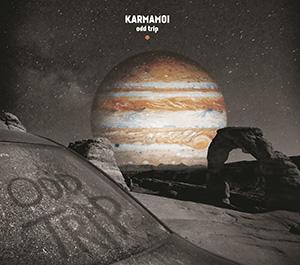 "Odd Trip" album contains twelve tracks with and interesting Progressive Rock sound in which we can apreciate the Karmamoi universe full of rock distortions, slow and melodic parts, high presence of the bass in the compositions and the sweet and clean voice of Serena.
Alternating between slow melodies, some electronic elements and heavy rock passages with powerful touches, where passion and aggression are present, we can find nice and recommendable songs like "Labyrinth", "Odd Trip" or "5+", the slow atmospheric track "Lost Days" and the fantastic final song "Aria", you can also enjoy the awesome track "If" by clicking the following link.
KARMAMOI – If (VIDEO)
If you like Progressive Rock you don't miss Karmamoi with an interesting and personal sound including some diferent elements that compose the great musical universe of these Italian guys.
I send a greeting to Daniele Giovannoni and Karmamoi. See you, guys!
Discover Karmamoi and leave your comments!
Follow Karmamoi:
http://www.karmamoi.it
https://www.facebook.com/Karmamoi
https://twitter.com/karmamoirock
https://www.youtube.com/thekarmamoi
Send Newsletters to your fans from ReverbNation.com