Hellos! Decided to do a comparison of

K-Palette's Real Lasting EyePencil

versus the

Real Lasting  EyeLiner

.

In any case you are not familiar with the brand

K-Palette

, it is a brand that has been consistently ranked as the most sellable eyeliners in

JAPAN

. For more info on the K-Palette, click

HERE

1)

  
Real Lasting Eyeliner 1 Day Tattoo 24HR

What it claims:
l

  
WaterProof
l

  
Smudge-Proof
l

  
Micro-Fibre Brush
l

  
Conditioning Formula
My Reviews:
l

  
Sharp tip brush makes lining of eyes very easy and convenient
l

  
Did not experience panda eyes but did manage to smear a little
l

  
I wouldn't say waterproof but "rain-proof" as the eyeliner is still intact even expose to rain
l

  
Very easy to remove using a makeup remover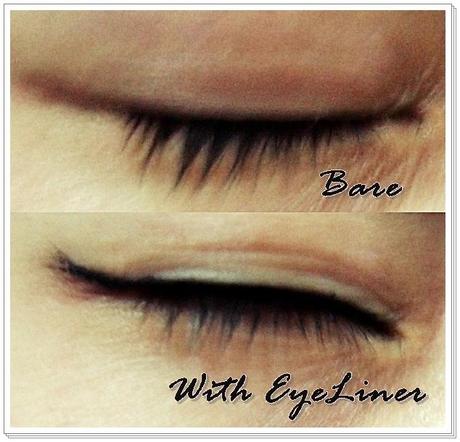 l

  
Finishes in a glossy black shade
l

  
I have extremely sensitive and dry eyes and never once did I experience any irritation while wearing this
2)   Real Lasting EyePencil 24HR

What it claims:
l

  
Long Lasting
l

  
Water-Proof eyeliner pencil
l

  
Easy twist open, no sharpener needed
l

  
Goes on easy and stays on all day
My Reviews:
l

  
Definitely LAST ALL DAY even if expose to 'heavy rain" or been splash by a gallon of water! (I know it's sounds funny but I swear it is 101% waterproof and long lasting!)
l

  
The pencil is quite weak as I manage to broke a little when I twisted longer
l

  
Quite difficult to create a winged line
l

  
Need a bit of rubbing using makeup remover before it could actually be removed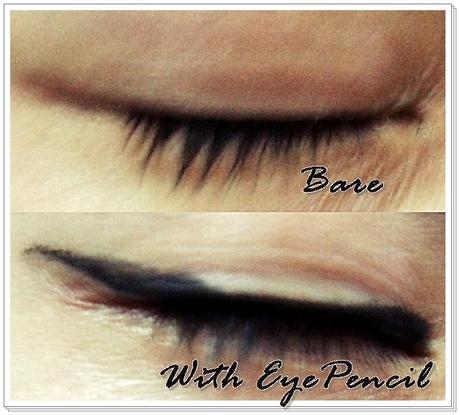 l

  
Finishes in DARK MATTE BLACK shade
Comparison of the EyeLiner VS the EyePencil:
I prefer the
Real Lasting Eyeliner
better as the brush is easier to control and the finish is much better compared to the Pencil. 

I'm also not a fan of makeup that would take forever to remove; knowing that I have sensitive & weak lids so too much tugging and rubbing will only harm and injure my lids.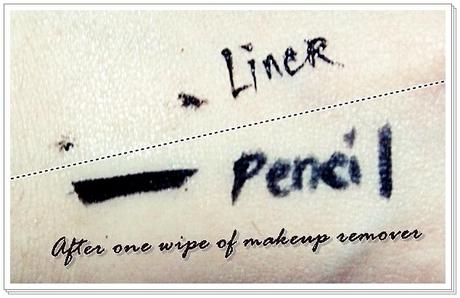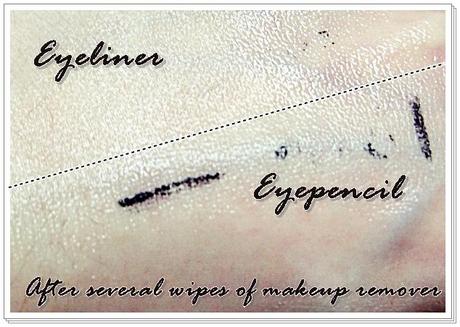 You can see the photos below that after rubbing my skin had become a bit reddish due to it.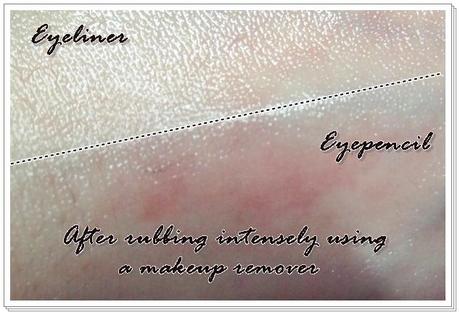 So I therefore conclude that the EyeLiner fits my taste more compared to the Eyepencil =)
That's it for my comparison on K-Palette's Eyeliner and EyePencil.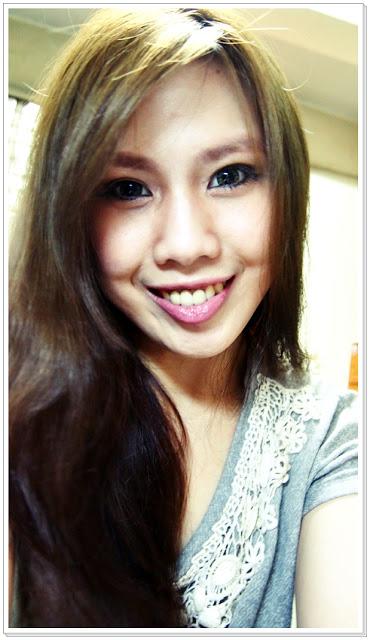 Hope you find this helpful ^_~