I have an amazing discovery! It's the Juvia's Place Nubian Palette to satiate my warm neutral eyeshadow obsession. 
I actually discovered this palette through Jaclyn Hill. She's one of the few YouTubers that I follow on Snapchat and a couple of days before I went to visit LA, she snapped some palettes from Juvia's Place. She said in her snap that she saw this from NikkieTutorials. She swatched the palettes and i was instantly sold. I immediately went on the website and bought the Nubian Palette. I went to LA for a week and when I came home over the weekend I excitedly played around with this palette.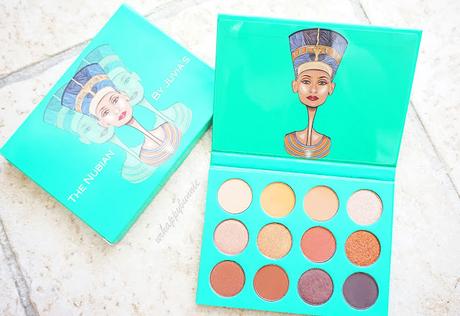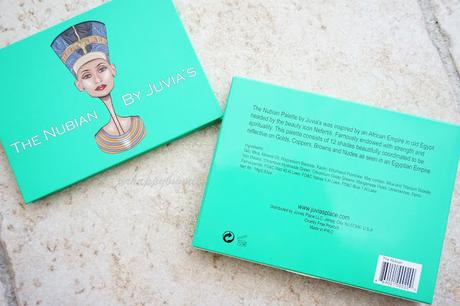 Packaging is cool although I would love it even more if there is a mirror on this palette. The shadows are smooth and blendable and the shimmery shades are extremely pigmented. There's 4 matte shades and 8 shimmery pearl shades. 
I also would have appreciated it if these shades were named for easier reference. Anyway, let's go through the swatches and breakdown of all the shadows starting from the top row. 
The first shade is a pale gold with a pink duo chrome finish. That's the best way to describe this particular shadow. On the pan it looks like a light, golden champagne shade but swatching it, you'll see pink reflects on it. My photo just don't do this shade justice but it is one of my favorite shades from the entire palette. 
The second shadow is a warm, toned down orange. You could also say it is a deep mustard color. It is a great shade to add warmth to your eyes and a good blending and transition color. It is one of the few mattes in the palette as well.
Another matte transition shade is this warm light brown shadow. I must say that the mattes in this palette is not as highly pigmented as the shimmery shades but they are extremely blendable and buildable which is fool proof if you're someone who isn't that good yet with makeup.
My favorite shadow out of all the shades here is the next one which is the golden peach shade. It is very shimmery and pigmented almost like a foiled shadow. It has a very soft and silky texture and in my opinion, is best applied with a finger. This is also a great face highlighter for an extreme glow.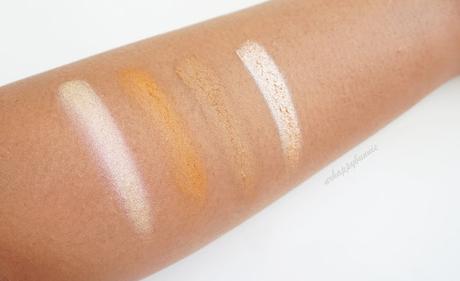 The first shade in the middle row is another beautiful shade. It is a shimmery rose gold shade that is just so gorgeous on all skin types. 
The second shade is a shimmery warm gold. Another really pretty shade that catches on the light really well. 
The next shade is a warm red-brown still vibrants but leans more satin than shimmery in my opinion.
The last shade is a stunning, shimmery copper which is very similar in texture and consistency as the golden peach shadow right above it on the top row. These two shades are more like foiled shadows and is great for an all over lid color.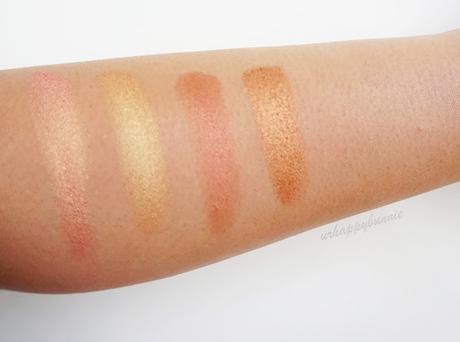 The bottom row are darker shadows that are great for lining, deepening and defining the eyes. 
The first shade is a medium brown with a satin finish. This color is more neutral, not too warm nor cool. This one is not as pigmented as the other shimmery satin shades but it is a great color that gives both softness and definition to the eyes. 
The second shade is a warm chocolate brown matte shade that is good to deepenthe crease. Again, this is not an intense and pigmented matte shade but it is very buildable. 
The next shade is a hard shade to describe. It is a deep and warm, brown black shade that has a shimmery satin finish.
Last but not the least is a matte charcoal shadow which is the only shadow that leans on the cooler side of the spectrum in this palette.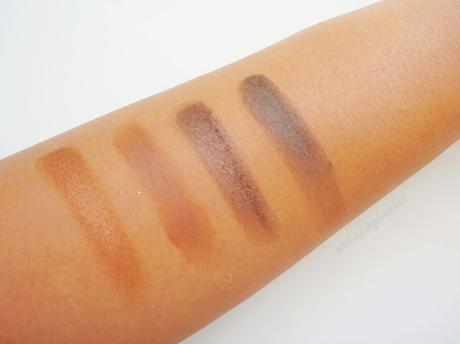 I love how versatile this palette is which can definitely take you from day to night. The colors compliments all skin tones so whether you're really fair or really dark, these shades will pop. Although at first I was disappointed in the matte shades since it wasn't as highly pigmented as the other shimmery shades, I personally think that it was the best way to go for these shadows. If the matte shades were more pigmented than what they are right now, it is so easy to go heavy handed on those shades. Since the matte shades are meant to be transition shades, a lighter pigmentation of these shadows, their buildability and blendability is what actually make them such incredible shades. I also want to mention that I've noticed little to no fall outs and my brushes doesn't kick off a lot off powder either with these shadows. These are the signs of good quality powders and I'm extremely happy about this palette.
The Nubian Palette retails for $35 but is on sale right now for $23.50 at Juvia's Place. At this price point, you won't be disappointed with the product that you're getting. It's such an amazing find and it trumps the two other palettes that I bought on my trip recently which will be in another review.
*This product is not sponsored*